Goods economy sinks, drags down trucking & railroads.
"May is usually a relatively strong month for freight shipments, but given the high inventories with ever slower turnover rates and the decline in new production orders, May could be another soft month," predicted Rosalyn Wilson at Cass Transportation a month ago. It has now come to pass – only worse.
Freight shipments by truck and rail in the US, excluding commodities, fell 5.8% in May 2016 from the already anemic levels in May 2015, and 7.0% from May 2014, according to the Cass Freight Index, released today. It was the worst May since 2010.
"This year we have failed to see the robust growth in shipments that we expect to see this time of year," Wilson lamented.
In fact, aggregate shipment volume over the first five months, according to the index, was the worst since 2010. And freight is one of the most reliable gauges of the goods-producing economy.
The Cass Freight Index is based on "more than $26 billion" in annual freight transactions by "hundreds of large shippers," according to Cass Transportation. It does not cover bulk commodities, such as oil and coal and thus is not impacted by diminished oil-train activity and collapsed coal shipments. The index is focused on consumer packaged goods, food, automotive, chemical, OEM, heavy equipment, and retail.
The Index is not seasonally or otherwise adjusted, so it shows strong seasonal patterns. In the chart below, the red line with black markers is for 2016. The colorful spaghetti above that line represents the years 2011 through 2015. The only month this year that was not the worst month since 2010 was February; only February 2011 was worse. That's how bad it has gotten in the Freight sector: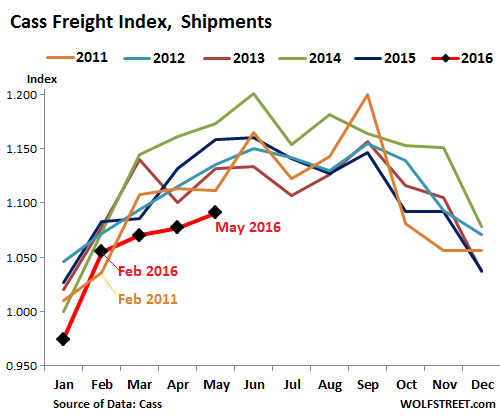 "Truck tonnage continues to slide for both linehaul and spot markets," according to the report. And railroads are also singing the blues.
The Association of American Railroads (AAR) reported earlier that May carloads, which include commodities, had plunged 10.3% year-over-year, while containers and trailers had dropped 3.3%, for a combined decline of 6.8%.




"Most economists think the economy has picked up in the second quarter from the dismal 0.8% growth in the first quarter, but so far railroads aren't seeing much of it," said AAR Senior Vice President of Policy and Economics John Gray when commenting on the dismal report.
"A variety of environmental and market forces continue to punish coal, and high business inventory levels and excess truck capacity, among other things, are pressuring rail intermodal volumes," he said, blaming in part competition from desperate truckers for the railroads travails.
In the Cass Freight Index report, Wilson worries about the "volatile" economic outlook: "What is perceived as a strong sign one week often looks like a sign of economic weakness the next," she said. "The global economy is facing many unsettling influences, such as Britain's possible exit from the EU, China's economic woes and currency problems, and oil prices."
This "volatile" outlook and the "unsettling influences" impact the dollars and cents of the freight sector.
Freight payments edged down 0.4% in May from April, a seasonal anomaly, and "completely opposite of the upward trend of previous years" for the period, Wilson pointed out. So freight payments plunged 10.1% from May 2015 and 13.8% from May 2014, on lower volume, lower rates, and a drop in fuel surcharges that trucking companies had been able to impose during the heyday of the post-Financial-Crisis economy: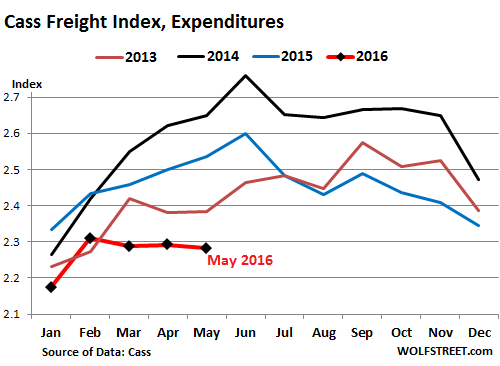 What's weighing on rates? The year-over-year downturn in shipments and the "abundant available capacity."
Trucking overcapacity, after a big build-out of the fleet during the years of optimism, particularly 2014, has now become an issue. Transportation data provider DAT tracks national spot-market demand for trucks and availability of trucks via its load-to-truck ratio. The spot market for the largest category, van-type trailers, continued to stew in its own juices: In May, the load-to-truck ratio for vans plunged 28% from May 2015 and 38% from May 2014. It has been ugly all year (red line):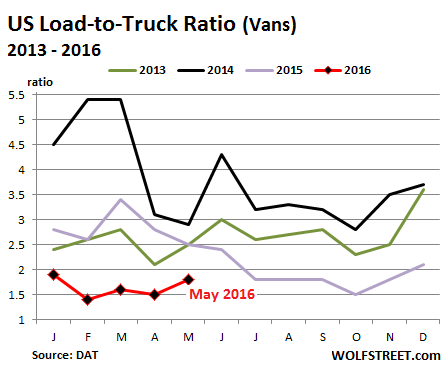 For companies having to send goods across the country, there is a bright side in this misery, according to the report: "more bargaining power to drive down rates."
For others, not so much. Trucking companies, such as Swift, the largest in the US, have started to idle part of their fleet. And they have slashed orders for new trucks. Truck manufacturers along with engine and component suppliers are going through waves of layoffs. Heavy truck dealers see their sales plunge and are getting worried. Railroads are cutting back [haunting pictures of 292 majestic Union Pacific engines idled in the Arizona desert].
Everyone in the transportation sector is trying to slash expenses. So the malaise, caused by the weak goods-producing economy, is cascading into the broader economy.
It might not turn around on a dime. "Predicting the second half of 2016 and beyond gets more complicated with each economic report released," Wilson lamented. "We basically are at a standstill as we wait for the forecasted strengthening."
Alas another brake shoe may be about to drop on the economy. Read… OK, I Get it, the US is a Service Economy, but this Looks Terrible




Enjoy reading WOLF STREET and want to support it? You can donate. I appreciate it immensely. Click on the beer and iced-tea mug to find out how:

Would you like to be notified via email when WOLF STREET publishes a new article? Sign up here.