Saudi banking system under pressure.
By Christine Hughes, Chief Investment Strategist at OtterWood Capital:
The US dollar remains in its year-plus-long range. It looked like it was breaking down a couple weeks ago, however, out came Fed chatter to steer it higher. The chart below shows the trading range the USD has been stuck in and the moments where Fed chatter began earlier this month.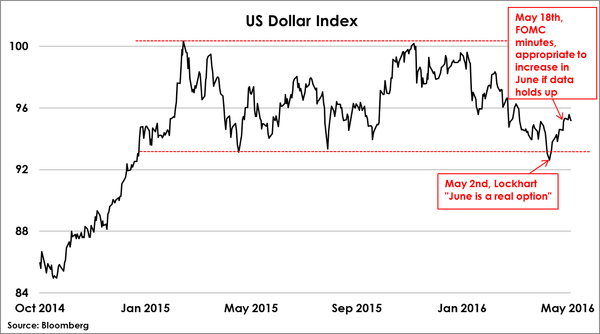 With the USD strengthening again, weakness is coming back to emerging markets and commodities, especially gold. Crude has held up due to falling production and rig counts.

One place where recent USD strength is exerting real stress is the Saudi Arabia currency peg. Money continues to flow out of the country, putting pressure on the peg. Mounting stress in the banking system can be seen in the three-month interbank offered rates which has soared to the highest since the Financial Crisis: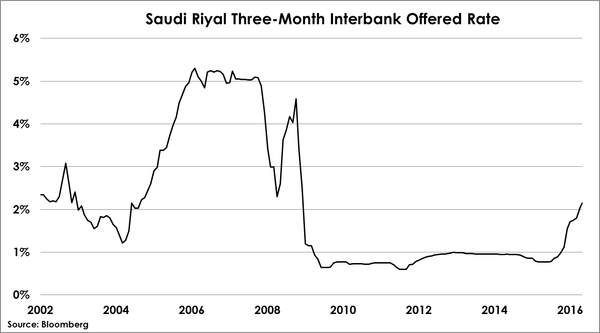 There is a strong case to be made for a one-off devaluation or complete break of the Saudi peg. Neither outcome would be too surprising: the Swiss broke their peg in 2015, and China shocked the world with their devaluation last summer.
The problem with a Saudi devaluation is the link to oil. Francisco Blanch from Bank of America says a break of the Saudi peg would cause oil prices to collapse to $25 a barrel!! This is something to keep a close eye on.
I don't believe the Fed can or will hike rates in June as interest rate differentials would be even more extreme than a year ago when the USD was surging higher. The ECB and BoJ have been much more aggressive with their policies the past year. The BoJ went into negative rates this year and is expected to do more, while the ECB will now begin purchasing corporate bonds. A Fed rate hike would send the USD through the roof.
However, it is not a simple thing. Given all the chatter out of the Fed the past two weeks about how they are going to hike next month, not following through (again) would hurt the Fed's credibility.
The following quote about the Fed from David Kelly, chief global strategist at JPMorgan Asset Management, says it best:
"Having now worked hard in recent weeks to explain why June is on the table, provided the data remain relatively healthy, not following through with a rate hike in three weeks would only further undermine whatever credibility the Fed has left," he said.
No one has any clue as to what the Fed will do, and it's clear that industry experts like this have little faith in monetary authorities. I don't blame them. By Christine Hughes, OtterWood Capital
The negative interest rate absurdities that central banks imposed on their bailiwicks elsewhere are now hitting US Treasury yields. Read…  The NIRP Refugees Are Coming to America
Enjoy reading WOLF STREET and want to support it? Using ad blockers – I totally get why – but want to support the site? You can donate. I appreciate it immensely. Click on the beer and iced-tea mug to find out how:

Would you like to be notified via email when WOLF STREET publishes a new article? Sign up here.

Classic Metal Roofing Systems, our sponsor, manufactures beautiful metal shingles:
A variety of resin-based finishes
Deep grooves for a high-end natural look
Maintenance free – will not rust, crack, or rot
Resists streaking and staining
Click here or call 1-800-543-8938 for details from the Classic Metal Roofing folks.