"The bottom has not entirely fallen out of demand, though."
Commercial real estate has experienced a dizzying price boom since the Financial Crisis. It goes in cycles. Rising rents and soaring property prices along with cheap credit drive up construction, which takes years from planning to completion, and suddenly all this capacity is coming on the market just as demand begins to sag…. That's when the cycle turns south.
On a nationwide basis, the boom has been majestic. But now, after posting "nearly double-digit gains for each of the past few years," according to Green Street's just released Commercial Property Price Index (CPPI) report, "property appreciation has come to a halt."
The index was essentially unchanged in April from March – actually microscopically down for the third month in a row, after having soared 23% past its prior crazy-bubble peak of 2007.
While there is "no evidence" that prices of Class A properties have fallen, prices of Class B properties "are probably lower than they were at the start of this year," the report explained.
And this is what the boom-and-bust cycle of commercial real estate looks like, according to the CPPI, which tracks the value of "institutional-quality" apartment, industrial, mall, office, and strip-retail properties. Note how there are no "plateaus" in these cycles: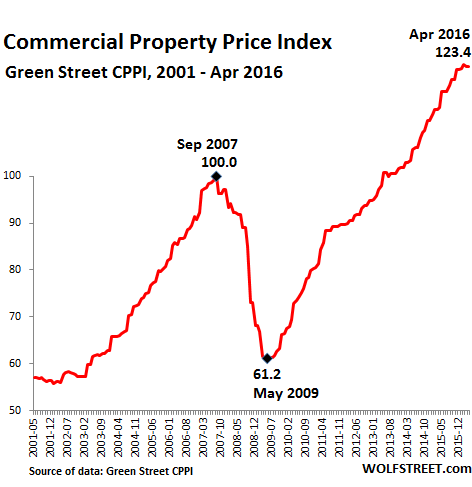 Real estate is local, and each sector has its own dynamics. In some cities, the office sector is still booming. In others, it has hit a wall, as in Houston which faces a billowing office glut, soaring subleases, collapsing lease volume, and hefty discounts on rents [read…  Houston Office Market Melts Down].
Then there's San Francisco. Boston Properties, the largest office landlord in the city, already warned of the cooling market in its earnings call. It owns, among others, the 1.4 million sq-ft Salesforce Tower, the tallest building in the city, to be completed by early 2018. It's just one of the numerous developments in a historic construction boom visible to anyone trying to drive down the congested streets blocked with construction equipment in certain parts of SF. For the moment it's 59% leased.
San Francisco has been through a boom in tech. "Tech" includes categories like "food tech" (app-based home-delivery service), bio tech, ad tech, fin tech, social media (like our darling Twitter), etc. Companies brought in lots of people that needed a place to work. That boom is dependent on a flood of money from around the world, a soaring stock market, and an IPO miracle.
Alas, the stock market is mired down and IPOs – there were no tech IPOs at all in the first quarter – are in the worst condition since the Financial Crisis.
Startup funding is drying up. Startups are shutting down, one after the other. And larger companies, such as Twitter, or Yahoo and GoPro a little further afield, are laying off people. The whole paradigm has changed just when a historic office construction boom is playing out.
Colin Scanlon, Research Manager at commercial real estate services firm Savills Studley, put it this way:
"San Francisco's economy and office market have been at the forefront of major metro areas in the last five years, registering some of the most impressive hiring and leasing trends in the country. Now they may be leading the way in terms of correction as sublet space soars and tenants pull back."
On the surface, the office market still looked OK-ish in the first quarter. Overall vacant availability, which had edged up to 8.0% in Q4, the first increase since 2009, edged back down to 7.7%, according to Savills Studley. Class A vacant availability, after "spiking" 0.8 percentage points in Q4 to 8.5%, remained flat. Overall asking rents inched up 0.2% for the quarter and rose 7.9% year-over-year. Class A asking rent ($65.53 a square foot!!) fell 0.6% from the prior quarter.
But leasing activity for the past four quarters plunged 36.7% to 5.5 million square feet. And this is occurring as numerous office towers are under construction and nearing completion. The report:
More companies are proceeding cautiously and some deals are falling apart. Decision-makers on the tenant side are getting cold feet, especially when growth is involved. The bottom has not entirely fallen out of demand, though. Law firms and financial companies are still getting ahead of the decision, with some firms trading spaces or moving instead of renewing.

Landlords started adjusting their strategy several quarters ago, increasing security deposit and collateral requirements for less established companies. Creditworthiness trumps the highest bidder for many owners, but others are very eager to lock in tenants before rents really start sliding.
And this:
People fear that all it will take is a couple of big tech companies folding and the floodgates will open, causing the sublease market to blow up, rents to drop, and new construction to grind to a halt.
Now the "common sentiment" is that rents peaked. "The market is on edge." The next step is south.
San Francisco has been through this before. Demand for office space in the city doesn't flatten. It booms as companies, tangled up in their own hype, try to "warehouse" office space for future growth as they perceive to be an office shortage. When reality sets in, they try to sublease the vacant space, and supply soars just when an enormous amount of new construction is being completed, and just when demand crashes, dragging rents and property values with it.
Now the hope is that this time, it won't be like 1999 or 2007. The optimists – "the more positive consensus view," as the report says – cling to the idea that this time it's different, that this time, "market fundamentals (both in the broader tech sector and the office market) are stronger than they were in 1999 or 2007."
The periods that followed those two years were devastating to the SF office market.
That fundamentals are stronger than last time is what everyone said in 2007, just before the crash. The stock market is still near its all-time high. Optimism and hope still reign. The downturn in the "tech sector" hasn't really started yet beyond the first baby steps.
But already, there's the nightmare of funding "down rounds," or worse, of no more funding rounds at all for some startups. There are now bankruptcies in the startup world, and cost cuts and layoffs to stem the bleeding and live another day. And this is how a classic commercial real estate bust in SF starts out.
But the problems that San Francisco faces are popping up elsewhere, as the "credit cycle" begins to unravel. Read…  US Commercial Bankruptcies Skyrocket
Enjoy reading WOLF STREET and want to support it? You can donate. I appreciate it immensely. Click on the beer and iced-tea mug to find out how:

Would you like to be notified via email when WOLF STREET publishes a new article? Sign up here.