"Speculators are losing faith."
Gold jumped 2.2% on Friday to $1,294.90 an ounce. It's up nearly 5% for the week and hit the highest price since January 2015.
Silver rose 1.7% on Friday to $17.80 an ounce. During the day, it kissed the highest price since January 2015. It has jumped 15% in April.
The yen, which the Bank of Japan successfully crushed for a while, has re-soared, from ¥126 to the dollar in June last year to ¥112 by last Wednesday morning in Tokyo. At that point, the BOJ announced that it would keep its scorched-earth campaign of negative interest rates and money printing unchanged, rather than adding to it. This disappointed the hedge fund community that had been cocksure that the BOJ would throw more fodder their way. So Japanese stocks plunged and the yen soared to hit ¥106.5 to the dollar on Friday, up 5% in three days, and the highest level since October 2014.
The euro, which the ECB is trying to crush with all its might, has re-soared 9% since early December to $1.145 by Friday.
Seen the other way around, the dollar is losing its value against all of them. The NBF Economics and Strategy team in a note to clients:
After hitting a 13-year high in January, the trade-weighted US dollar has subsequently lost steam, hammered by soft US economic data and hence diminished odds of Fed rate hikes. Speculators have reinforced the greenback's decline by taking their net long positions to the lowest since 2014.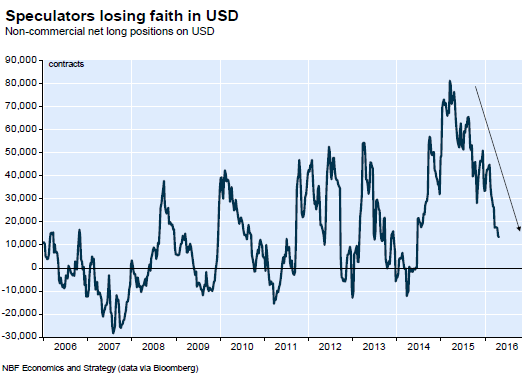 So they ask:
Can the mighty greenback bounce back? Considering markets are currently pricing in almost zero rate hikes this year, the big dollar could indeed rally if the Fed unexpectedly changes its tone and adopts a more hawkish stance.
But over the short term, they see a "persistence of USD weakness."
So folks are dumping the dollar, and last week they were dumping stocks too, and they're chasing after the opportunity to profit from risk. They're betting on a spike in fear and on a calamity in the markets. Christine Hughes, Chief Investment Strategist at OtterWood Capital, explains it this way:
Falling corporate profits, declining growth forecasts, and an uncertain macro environment have fueled investor uncertainty and kept markets range bound. The S&P 500 has also sold off more than 10% three times in the last 19 months, adding to investor skittishness.

These concerns are best highlighted by the amount of money poured into VIX related ETFs. The amount of shares outstanding in the VXX has hit record levels recently as investors look to protect themselves in the event of another sudden selloff.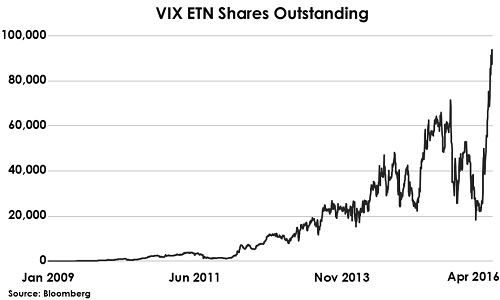 Are people worried that central banks are the only thing that keeps stocks propped up and that now even these formerly omnipotent market manipulators can't do their jobs anymore?
"If things don't make common sense, sooner or later, they come home to roost." That's how John Thornton, who'd retired as president of Goldman Sachs in 2003 and who's now a prof at Tsinghua University in Beijing, explained it to Yahoo Finance:
"So I feel as though we're sitting in 2016 with many of the same problems that we've had for the last eight or 10 years, they haven't been addressed very forcefully, we're living on borrowed time. And sooner or later, that ends in tears."
OK, he may have an agenda: He's Executive Chairman of Barrick Gold Corporation and Non-Executive Chairman of Asia-based asset manager Pinebridge Investments, and he has served on the boards of, among others, Industrial and Commercial Bank of China, China Unicom, and HSBC.
But that "uneasy" feeling, as he called it, isn't unique, nor is his fear that the global economy is "living on borrowed time," or that the whole package will "end in tears." We have felt that way for a while.
So people are once again fleeing into gold, silver, and (somewhat inexplicably) the yen, and they're dumping the dollar and stocks, and they're betting big on volatility and fear. The irony?
There is no fear.
Not according to the "fear index." The VIX stood at 15.7 on Friday, so low that it speaks of "complacency" after having spiked last August to 40 and after having plunged and spiked since then:
And those hardy folks who bet on fear and volatility and bought the VXX on February 11, and thus contributed to the jump in the number of VXX shares outstanding? So far they're down 43%.
It's hard to make a buck on fear when complacency still reigns despite visible mega-risks and even more visible mega-challenges. This utter disregard for reality by stock and bond investors, who now no longer feel the need to be compensated for the risks they're taking, except at the very riskiest end of the scale, is one of the greatest accomplishments of central banks, and at the same time one of the greatest risks out there.
While slow economic growth might look OK-ish on paper, in the US, where there's significant population growth, it's toxic. But the numbers are hushed up. Read…  Why this Economy Feels Even Lousier than the Lousy GDP Print
Enjoy reading WOLF STREET and want to support it? You can donate. I appreciate it immensely. Click on the beer and iced-tea mug to find out how:

Would you like to be notified via email when WOLF STREET publishes a new article? Sign up here.