"Flashing a recession signal."
Consumer optimism about the economy is waning, and small-business-owner sentiment is giving off recession vibes. That's how different surveys are now mucking up the rosy scenario.
Gallup's Economic Confidence Index, released today, added another dimension. It dropped four points in the week ending April 24, to -16, the lowest since August 2015, and down from positive territory in January 2015.
It left Gallup groping for answers:
Pessimism has increased despite a strong stock market in recent weeks and a persistent low unemployment rate. However, there have been reports of weak retail sales and expectations of low first quarter economic growth. Gas prices have also started to rise, although they remain well below where they were for most of the past decade.
The report also blamed the rhetoric emanating from the presidential primary. Candidates, still unconstraint by the dictum affecting US Presidents to always hype the economy, have unabashedly pointed at some ugly spots in the rosy scenario and have suggested "how they would fix the US economy if elected." This, Gallup says, rattled some nerves.
In January 2015, the index was at +5. It wasn't exactly wallowing in exuberance, given its theoretical range of +100 to -100 (it hit -65 during the Financial Crisis). But that was the high point. And it has been zigzagging south ever since.
Consumers don't live in the Wall-Street economy. They struggle with their daily challenges in the real economy. For them, it's tough out there. Study after study confirms that about half of them, even those considered middle class, are living from paycheck to paycheck and can't come up with $500 for emergency purchases.
But the most troubling aspects in the Gallup data simmer beneath the overall index, which is a composite of how Americans see current and future economic conditions.
The current economic conditions index has been trending down gradually. Today's reading, at  -7, is the lowest since November last year, with 23% of Americans saying the current economy is "excellent" or "good," while 30% said it's "poor."
What's coming down the pike looks even worse, according to Americans in the real economy. The index for future economic conditions plunged 6 points to -25, from an already crummy -19 last week, the lowest since August last year – a time "when the stock market plummeted over concerns about the Chinese economy," as Gallup reasoned. Only 35% of Americans said the economy is "getting better," while 60% said it is "getting worse."
Both measures were positive in January and February 2015!




Also today, the Conference Board released its Consumer Confidence Index for April which, to the great disappointment of economists, fell 1.9 points to 94.2. While the Present Situation Index rose 1.5 points to 116.4, the Expectations Index plunged 4.3 points to 79.3 — confirming the Gallup poll: they're seeing trouble balling up in the future!
Small businesses have been feeling the blues in a big way for a while. The Small Business Optimism Index for March, released by the National Federation of Independent Business earlier this month, fell to 92.6. As the report put it, the index "has turned decidedly 'south' over the last 15 months," from its recent peak of 100.3 in December 2014:
A "chartist" looking at the data historically might conclude that the Index has clearly hit a top and is flashing a recession signal.
These small business owners were "very pessimistic about the economy." Only 8% thought now was the right time to expand, while 51% thought now was a bad time to expand, citing as the top two culprits "weak sales" and a "poor economy."
There's a strong correlation between small business sentiment and consumer sentiment. But small business owners see troubles much sooner than consumers, and hence their sentiment dives much sooner. This chart by Advisor Perspectives shows how the early dive of small-business sentiment (red line) opens up a gap to consumer sentiment (blue line) during the period shortly before recessions: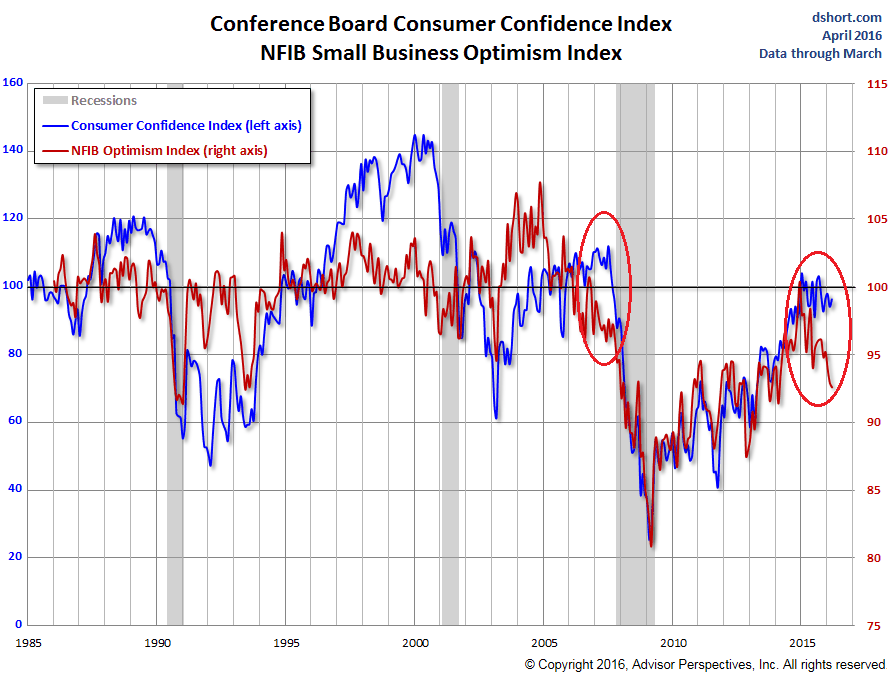 Small businesses fight it out on a daily basis in the trenches of this economy. They see the first little squiggles in their orders, sales, or customer traffic, or they're suddenly not getting a contract they expected to get. They're the first ones to express their doubts when things tighten up, ahead of consumers.
Consumer and small business sentiment peaked at about the same time, near the end of 2014. As the above chart shows, while consumer sentiment has waned since then, small business sentiment has plunged. And this opened up the gap between the two. Last time this happened, with small business sentiment plunging way ahead of consumer sentiment, was just before the Great Recession!
Already, brick-and-mortar retailers are slithering into an existential crisis. And there's no respite in sight. Read… Retailer Bankruptcies Are Hailing Down on the US Economy




Enjoy reading WOLF STREET and want to support it? You can donate. I appreciate it immensely. Click on the beer and iced-tea mug to find out how:

Would you like to be notified via email when WOLF STREET publishes a new article? Sign up here.