Even as Prescription Drug Volume Stagnates, Prices Soar.
Total US spending on prescription drugs in 2015, at the manufacturers' level and as measured by "invoice pricing," jumped by 12.2% to $424.8 billion, after having already soared 14.2% in 2014! A two-year increase of 28%!
So you'd think we'd get some results for all this moolah. But no.
Life expectancy in the US, at 78.7 years at birth, ranks between 34th and 52nd place globally, depending on who does the counting, wedged somewhere between Bahrain and Cuba, and about 5 years below the top. Among US states, life expectancy ranges from 81.3 years in Hawaii or 80.8 years in California to 74.9 years in Mississippi. It's bad. But we handed Big Pharma a ballooning amount of money to get there.
This $424.8 billion in prescription drug spending at "invoice pricing" isn't based on what Americans or their health insurers pay. According to IMS Health, which released the report, it reflects invoice pricing by drug companies to distributors. It includes neither price concessions by drug companies nor the "mark-ups and additional costs" before these drugs get to patients.
Another metric is "net price spending." It's based on the same wholesale prices but after "rebates, off-invoice discounts, and other price concessions made by manufacturers to distributors, health plans, and intermediaries." And it jumped by 8.5% to $309.5 billion.
And then there's what IMS Health calls "average patient cost exposure," which is what Americans pay, including copays and deductibles. We'll get to that in a moment.
Spending on "protected brands" – protected by patents – increased by $28.3 billion at "invoice pricing." A tiny fraction ($2.7 billion) was due to volume growth. The rest ($25.6 billion) was due to price increases.
Prices of protected brands jumped 12.4% on an invoice basis in 2015, after years of rampant and mostly double-digit price increases, amounting to a cumulative five-year surge of 72%: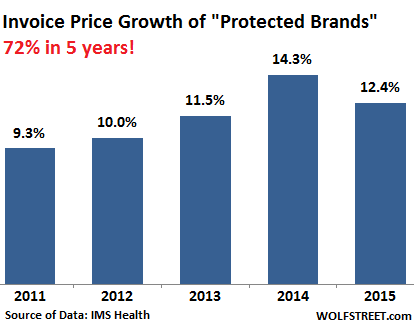 But apparently these price increases hit some resistance because an "estimated" $20-22 billion were "given back" in form of price concessions, for a net $4-6 billion in price increases. IMS Health "estimated" the price increases after price concession at about 2.8%, after a 5.1% increase in 2014. IMS Health:
This reflects the heightened competition among manufacturers and more aggressive efforts by health plans and pharmacy benefit managers to limit price growth.
The irony: as Big Pharma is trying to impose monster price increases on patent-protected drugs, resistance is building up on the other side: hence, bigger invoice-price increases have led to bigger price concessions.
Spending on drugs that IMS Health defines as "specialty medicines" has doubled over the past five years to $150.8 billion wholesale at invoice pricing and soared 21.5% in 2015 alone. On a net price basis, spending on these drugs jumped 15% in 2015 to $121 billion.
They account for 70% of the growth in total prescription drug spending over the five-year period. They're in the categories of Oncology, Autoimmune, Viral Hepatitis, Multiple Sclerosis, HIV, Antivirals, and Other Specialty. And they now make up 36% of prescription drug spending, up from 24% five years ago.
Spending on the top five prescription drugs in the US, at wholesale invoice pricing, reached $43.6 billion: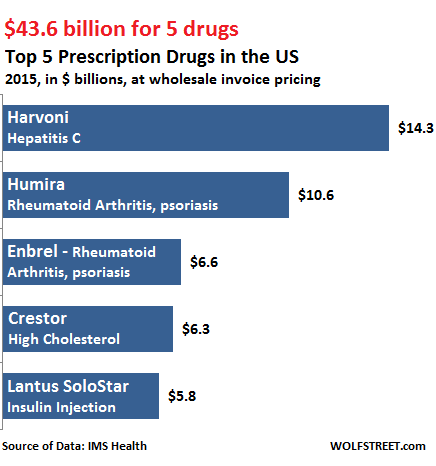 But here's the thing: the total number of prescriptions written edged up a mere 1.0% to 4.37 billion. About in line with population growth. So it's not like Americans are taking more medications! Or that they can afford to take more medications!
They're just paying more. IMS Health on "average patient cost exposure":
The average patient cost exposure for a brand prescription filled through a commercial plan has increased by more than 25% since 2010, reaching $44 per prescription in 2015. Rising use of health plans with pharmacy deductibles, co-payments, and co-insurance is contributing to this rise. The average patient cost exposure for generics, however, has remained at approximately $8 since 2010
Across all commercial pharmacy claims, about 40% of the patients are exposed to more than $50 per brand prescription. For many, the "cost exposure" is far higher.
And the future according to IMS Health?
More price increases. More spending increases. Nirvana for Big Pharma. By 2020, spending on prescription drugs at wholesale on an invoice price basis "will reach" $610 billion to $640 billion, with "steady mid-single digit growth" every year. That would be "a 46% increase in spending over the next five years, growing at a faster rate than the past five…."
Now, this is good for GDP. The US economy is bogged down. It needs some growth. Prescription drug sales are a big and growing part of the economy. There are few sectors that are booming like this.
Even if volume stagnates, like right now, price increases see to it that dollar sales continue to soar. This is good for corporate sales and earnings. They've been shrinking in the aggregate, and they need some help. And it's good for the Fed because it can claim that with these price increases, it has accomplished the unique feat of beating back the evil monster of low inflation or whatever. It's good for India and China where most of these medicines are manufactured. It's good for everyone. Even if regular Americans cannot afford it. And even if it wrecks the rest of the economy.
Where would the economy have been without the boom in prescription-drug prices? Total business sales would have been a lot lower. They've already dropped to the worst level since 2012, inventories have soared to Financial Crisis levels, and the labor market is next. Read…  Why This Economy Is Now Running Aground
Enjoy reading WOLF STREET and want to support it? You can donate. I appreciate it immensely. Click on the beer and iced-tea mug to find out how:

Would you like to be notified via email when WOLF STREET publishes a new article? Sign up here.