The stagnation zone
Our ever exuberant US consumers spent on average $89 a day in March on "discretionary" items, according to Gallup's Daily Tracking survey. That was up five bucks from February, which is within the typical range of seasonal increases. It matched the previous high for a month of March since the Financial Crisis: March 2013. In March 2014 and 2015, consumers spent less: $87 and $86 respectively. Flat for the past four years!
But March is a peculiar month, with strong predictive qualities for the entire year. Gallup:
For each of the past six years, the spending average for March has been a rough bellwether for that year's spending, coming within $3 of the annual average. The months of April, June and October have come within this same range of the yearly averages since 2010. This did not hold true in March 2008 and March 2009, however — years in which the recession and the financial crisis dealt their immediate blows.
And just how flat have the past years been?
This chart shows the monthly averages going back to 2008, when the survey began. The plunge and spike in 2008 was followed by the collapse as the Financial Crisis hit home. Then spending gradually recovered until 2013, when, at lower levels than 2008, it became range-bound — a spending pattern that Gallup calls euphemistically, "fairly consistent since then." The stagnation zone: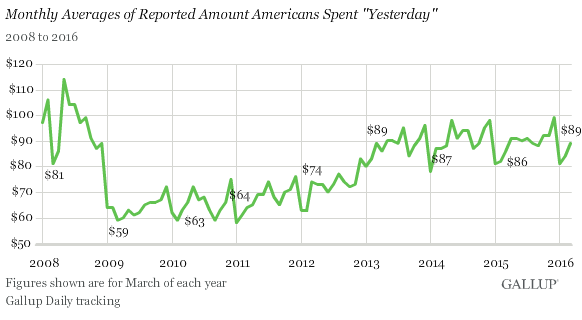 The March results are based on phone surveys of 15,243 adults aged 18 and older in all 50 states and Washington, DC. These folks are asked, among many other things, how much they spent "yesterday."
When these results are averaged out month after month over the years, going back to 2008, while ignoring the impact of inflation – and there has been a lot of inflation in housing, health care, vehicle prices, tuition, and other big items – we get this: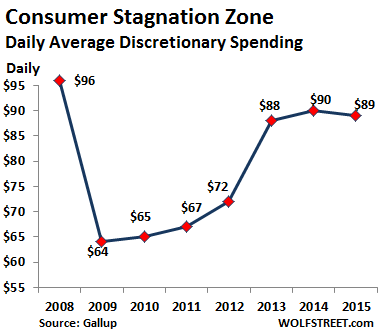 If it were adjusted for inflation, it would look worse. And based on the results of March 2016, if historical patterns hold, this year will likely add another link to the stagnation zone.
Many people have felt this way. They're not making more, and they can't spend any more on discretionary items because that's all they've got. So rent goes up and health care goes up, and they shell out more money for tuition or the payment on their new car, but they have to make cuts elsewhere. Gas gets cheaper, so they can spend a little more on groceries or they might save up some to be able to pay the deductible and copay and go to the doctor. It just gets shifted around. Nip and tuck.
So why doesn't the official "consumer spending" data match this stagnation over the past few years? Consumer spending in inflation-adjusted dollars, as tracked by the Bureau of Economic Analysis, has risen 12% from the pre-Financial Crisis peak in November 2007 through February 2016. It's up 8% since March 2013, the peak month in the Gallup survey! Something has to give, no?
In part, these differences are rooted in how the beans are counted. Tracking the complex and vast economy of the US that never stands still in order to be counted is a devilishly difficult task and subject to big errors, revisions, and systematic inaccuracies. We get that. But there's another factor – and that impacts why many consumers actually feel that the conditions in their own lives don't match the published economic numbers.
And these consumers are right to feel that way.
Here's the "secret." Actually, it's not a secret. But no one wants to mention it. The US population has grown from 301 million in 2007 to 322 million in 2015. That's an increase of 7%. Now our slow-growth economic pie gets divided up over 21 million additional people! But they're also spending some money; hence the increase in consumer spending.
Which is exactly why the unemployment problem has become so intractable: Since the bottom of the Financial Crisis in 2009, the US population has grown by 16 million people. But since then, only 14 million jobs have been added.
Slow economic growth is toxic in a country with significant population growth!
So when consumers are asked how much they spent "yesterday," it's a measure of per-capita spending, not total spending.
Over the eight years from the fourth quarter 2007, the pre-Financial Crisis peak, through the fourth quarter 2015, per-capita inflation-adjusted GDP has inched up a total of only 3.1%! The most minuscule understatement of inflation (whether by accident or not) spread over these eight years would turn per-capita economic "growth" negative! A very likely scenario.
And this explains what consumers say when asked about spending and other things that then don't match the official national statistics: It's very tough out there for individual consumers regardless of the aggregate numbers.
Wracked by declining sales and earnings, companies have already started cutting jobs to bring their expenses in line. The announcements bubble up on a daily basis. And it's reaching far beyond energy. Read…  Job Cuts Pile up




Enjoy reading WOLF STREET and want to support it? You can donate. I appreciate it immensely. Click on the beer and iced-tea mug to find out how:

Would you like to be notified via email when WOLF STREET publishes a new article? Sign up here.