These private equity firms are now waiting for a miracle.
The IPO pipeline is blocked and chock-full, after a dismal fourth quarter and an abysmal first quarter: in terms of deals, the worst since 2009; in terms of money raised, the worst since before the dotcom bubble. A fiasco with implications for the overall stock market.
So which IPOs are actually is stuck in that pipeline?
First thing you notice is that the VC-backed startups with the most dizzying valuations, such as Uber, Airbnb, Palantir, and Snapchat, are not in the IPO pipeline!
Instead, you find LBO queens. Private equity firms acquired these companies, stripped out equity, and loaded them up with debt. Now they're trying to exit them. And there are some spin-offs too.
Of the 118 companies waiting to go public, according to Renaissance Capital's Quarterly IPO Review, 42 are in the "active pipeline," with new or updated filings since January 1. But everything has come to a halt.
So which major company dares to be the icebreaker, the one that allows the others to follow?
If the first major IPO this year flops like the last major IPO in October — KKR-backed First Data, buckling under $20 billion in debt — it might shut down the pipeline entirely. The first major IPO simply must be a success!
Below I discuss key IPO candidates in that pipeline, separated by size into three groups. This table shows the largest IPO candidates, with estimated deal size (amount raised) of over $500 million. The "LTM sales" column shows sales for the last twelve months. The LBO queens are orange, the spin-offs gray, and the VC-backed startups yellow. But there is no yellow: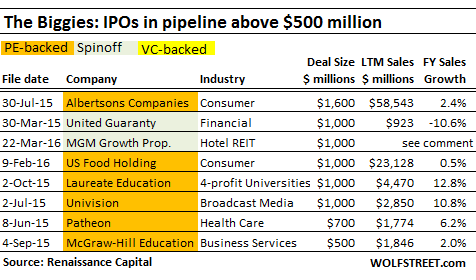 A wild ride through LBO & Private Equity Land
Neiman Marcus is not even on the list. The owners of the LBO queen, Ares Management and the Canada Pension Plan Investment Board, were going to dump it on the unsuspecting public in October but at the last minute postponed the IPO until 2016. In December, the luxury retailer reported a sales drop of 5.6% – the first drop since 2009 – and a lot of red ink, as it is struggling with $5 billion in debt (7.1 times Ebitda!). And it scrapped its IPO for good.
Albertsons Companies: The supermarket chain was acquired in a 2005 LBO by a group of PE firms led by Cerberus. In January 2015, the company acquired Safeway to get a handle on competition. But in October, during the brick-and-mortar retail swoon, it postponed its over-priced $1.6 billion IPO. Now everyone is waiting for it to slash its price. But it's loaded up with $12 billion in debt and needs a big price to help pay down that debt.
United Guaranty Corp, a mortgage insurer that AIG is trying to spin off. Investors got mauled in recent spin-offs, such as Oxy's disastrous spin-off of California Resources. Spin-offs are carefully timed to occur near the cyclical peak of that industry. AIG, seeing perhaps the end of US Housing Bubble 2, decided that now is a good time to unload its mortgage insurer.
MGM Growth Properties: MGM Resorts is spinning off 10 of its hotel properties – including Mandalay Bay, The Mirage, and Luxor – with about 24,500 hotel rooms into a publicly-traded real estate investment trust (REIT). MGM Resorts will also conveniently transfer $4 billion of its debt to the REIT.
US Foods Holding: The second largest food distributor in the US was acquired in a 2007 LBO by PE firms Clayton, Dubilier & Rice (CDR) and KKR. When they tried last year to sell it to Sysco, the largest food distributor in the US, for $8.2 billion, regulators had a hissy-fit. Now they're trying to sell it to the public.
Laureate Education, which operates for-profit universities around the world, is backed by the who-is-who of private equity, including Henry Kravis, George Soros, Steve Cohen, and Paul Allen. The company was taken private in a $3.8 billion deal, led by KKR. In 2010, Laureate hired former President Bill Clinton as honorary chancellor. He traveled all over the world to Laureate's universities to support them with the prestige of the US Presidency still lingering around him.
Alas, for-profit education has gotten hammered by regulators, student-loan advocates, lawsuits, investigations, and judgments. Felled by these attacks, Corinthian Colleges, once the second-largest for-profit university chain in the US, went bankrupt.
Investors have taken notice. The shares of Strayer Education have plunged 67% since 2011. DeVry Education Group has plunged 73% since 2011. Capella, after considerable volatility, is about flat with 2011. Apollo Education Group has plunged 86% since early 2012.




Univision Communications: America's big Spanish-language broadcaster was taken private in a $12.3 billion LBO in 2007 by PE firms Madison Dearborn, Saban Capital, Providence Equity, TPG Capital, and Thomas H. Lee Partners. The deal was funded by piling $10 billion of debt on the company. Moody's rates it B2, deep into junk. Debt can kill the best company!
Patheon: The pharmaceutical services company was acquired in a 2014 LBO by Dutch healthcare multinational Koninklijke DSM and US PE firm JLL Partners.
McGraw-Hill Education was acquired by Apollo Global Management when McGraw Hill split into two, the other part being McGraw Hill Financial, which owns Standard & Poor's.
Those are the biggies stuck in the pipeline.
Ah, the First Tech Startup
The table below lists the mid-tier IPOs stuck in the pipeline, most of them LBO queens. Two are spin-offs. And one finally is a VC-backed tech startup!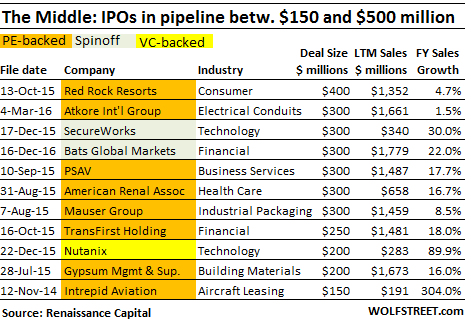 Red Rock Resorts: Formerly known as Station Casinos, it operates casinos in Nevada and Indian casinos in Northern California and Michigan. It was taken private in 2008 by PE firm Colony Capital and the founding family, led by Frank and Lorenzo Fertitta. It promptly went bankrupt in July 2009!
It emerged from bankruptcy in 2011 with $4 billion less in debt and changed ownership structure. Now Deutsche Bank owns 25%, with the option to put the company into an IPO five years after exit from bankruptcy, so as soon as June 2016, to unload some of its shares. JP Morgan Chase ended up with 15%. Some bondholders and Colony Capital still own about 5%.
The biggest owners are the Fertittas, with 45%. Red Rock Resorts pays their operating company, Fertitta Entertainment, a management fee. Proceeds from the IPO, about $460 million, are to be used to buy out the management company, according to the New York Post, "delivering a windfall for the brothers," to be funded by the public.
Atkore International Group manufactures galvanized steel tubing, sprinkler pipe, steel and flexible non-metallic conduit, pre-wired armored and metal clad electrical cables, etc. Founded in 1959 in Illinois as Allied Tube & Conduit, it became part of Tyco International and acquired other companies. In 2010, Tyco sold a majority stake to PE firm CDR, which gave it the fancy moniker Atkore International. And it continued to grow by acquisition.
Its credit rating is deep into junk. Moody's rates it B3 due to its "elevated leverage, weak interest coverage, low margins, sensitivity to volatile steel and copper prices, as well as its reliance on nonresidential construction activity, which drives demand for most of its electrical and tubular products." So now would be a great time to sell it, if CDR could just line up some buyers!
SecureWorks was acquired by Dell in 2011 for $612 million. In 2013, Dell underwent an LBO by Michael Dell and Silver Lake Partners. Now it's trying to shed assets to better deal with its mega-debts. Hence its efforts to spin off its cybersecurity business.
Bats Global Markets, which operates exchanges and provides services for financial markets, counts among its owners: Bank of America Merrill Lynch, Citadel, Citigroup, Credit Suisse, Deutsche Bank, Goldman Sachs, Instinet, JP Morgan, KCG Holdings, Lime Brokerage, Morgan Stanley, Spectrum Equity, TA Associates, Tradebot Systems, and Wedbush. They'll make it fly!
But wait…. In 2012, Bats had to scrap its IPO after a "botched trading debut," as Renaissance Capital put it mildly. So now it will try again, listing its shares on its own Bats BZX Exchange.
PSAV: The audiovisual and events company serving the hotel markets was acquired by Goldman Sachs and Olympus Partners in January 2014 for $878 million.
American Renal Associates: In 2010, PE firm Centerbridge Partners acquired a majority stake in what is now the largest provider of kidney dialysis services in the US. The IPO, delayed since August, has some wrinkles. The Wall Street Journal:
But first, the Beverly, Mass., company said it plans to split its stock, pay a yet-to-be-set dividend to current shareholders and enter into an agreement to share its tax benefits with the current shareholders after going public.

The so-called tax-receivable agreements have become increasingly common in initial public offerings – dubbed supercharged IPOs.

American Renal Associates, much like Shake Shack Inc., would pay 85% of tax benefits it receives to private-equity owners.
Mauser Group B.V.: The Netherlands-based company manufactures plastic, metal, and fiber drums and intermediate bulk containers that it also reconditions and resells as used. It was acquired by CDR in 2014 for $1.2 billion, funded by a pile of debt, and now sports Moody's deep-junk credit rating of B3.
TransFirst: The payment processing services provider started out in 1995 as ACS Merchant Services. In 2000, it was acquired by GTCR Golder Rauner and changed its name. In 2007, the PE firm sold it to Welsh, Carson, Anderson & Stowe, which sold it to Vista Equity Partners in 2014. Now, after each PE firm has stripped out what it could, it will be sold to the public.
Nutanix: Voila, the first tech startup on the list! The "cloud" storage provider is backed by a gaggle of VC firms. Cloud storage is a tough business, dominated by Amazon, Google, Apple, and the like. New entrants have a hard time. Box, which went public early last year, saw its shares crash from $25 on the first day to $8.82 in February, before rising to $12.35 now.
Gypsum Management & Supply, America's largest independent distributor of drywall and acoustical building materials, was acquired in February 2014 by PE firm AEA Investors. With the enormous construction booms in some cities, including Houston and San Francisco, looking increasingly precarious, it's time to unload.
Intrepid Aviation owns Airbus and Boeing passenger jets that it leases to airlines. Among its owners are PE firms Reservoir Capital and Centerbridge Partners. It filed for an IPO in November 2014 but has since failed to take off. In its S-1 filing at the time, it disclosed that it had long-term debts of $1.6 billion and $4.8 million in losses for the six months through June 30, 2014.
The Little Ones: no product, no revenues, no problem
The table below shows highlights of the smallest offerings, many of them biotechs without product or sales.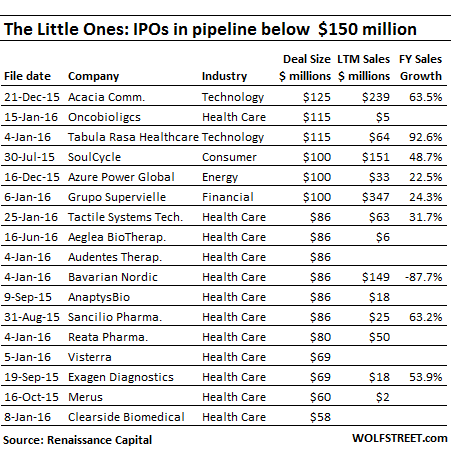 The standout in this group? A San Francisco startup that makes money.
SoulCycle "doesn't just change bodies, it changes lives," it says on its website. "With inspirational instructors, candlelight, epic spaces, and rocking music, riders can let loose, clear their heads and empower themselves with strength that lasts beyond the studio walls." You get the idea.
It has 58 fitness clubs equipped with stationary bikes. You book bike and class on your smartphone. If you're fast enough, you can reserve a bike in front of a fan. The company expects to have 250 clubs in the US. One more national fitness chain. For the nine months ended September 30, 2015, revenue rose 50% to $118 million. It's said to be profitable. It's not exactly a tech startup. But hey!
These are key companies in the "public pipeline." Renaissance Capital also has a Private Company Watchlist of 258 companies that it believes could go public in 2016 – if they can. Because there's a problem:
The IPO window may only be open to some of the largest and best-run companies, which may still face valuation pushback as weak public valuations and overheated private valuations converge.
And companies that can't make it out the IPO window? For many of them, particularly the over-indebted deep-junk-rated LBO queens, it's going to be tough out there.
Despite the booming stock market that is just below its all-time high, which would normally entail a booming IPO market, IPOs are in the worst shape since 2009. And something has to give. Read… The Fretting Among Wall Street Gurus Has Begun




Enjoy reading WOLF STREET and want to support it? You can donate. I appreciate it immensely. Click on the beer and iced-tea mug to find out how:

Would you like to be notified via email when WOLF STREET publishes a new article? Sign up here.