A party pooper showed up.
The future for employment looks bright. The gig economy is firing on all cylinders. The FOMC, in its statement concerning its interest rate decision today, was practically gleeful about employment and where it's headed:
A range of recent indicators, including strong job gains, points to additional strengthening of the labor market.

The Committee currently expects that, with gradual adjustments in the stance of monetary policy, economic activity will expand at a moderate pace and labor market indicators will continue to strengthen.
Elsewhere, employment has been cited as one of the strong points of the economy. Companies have been hiring and creating jobs by the millions since the Great Recession, bringing total "non-farm employment," as defined by the Bureau of Labor Statistics, from a low of 129.7 million in February 2010 to 143.6 million in February 2016. That's nearly 14 million more employed folks!
A lot of them might be part-timers, and there are some with more than one part-time job, and some have been counted twice, and many people are mired in the vast category of the "working poor." But some sectors in some parts of the country have been booming and adding jobs that pay well, for example the "tech" sector, which includes all kinds of app-companies that are actually just trying to sell something to consumers, such as a craft-brew delivery service or Uber.
Some of these "tech" companies, from startups to broken icons like Yahoo, are running into trouble and are axing jobs, and so some unease has invaded the tech sector, but other "tech" companies are still hiring. And per our most recent employment reports, the party goes on.
But in July 2014, a party pooper showed up. That's when total business sales in the US peaked, according to Census Bureau data. Since then, total business sales, which include US sales of all companies, not just the largest in the S&P 500, have fallen 5%, to $1.296 trillion in January, about where they'd been two years ago!
This has been confirmed by Corporate America. Revenues of S&P 500 companies, based on their earnings reports as parsed by FactSet, fell 3.6% in 2015.
Yet, despite sales cascading lower for a year-and-a-half, total non-farm employment during the same period has risen by 4.48 million jobs.
The chart shows how jobs and total business sales are normally on the same wave length. Which is logical. When sales curdle, businesses cut their payrolls. When sales pick up, they hire. But since July 2014, a peculiar trend has set in: employment (red line, right scale) rising and sales (black line, left scale) falling: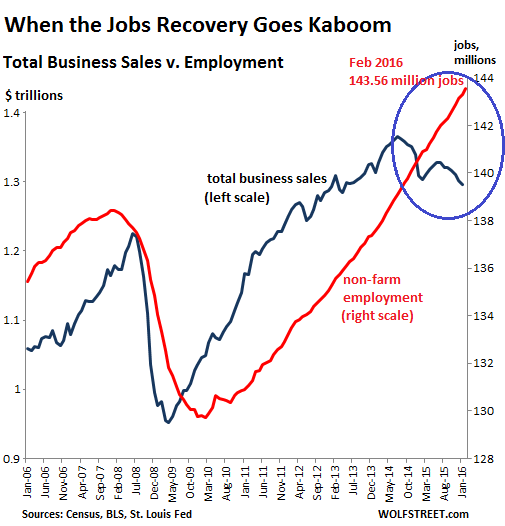 During the Great Recession, which officially started in December 2007, the peak in employment occurred in January 2008. Then employment began to drop. But total business sales continued to grow until July 2008, before falling off a cliff.
Sales bottomed out much faster than employment, hitting the low point in July 2009 before bouncing off in a "V-shaped" recovery. Employment didn't bottom out until February 2010 and then took its goodly time recovering. This too is logical: businesses, after such a collapse in sales, and the big losses that came with it, are going to be prudent before staffing up again.




So companies just went through their first annual revenue decline since the Great Recession. And earnings got hit hard. For example, for 2015, the 30 companies in the Dow have seen their earnings per share, as reported under GAAP, plunge 12.3% [read… For Stocks, a Reality Too Ugly to Behold?].
Now companies are under pressure to stop the earnings decline. They've already done the best they could to cover it up with "adjusted" earnings that they manipulate however they see fit, in whatever creative way, without rules or even common sense.
But this type of earnings whitewash – which we've lambasted for years – is getting so crass that even SEC chairwoman Mary Jo White came out today and said that new rules might be necessary to "rein in" these sorts of shenanigans. The SEC is worried how these fake numbers are being fed to investors in lieu of the somewhat more realistic GAAP numbers.
Companies cannot whitewash these ugly numbers forever, and they can't blame the strong dollar and the weather forever, though admittedly they can blame them for a very long time. So they've been praying for more demand, and they've been hoping that central banks can somehow deliver this demand. But that just hasn't happened yet.
And when they realize that the prayed-for growth in demand isn't materializing, companies will have to deal with their earnings problem the other way: whittle down their expenses. For most companies, wages, benefits, and other forms of compensation are their largest expense item – and the biggest target.
They even have a procedure in place to perk up their stock price: they announce mass layoffs with impeccable corporate speak and a big "non-cash" charge to their earnings to pay (with cash, of course) for the costs of those layoffs and all kinds of other things. Since the charge will have the moniker "non-cash," it will be removed from "adjusted" earnings and will be ignored by analysts that will then hype the expected lower expenses related to those job cuts.
Then begins the heart-breaking work of laying people off. That's how it worked at every major sales decline. Unless a miracle happens to demand and in the sales departments across the country, it's what is bound to happen again.
The sales decline, and the corporate refusal to deal with it, has already inflated inventories to crisis levels, and with impeccable timing. Now there is no escape. Read…  This is What's in Store for the Real Economy




Enjoy reading WOLF STREET and want to support it? You can donate. I appreciate it immensely. Click on the beer and iced-tea mug to find out how:

Would you like to be notified via email when WOLF STREET publishes a new article? Sign up here.