With actual P/E Ratios Blowing Out Like this.
Just how overvalued are stocks, particularly small-caps? According to Wall Street, even the question is wrong. Stocks are never overvalued. They're always a buy. The future looks bright. And even if it doesn't look bright, analysts come up with "adjusted" earnings that are so brilliant that they blind even innocent bystanders. That's how Wall Street justifies high stock prices.
Our miraculously visionary analysts see on average an "adjusted" forward P/E ratio for the next 12 months of 15.8 for the Dow, 16.5 for the S&P 500, 17.8 for the Nasdaq, and – get this – 16.5 for the Russell 2000, the small-cap stock market index that tracks the bottom 2,000 stocks in the Russell 3000. If that were an actual P/E ratio, the Russell 2000 would be a screaming buy. But a look at reality shows just how ludicrous these "adjusted" P/E ratios, particularly for the Russell 2000, have become. And how these folks are trying to pull a bag over our heads.
So first things first. Sales are crummy. Worse than crummy. They suck.
Total US business sales – not just sales by S&P 500 companies but also sales by small caps and all other businesses, even those that are not publicly traded – peaked in July 2014 at $1.365 trillion, according to the Census Bureau. By December 2015, total business sales were down 4.6% from that peak. A bad 18 months for sales! They're back where they'd first been in January 2013!
Sales by S&P 500 companies dropped 3.8% in 2015, according to FactSet, the worst year since the Financial Crisis.
The strong dollar gets blamed, along with the weather. But the strong dollar is a mixed bag. Many companies whose sales are limited to the US don't feel the strong dollar, except they're benefiting from the lower input costs it produces. Worse than the strong dollar and the weather: Companies face a slowdown and a very tough environment in the US and globally.
This chart, based on data from the Census Bureau and the St. Louis Fed, shows just how lousy sales have been since their peak in July 2014: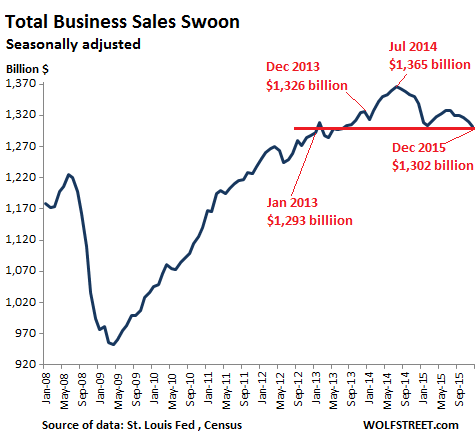 The last two times total business sales declined like this were linked to recessions: just before and during the 2001 recession, sales dropped 5.0% in 12 months; and during the Financial Crisis, sales fell off the cliff, as seen in the chart.




These terrible sales have whacked earnings! According to generally accepted accounting principles, or GAAP, the most hated term on Wall Street, earnings have swooned in 2015. For example, for the S&P 500, earnings plunged 12.7% according to GAAP, even as Wall Street fed us the idea that they only fell 3.4%, based on its fantasy "adjusted" numbers.
With earnings down sharply, but with share prices down only a little, the resulting P/E ratios, despite the decline in stock prices, have soared, indicating just how expensive stocks are getting.
The trailing 12-month P/E ratio based on GAAP for the S&P 500 jumped to 23 as of March 4. That's very high. Especially now that revenues and earnings are both heading south. The NASDAQ and the Dow suffer from similar if lesser distortions. For P/E ratios to get back to something resembling sanity, earnings would have to soar (unlikely in this environment) or share prices would have to drop – and by a lot.
But the Russell 2000, oh my! Based on GAAP earnings over the past 12 months, its P/E ratio soared from an already ludicrous 80 a year ago to a magnificently ludicrous 687.8 as of March 4.
The decimal is in the correct location. The problem is that the 2000 companies in the index – so not just a few oil and gas drillers – have seen their earnings totally collapse. But this is the hilarious part: Wall Street has stamped on the Russell 2000 an "adjusted" forward 12-month P/E ratio of 16.5: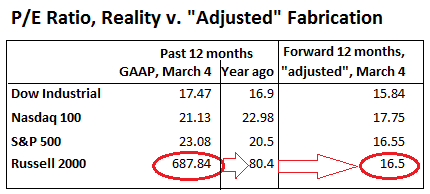 How can this be? This is the difference between some sense of reality that comes with GAAP accounting rules though they can be jiggered and jimmied into place as well, and pro-forma, ex-items, adjusted earnings doctored up by analysts whose sole purpose is to pump up stock prices.
Sell-side analysts are not allowed to look back at reality as it happened. They'd get fired. The past can be measured, and their shenanigans become too obvious. So they're only allowed to look at an "adjusted" image of the past – and only briefly. Instead, they must focus on the future, which they can easily control and mold to perfection in their pronouncements.
These analysts ought to be laughed out of the room, but they aren't. Their pronouncements are reprinted and cited reverentially in the financial media and fed to the investing public to make them feel good about paying enormous amounts of money for companies with terrible earnings and struggling in an environment of declining sales.
This is another sign that the stock bubble is still highly inflated though it has been deflating in fits and starts since its peak in May 2015, and that based on the harsh reality of P/E ratios under GAAP, it has a lot further to deflate.
The "negative ripple effects" of the oil bust, are however, spreading out. Read…  Dallas Fed Unplugs Oil Bulls, Warns of Liquidity Crunch, Contagion




Enjoy reading WOLF STREET and want to support it? You can donate. I appreciate it immensely. Click on the beer and iced-tea mug to find out how:

Would you like to be notified via email when WOLF STREET publishes a new article? Sign up here.