"Distress" in Bonds Spirals into Financial Crisis Conditions
The pile of toxic corporate bonds in the US, euphemistically called "distressed" debt, ballooned 15% in the single month of February to $327.8 billion, up 265% from a year ago, according to S&P Capital IQ. The number of S&P rated US companies with distressed debt rose 9% in February to 353, up 128% from a year ago.
The last time the pile of distressed debt had soared to this level was in November 2008, and the last time the number of distressed issuers had shot up to these levels was in October 2008; Lehman had declared bankruptcy in September.
These "distressed" junk bonds sport yields that are at least 10 percentage points above US Treasury yields, according to S&P Capital IQ's Distressed Debt Monitor. Put into a chart, the fiasco in terms of dollars (in billions, black line) and number of distressed issuers (purple columns) looks like this: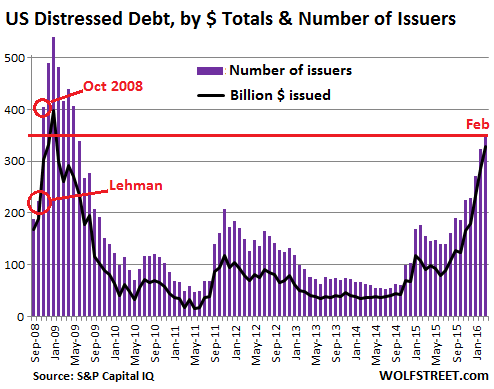 And so Standard & Poor's US Distress Ratio for junk bonds soared to 33.9 in February, from 29.6 in January, having increased relentlessly for nine months straight, nearly tripling from a year ago!
The ratio hit the highest level since July 2009, when it was coming down from the Financial Crisis. But this is the spine-chilling part: Back in September 2008, before the Lehman bankruptcy had fully registered in the ratio, but when the Financial Crisis was already gaining a good amount of momentum, and when stocks were crashing left and right and prudent people were wearing hardhats while out on the sidewalk, the distress ratio was "only" 28.9: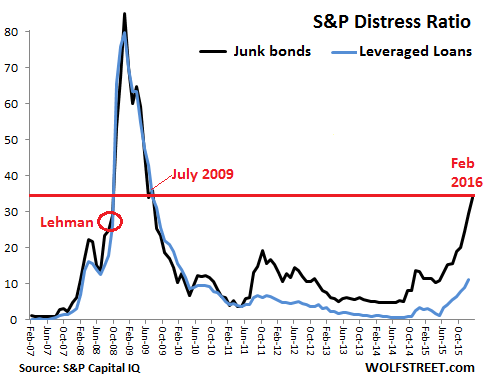 The distress ratio measures the extent to which risk is being priced into the bonds. A rising ratio is "typically a precursor to more defaults," the report explains.
And it's not just the oil-and-gas and the minerals-and-mining sectors that are getting crushed. Of the 607 distressed bond issues in the ratio, 172, or 28%, are oil-and-gas related and 80 bond issues, or 13%, are minerals-and-mining related. The remaining 59% are spread across other the spectrum.
"Spillover effect," is what S&P Capital IQ calls this. It has contaminated "the speculative-grade spectrum as a whole."
In terms of total debt, the third largest sector on the distressed list is Telecom with 31 S&P rated issuers and $33.5 billion in distressed debt, followed by Utilities, where distressed debt has soared 58% in just one month (!) to $32.5 billion, spread over 37 distressed issues. The table shows to top eight distressed sectors in dollar terms (the number in parenthesis is the number of companies):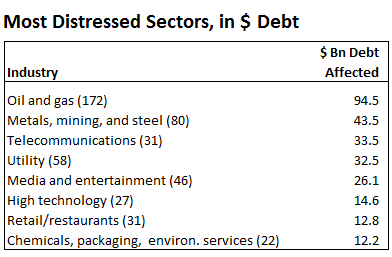 These are some of the companies with the most distressed debt, in the top five sectors:
Oil-and-gas: Chesapeake with $6.4 billion in distressed debt; Linn Energy with $6.9 billion, and Continental Resources with $4.1 billion.
Mining and Metals: the three entities of Freeport-McMoRan with a total of $15.8 billion; Peabody Energy, $4.8 billion; Cliffs Natural Resources, $2.9 billion.
Telecom: the three Sprint entities with a total of $20.8 billion; Frontier, $5.5 billion.
Utilities: NRG Energy, $4.4 billion; Targa Resources $3.7 billion; Talen Energy Supply, $2.6 billion.
Media and Entertainment: iHeartCommunications, $8.7 billion; the two entities of Scientific Games with a total of $3.2 billion; Clear Channel Worldwide with $2.2 billion.
When distressed bonds default, bondholders can't expect much of a recovery of interest or principal: 76% of all distressed issues are either unsecured or subordinated, and their claims to the assets are behind secured creditors. And 47% are dogged by S&P's lowest recovery ratings of "5" or "6", promising "only modest to negligible recovery."
That the distress in junk bonds is worse today than it was when Lehman filed for bankruptcy, and that it is predicting a higher rate of defaults than it predicted at that time is interesting in a number of ways.
Today, still, no one is panicking. The Fed is talking about raising rates. There is no sign of QE or bailouts. The big three US stock indices, while down, haven't crashed and offer a feel of eerie calm.
Part of this eerie calm on the surface is the still-widespread and ceaselessly propagated notion that all this is contained somehow, that it's only the oil-and-gas sector, and well, the minerals-and-mining sector that got obliterated. And yet, beneath the fading gloss on the surface, all heck has broken lose.
These junk bonds are precursors. Hundreds of stocks hidden in the bowels of the big indices have gotten totally crushed as that "spillover effect" is doing its magic. And that's what it looks like when a central-bank induced mega-credit bubble is left to its own devices and starts unraveling from the bottom up.
That spillover effect is spreading. Read… It Starts: Subprime Auto Loans Implode (in Your Bond Fund)
Enjoy reading WOLF STREET and want to support it? You can donate. I appreciate it immensely. Click on the beer and iced-tea mug to find out how:

Would you like to be notified via email when WOLF STREET publishes a new article? Sign up here.