"Even lower for even longer"
You'd expect at least some artificial optimism when the president of the Dallas Fed talks about oil. You'd expect some droplets of hope for that crucial industry in Texas. But when Dallas Fed President Robert Kaplan spoke on Monday, there was none, not for 2016, and most likely not for 2017 either, and maybe not even for 2018.
The wide-ranging speech included a blunt section on oil, the dismal future of the price of oil, the global and US causes for its continued collapse, and what it might mean for the Texas oil industry: "more bankruptcies, mergers and restructurings…."
The oil price plunge since mid-2014, with its vicious ups and downs, was bad enough. But since the OPEC meeting in December, he said, "the overall tone in the oil and gas sector has soured, as expectations have decidedly shifted to an 'even lower for even longer' price outlook."
So how low is "even lower?"
He didn't say. But here is what is happening right now, just hours after Kaplan got through speaking. On Monday during the day and in late trading, WTI plunged through the $32-level, through the $31-level, and hit $30.53 a barrel, as I'm writing this, down another 7.1%: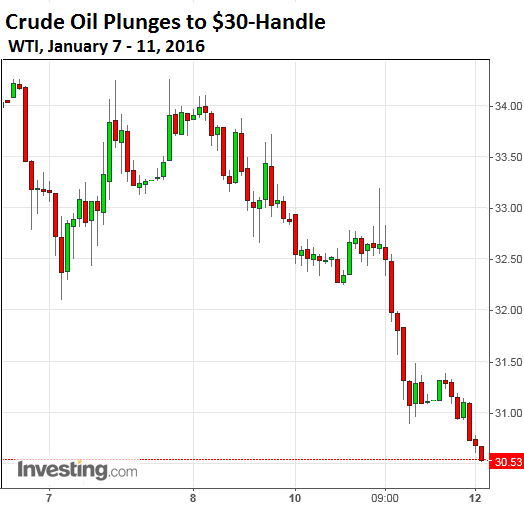 This $30.53 a barrel is within a hair of the Financial Crisis closing low on Tuesday, December 23, 2008, of $30.28 a barrel. Oil had plummeted for days as traders had been checking out for the holidays. Practically no one wanted to buy oil. But on Christmas Eve, oil rose to $32.94. It was the first day of a V-shaped recovery. And on Friday, December 26, 2008, oil soared and closed at $37.58 a barrel.
Since weekly charts note the closing price of the week, it was the $37.58 that made it into every weekly chart. And these days, when folks look at long-term price charts, which are most often weekly charts – or worse even, monthly charts – they see $37.58 as the Financial Crisis low. And based on those treacherous weekly charts, much of the media has declared today's price a "12-year low."
Not quite. But hey….
So currently at $30.53, WTI has not yet taken out the low of December 23, 2008. But it's within a hair.




Morgan Stanley, Goldman Sachs, Citigroup, and others have been projecting that WTI will break through the $30-line and head toward $20. When these kinds of wild forecasts first surfaced last year, they were pooh-poohed. Today they're a lot closer to reality.
Kaplan wasn't shy about laying out the reasons. It's OPEC's fault:
OPEC seems to have abandoned any pretense of production quotas, and Saudi Arabia seems to be determined to maintain its market share of production. As a consequence, it appears that any reduction in supply from Saudi Arabia will have to be accompanied by proportionate declines from other middle-eastern nations and Russia—this, so far, seems unlikely.
Inventories in the OECD countries have reached 300 million barrels above their historical five-year average and continue to swell. According to estimates by the US EIA, global supply exceeded demand by an average of 1.7 million barrels per day in 2015, and that excess supply has accumulated in crude oil inventories [I wrote about this mismatch of production and consumption and the ballooning stocks of crude oil here, including charts].
And to eliminate any wiggle room for false hope, Kaplan added:
As of today, this gap has declined to approximately 1 million barrels per day and is expected to ultimately drop to 600,000 barrels per day by year-end 2016. Our economists at the Dallas Fed believe that global excess inventories aren't likely to begin falling until 2017. If we are wrong, the risks are that this rebalancing process will take even longer.
This mess is "further complicated" by Iran. The sanctions are expected to be lifted soon. Iran will ramp up production and sell what it can into the already oversupplied global market. Plus, it has 30 to 40 million barrels in storage, ready to be unloaded on the global markets, Kaplan said.
The prospect of all or a portion of this supply coming into the market sooner than expected has increased uncertainty and negatively impacted oil prices.
Then there's US production. The US rig count has plunged. On Friday, Baker Hughes reported that it fell by another 34 rigs to 644. Kaplan pointed out that despite the plunge in the rig count and the collapse of capital spending, "US oil production declines have been slow to materialize."
He blamed rising production from the Gulf of Mexico, the lag between capital spending cuts and production declines, and productivity gains in fracking over the past few years.
"All this suggests that 2016 will be a challenging year for oil producers," he said. The "ultimate timing" of any sort of balance between production and consumption "remains uncertain." And so he concluded in his encouraging manner:
As a consequence, we expect to see continued low prices and price volatility, as well as more bankruptcies, mergers and restructurings in the energy industry.
So it's going to be a tough few years, full of traps, pitfalls, and false once-in-a-lifetime opportunities.
Part of what is spooking the oil market is China, and the possibility of slowing demand. But China, it seems, has bigger problems. "Beneath the financial turbulence there lurks a credit crisis," explained a UBS advisor. Read… What Will China Dump Next, After Treasuries, to Keep Control?




Enjoy reading WOLF STREET and want to support it? You can donate. I appreciate it immensely. Click on the beer and iced-tea mug to find out how:

Would you like to be notified via email when WOLF STREET publishes a new article? Sign up here.