A lot of air underneath Friday's close.
Wall Street soothsayers were salivating Friday morning. The employment report for December tickled them. For days, they'd pronounced that the bloodletting was a buying opportunity, that stocks had dipped enough, that it was time to jump back in with both feet.
So Friday morning, that's what folks, hedge funds, and HFT algos did: they shook off the unpleasantries of the year so far, and shortly after trading started, the S&P 500 was up 0.9%.
But then everything came unglued. The three major indices fell about 1% for the day. It ended a week to remember: the Dow plunged over 6%, the S&P 500 nearly 6%, and the Nasdaq 7.3%. As MarketWatch titled it so eloquently: "US stocks see worst opening week ever."
There were some standouts.
Twitter, which lost $1.3 billion over the past three years and which doesn't know what to do next, saw its shares fall to $19.98, below $20 for the first time ever.
That's 23% below its IPO price of $26. But that's not where trading started in November 2013, when QE3 Infinity was still in full swing and when all things were possible, no matter how impossible. Behind closed doors, Wall Street ran up the price. The first trade was at $45.10. Twitter instantly became a Wall Street hero. By December 30, 2013, shares pierced the $70 mark. On Friday, Twitter was 56% below its first-trade price and 71% below its peak.
Among the other standouts was the Container Store. on Friday, it crashed 41% in one fell swoop to $4.21. Same pattern as Twitter and many of other Wall Street heroes: IPO price of $18 in October 2013. First trade at $36. The stock soared to $47.07 in two months. Now it's 88% below its first trade and 91% below its peak [read… This is What Happens after PE Firms Get Through with a Retailer].
This chart by Doug Short of Advisor Perspectives shows the indignities the S&P 500 suffered over the past five days in hourly increments. Only Tuesday was flat-ish. The rest was bloodletting: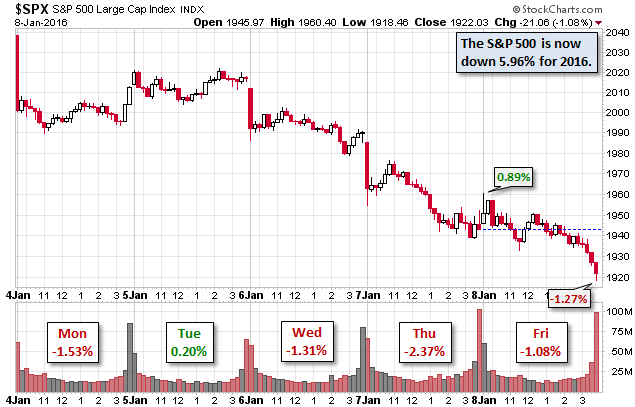 This leaves the S&P 500 9.8% below its record close on May 21, 2015, flirting with a "correction." The Dow and the Nasdaq, down 10.7% and 11.0% respectively, are already in a correction. On a 12-month basis, all of them are in the red.




So how painful is this selloff?
We're just not used to this anymore. Seven years of scorched-earth monetary policies – whose explicit purpose it was to inflate asset prices to achieve the "wealth effect" – created what once was a relentless bull market.
The assumption was – and still is in many corners – that this would somehow go on forever. A whole new generation of investors has not yet figured out that they can and will lose a lot of money some day, and the old generations of investors seem to have forgotten it.
Nearly seven years is a long time. So here is a reminder that this selloff is just a small dip in the big picture. This log-scale chart by Doug Short of Advisor Perspectives shows the daily closes since the bubble-high prior to the Financial Crisis. Note how much air is underneath Friday's close: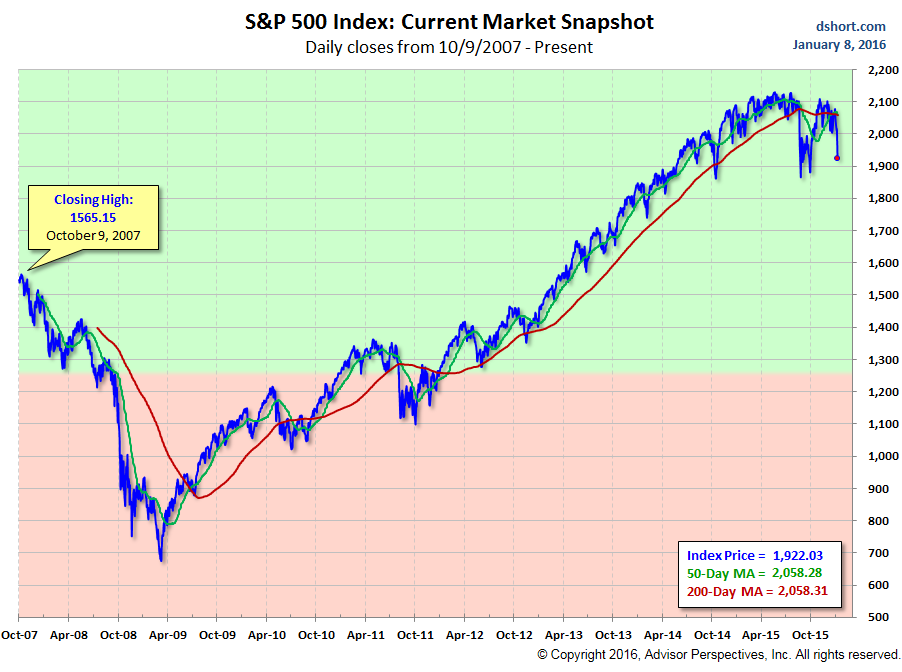 The week was even uglier in other markets.
China had one of its market tantrums. The devaluations of the yuan, and the government's efforts to prop it up rattled the world. On two trading days, the Shanghai Stock Exchange plunged 7% each before trading was halted. For the week, the index lost 10%. It's down 38% from its 52-week high last spring. Most of the government-mandated rally since the summer crash has gone up in smoke. But despite its gyrations, the index is only down 3% from its already inflated level a year ago.
Japan's Nikkei lost 7.0% for the week, the Hong Kong's Hang Seng 6.7%. The Nikkei is the only major Asian index that is up for the 12-month period, a measly 2.9% despite an enormous money-printing and asset-buying binge by the Bank of Japan. The other major Asian indices are in the red for the 12 months, with the Hang Seng down 14.5% and Singapore down 17.6%
In Europe, where stocks should be soaring based on the ECB's QE and negative deposit rates, stocks are plunging.
The German DAX dropped 8.3% for the week straight into "bear market" purgatory – down 20.5% from its peak in April last year.
The French CAC 40 lost 6.5% for the week and 18% since April. The British FTSE lost 5.3% for the week and 17% since April.
But the Spanish IBEX 35 is special. After a 6.7% plunge for the week, it's down 25% since April – deep into a bear market. This is the very same Spain whose economy has been ballyhooed as the model for post-crisis Europe, a model of cheap labor, with wages pressured by an unemployment rate of 21%. It seems investors have opened their eyes.
And that's how market downturns start: investors open their eyes – sometimes suddenly – and they don't like what they're seeing. So they poke around and peel away some of the covers, and they're discovering risks that have been there all along, and they behold the ugliness and smell the putrefaction, and they get skittish, and some lose their appetite.
Junk bonds too are quaking in their boots. The Distress Ratio is soaring, and globally, the corporate default rate is the highest since 2009. Things are coming to a head. Read…  Global Corporate Debt is Coming Unglued 




Enjoy reading WOLF STREET and want to support it? You can donate. I appreciate it immensely. Click on the beer and iced-tea mug to find out how:

Would you like to be notified via email when WOLF STREET publishes a new article? Sign up here.