Not everything is doom and gloom.
"Curious Cat," a commenter on my article, Welcome to 2016! With Just a Touch of Mayhem, started out with this:
Wolf –

I would feel a lot better about the world economy if I heard one positive thing from anyone other than "US consumers are continuing to spend" (until they can't any more) and US folks are buying cars (on a trillion dollars of borrowed money). Does anyone have anything positive to say about the world economy other than it's not as bad as we thought it might be?
Here's my answer for Curious Cat: There is "one positive thing" in this economy – more than one, actually, but one sticks out. It's a huge boom with a delicious product. It's a true American success story, pushed forward not by central banks, governments, or misbegotten stimulus programs, but by scrappy upstarts that fought all odds and disrupted a tired oligopolistic industry. And now, after a few decades, they're attracting mega-tons of money: craft brewers.
The Brewers Association reported that the total number of breweries in the US soared to 4,144 in 2015 – a phenomenal 36% jump from a year earlier. Since 2011, the number of breweries has skyrocketed 252%.
So it's only a tiny slice of the US economy, but it comes at the expense of an oligopoly of multinational brewing conglomerates that have totally forgotten about their customers – which makes the story quintessentially American.
In 1979, near the low-point in American beer history, there were only 44 breweries. But that year something happened: The industrial breweries were down to 42; but craft breweries doubled in number to … two!
And it opened the floodgates. The next year, craft brewers quadrupled to … eight. A dizzying boom had started: Americans, who were drinking less and less beer on a per-capita basis and were switching to wine and other sorrow-quenching and trading-loss-overcoming liquids, re-discovered beer, but full-flavored innovative craft brews that made taste buds tingle with complex pleasures.
This chart shows the near exponential boom in craft breweries (4,124 in 2015) even as the number of industrial breweries has now stabilized at 20 behemoths. Note how the Financial Crisis decimated craft brewers through 2011 – this being a very tough business that requires a lot more than just being able to brew great beers: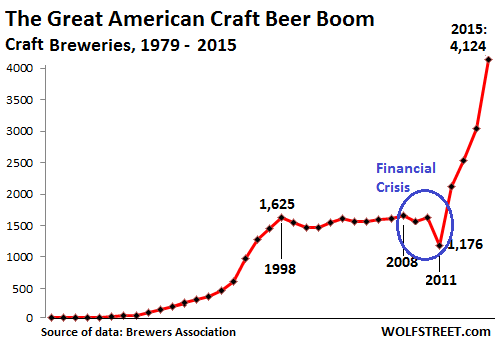 In 1873, the beginning of the data series, there were 4,131 breweries scattered around the US. Then the growing ubiquity of railroads revolutionized the industry: it became cheaper to brew beer in huge quantities in industrial installations and then transport it by rail to other cities.




Brewers have been consolidating ever since. Just before the time the Prohibition began, there were about 1,000 breweries left. During the Prohibition, the number dropped to zero, officially. After the Prohibition, the number jumped back to about 900. But then consolidation continued. And the number of breweries plunged. As bigger and bigger conglomerates were swallowing more and more beer brands, American beers, optimized for costs, began to taste the same, and folks lost their appetite for them – until craft brewers usurped the industry.
And so in 2015, the number of breweries closed out with a new high in recorded American beer history, though in all likelihood there had been even more breweries before anyone thought of counting them.
The report pointed out that 15 states now sport over 100 breweries each, in order of magnitude: California, Washington, Colorado, Oregon, Michigan, New York, Pennsylvania, Illinois, Texas, Ohio, Florida, Virginia, North Carolina, Wisconsin, Indiana.
Craft beer is local. If you live in a major city, you're surrounded by craft breweries. And every one of them brews beer that has its own unique flavors. The report:
There are still thousands of towns currently without a brewery – but with populations potentially large enough to support one. With beer lovers continuing to desire more full-flavored, innovative options from small and independent local breweries, ample opportunities exist for well-differentiated, high-quality entrants in the marketplace.
This comes as the overall beer market in the US is stagnating: sales inched up only 0.5% in 2014 to 197.12 million barrels (the 2015 sales numbers will be out in a few months). With sales of craft brews soaring 17.6%, sales of imports rising 6.9%, and export sales of craft brews skyrocketing 36%, the boom comes at the expense of industrial brews.
And it's attracting big money, both from private equity firms and from those desperate multinational brewing conglomerates whose organic sales, despite fortunes spent on advertising, are waning as Americans are losing interest in their industrialized, cost-optimized products, and whose only hope for growth is an acquisition spree that now includes craft brewers.
So the chase is on, with billion-dollar valuations, and the risk that your favorite brew, after having been swallowed by a brewing conglomerate, will be standardized and cost-optimized. And this is in the process of happening to me. Read… Buyout Binge in American Craft Brew Revolution Gets Personal




Enjoy reading WOLF STREET and want to support it? You can donate. I appreciate it immensely. Click on the beer and iced-tea mug to find out how:

Would you like to be notified via email when WOLF STREET publishes a new article? Sign up here.