Oil Bust Contagion Spreads
Retail sales in Texas, based on sales tax collections as reported by the Texas Comptroller of Public Accounts, have been booming since March 2010, the low point in the Great Recession.
Sales tax collections jumped 44% from $18.3 billion during the first 11 months of 2010 to $26.3 billion during the same period in 2015! The state government was ecstatic. Retailers were happy. People were spending money they didn't have on things they preferably didn't need, and in doing so, were paying lots of taxes. The state was firing on all cylinders.
Sales tax collections aren't a perfect indicator of retail sales. Not all sales are taxable, such as food products (flour, sugar, bread, milk, eggs, fruits, vegetables, and similar groceries), though many edible goods are taxable, as are most other goods. Taxes on motor vehicle sales and rentals are in a separate category. And collections are raw data, not seasonally adjusted, so they can only be compared to data from the same months in prior years. But they're an unvarnished approximation of the movements of retail sales.
That retail boom in Texas coincided with the oil boom, when WTI traded above $100 a barrel for part of the time, and fracking became the new miracle activity that ate up billions of dollars every year and knew no limits. Drill, Baby Drill.
When the price of oil began collapsing in the summer of 2014, retail sales continued to soar. The meme emerged that, sure, certain aspects of the Texas economy would be hit by the oil price plunge, and there would be some layoffs, but it would be contained, and the vast diversified Texas economy would keep firing on all cylinders and overcome the struggles of the oil patch. And that meme was correct – until suddenly it wasn't.
The first hint arrived in the June sales tax collections. Collections lag sales by one month. So collections reported in June were on sales that occurred in May. And those collections, instead of rising on a year-over-year basis, as they'd done every June since 2009, suddenly fell 1.4%.
It broke the perfect trend of year-over-year increases every month since the low point in March 2010. But in July they rose again. Then in August, they fell 0.4%. Something was amiss. But in September, sales tax collections rose again, and observers breathed a collective sigh of relief. It had just been a brief dip.
But then came the October collections: they plunged 5.4% year-over year; and now November collections that fell 3.3%. Two months in a row of declines; four months of the last six, and the first declines since the Great Recession low of March 2010.




WTI now trades at around $35 a barrel, a seven-year low. Today, another Texas oil & gas driller, Cubic Energy, filed for bankruptcy. The entire service and manufacturing sector that supplies the oil & gas industry is in depression. Tens of thousands of people, including director-level engineers, have been laid off in the state. In November, this number was estimated to have hit 56,000. Since then, numerous layoff announcements have echoed across the state. And as the oil bust is getting worse, it is now slamming retails sales.
This chart by "David in Texas," based on data from the Texas Comptroller, shows the year-over-year boom in sales tax collections since the Great Recession low in early 2010 (orange columns), which has now run into trouble. The four months of year-over-year declines are circled in red, (yellow = 2014, green = 2015):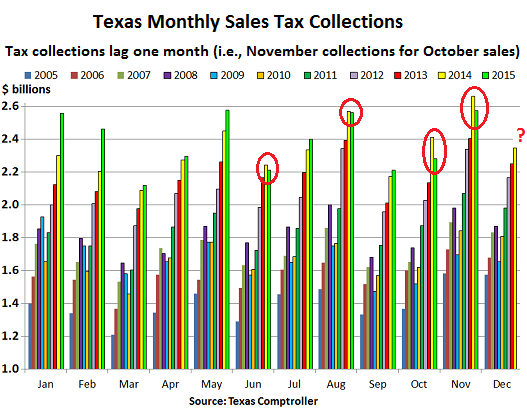 But it hasn't hit the brouhaha about the Texas housing boom yet, though the first effects may be rippling through Houston right now, as smaller oil-patch towns are e getting hit.
The November issue of Texas Monthly had this exuberant cover about the "Great Texas Housing Boom": $100-bills blowing out the chimney of a home and settling on the lawn as some guy, presumably the seller or the entire housing industry, is raking them in as if they were fallen leaves, while a young family watches the spectacle with incredulous body language: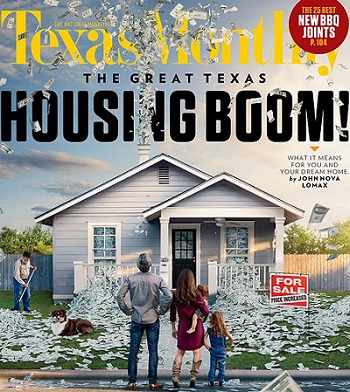 "David in Texas" added this bit of color:
You wouldn't get any sense of economic decline in the Park Cities area of Dallas, though. There is a big concentration of hedge-fund and structured-finance types, so sales of super-luxury cars (Bentleys, Maseratis, Lamborghinis and the like) are still going strong. Real estate (at least residential) in the area is still going nuts, too. From what I hear, Chinese capital flight has discovered Dallas as well.
But contagion has a nasty habit of spreading far beyond the origin of trouble.
Oil & gas junk bonds were the first ones to crash, starting about a year ago. It would be contained to oil & gas junk bonds – that was the meme at the time. Early 2015, hedge funds and PE firms touted them as a "lifetime" opportunity and a rally ensued. But that rally collapsed. Over the summer, the energy junk-bond contagion spread to other sectors, and the stocks and bonds of many junk-rated companies outside energy have gotten mauled. On Thursday, a bond mutual fund imploded, the first since the Financial Crisis.
"It's contained – until suddenly it isn't," I explained on the radio show, Stocks and Jocks, where we discuss the junk-bond fiasco and how it is bleeding into the stock market. Read… How Junk-Bond Contagion Hits Stocks
Enjoy reading WOLF STREET and want to support it? You can donate. I appreciate it immensely. Click on the beer and iced-tea mug to find out how:

Would you like to be notified via email when WOLF STREET publishes a new article? Sign up here.