"We are looking at real carnage in the junk bond market," Jeffrey Gundlach, the bond guru who runs DoubleLine Capital, announced in a webcast on Tuesday.
He blamed the Fed. It was "unthinkable" to raise rates, with junk bonds and leveraged loans having such a hard time, he said – as they're now dragging down his firm's $80 billion in assets under management.
"High-yield spreads have never been this high prior to a Fed rate hike," he said – as the junk bond market is now in a precarious situation, after seven years of ZIRP and nearly as many years of QE, which made Gundlach a ton of money.
When he talks, he wants the Fed to listen. He wants the Fed to move his multi-billion-dollar bets in the right direction.
But it's not a measly quarter-point rate hike that's the problem. Bond yields move more than that in a single day without breaking a sweat.
The problem is the risk investors piled on over the past seven years, when they still believed in the Fed's hype that risks didn't matter, that they should be blindly taken in large quantities without compensation, and that rates would always remain at zero. Those risks that didn't exist are now coming home to roost.
They're affecting the riskiest parts of the credit spectrum first: lower-rated junk bonds and leveraged loans. Gundlach presumably has plenty of them in his portfolios.
Tuesday, the day Gundlach was begging the Fed for mercy, was particularly ugly. The average bid of S&P Capital IQ LCD's list of 15 large and relatively liquid high-yield bond issues – the "flow-names," as it calls them, that trade more frequently and include big issuers like Valeant Pharmaceuticals – dropped 181 basis points to about 87 cents on the dollar, for an average yield of 10%, the worst since July 23, 2009.
"Momentum was fully negative, with all 15 constituents in the red," LCD reported.
Among the big losers: California Resources. Its $2.25 billion issue of 6% notes due 2024 plummeted 10 points to 45 cents on the dollar.
They were issued in September 2014 as part of the company's misbegotten spinoff from Oxy. Last September, when I wrote about this masterpiece of Wall Street engineering, the 6% notes had just plopped to 66 cents on the dollar. The company – its shares closed at $2.69, down 73% from their 52-week high – is now trying to inflict a debt swap on its bondholders, and these 6% notes, as LCD put it, "will be left out to dry as a small, stub piece of unsecured notes below a new second-lien series."
These kinds of debt swaps are now all the rage – a form of default where existing bondholders and stockholders feel the discomfort of evisceration.




Also engaging in these sorts of bondholder-I-love-you-so antics is Chesapeake Energy whose 4.875% notes due 2022 "tested" just under 30 cents on the dollar, down from nearly par a year ago. Another debt-swap paragon, Halcon Resources, saw its 8.875% notes due 2021 drop to about 30 cents on the dollar, from 75 a year ago. And so on. Debt swaps instead of bankruptcies. For bondholders, the outcome may be similar.
And so the S&P U.S. Distressed High Yield Corporate Bond Index, which tracks these sorts of bonds whose yields are 1,000 basis points above Treasury yields – dropped to 60.35, a 44% plunge from September last year: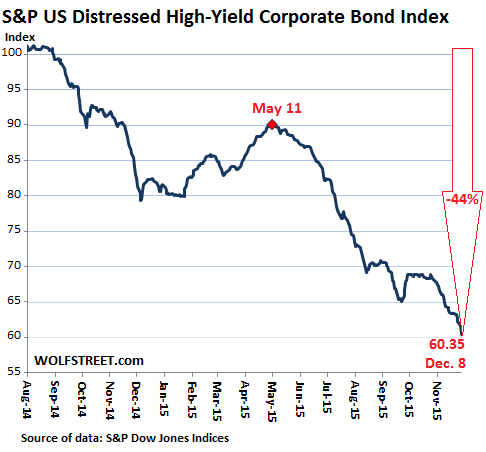 The iShares High-Yield Corporate Bond ETF HYG, which tracks the broader high-yield market, dropped to 81.06, a low it briefly pierced during the panic in October 2011 when the euro-debt crisis and a threatened default by the US during the Congressional debt-ceiling farce knocked down global bond markets. Before then, the last time HYG was this low was in July 2009.
This is the environment junk-rated companies are facing: new money is getting scarcer and more expensive for those at the upper end of the junk range. For those at the lower reaches of the range, new money may be impossible to get.
Which is what Energy & Exploration Partners of Fort Worth ran into. It couldn't bamboozle investors and banks into handing it even more money. It was forced to withdraw its Hail-Mary IPO in September. And on Monday, it announced that it sought refuge from creditors in a Chapter 11 bankruptcy filing, "because it ran out of cash," as it said in the filing.
The 18th oil & gas driller in Texas to do so. Its leveraged loan, originally $775 million, was syndicated in July 2014 via Citigroup, Credit Suisse, and Global Hunter. It's now, a year and a half later, in default and according to S&P Capital IQ LCD was quoted at 40/50 cents on the dollar.
When credit was easy and nearly free, any story was a good story. Analysts fawned over them, and it was practically impossible to run out of money because new cheap money would always roll in. But now that era is over. The credit cycle is ending. And investors are getting antsy.
Gundlach has billions of reasons to fret about junk bonds and leveraged loans. But when they swoon, something else happens after some delay: stocks follow.
Junk bonds are the canary in the coal mine for stocks. When credit tightens, the dynamics change for much of corporate America. Financial engineering gets more expensive and fizzles. M&A gets more difficult to pull off. Bond-funded dividends and share buybacks get cut or come to a halt. Defaults wipe out shareholders. Suddenly, risk shows up on the scene. And eventually, stocks start chasing junk bonds lower.
"If this isn't the peak, we're probably close," Green Street Advisors mused about commercial real estate prices, as ratings agencies Fitch and Moody's, which rate mortgage bonds, begin to issue warnings. Read…  Industry Holds Breath for Craziest-Ever Commercial Property Boom to Implode




Enjoy reading WOLF STREET and want to support it? You can donate. I appreciate it immensely. Click on the beer and iced-tea mug to find out how:

Would you like to be notified via email when WOLF STREET publishes a new article? Sign up here.