They tried to spin it in the most favorable light, and even then it was ugly.
It's early in the shopping season, and Americans might still come out and head to the mall in massive numbers and do their patriotic duty and buy things that ideally no one needs made in countries they don't know with money they don't have to prop up manufactures, middlemen, transportation companies, oil companies, the entire supply chain, and finally US retailers that have hired hundreds of thousands of part-timers just for this sacred period of the year.
The hope is that these consumers will get their act together to relieve the enormous pressures that have built up behind the scenes: ballooning inventories. But it doesn't look like it.
After months of crummy retail sales across the nation, followed up by earnings warnings and lousy results from big retailers, the first numbers are in for the Thanksgiving Weekend. And they support ugly anecdotal evidence of less crowded malls and parking lots: Brick-and-mortar retailers are having a hard time.
The results of the National Retail Federation's Thanksgiving Weekend Survey were painfully – some might say willfully – murky: It said nearly 102 million people shopped in stores over the Thanksgiving weekend, while over 103 million shopped online, including via mobile devices. Given the overlap, over 151 million people did at least some shopping over the weekend. That's 47% of the entire US population of 319 million. This would be a good sign, at least the surge in online shopping would be. But average spending over the weekend was a measly $299.60 per person.
That's where it gets murky. This year, NRF refuses to provide comparisons to prior years. The results are "not comparable to the 2014 results," it says, since it changed the methodology of its questions. So it refuses to answer the single most important question that it had answered before: are retail sales up or down?
But Bloomberg compared the numbers that were "not comparable" and found that the average spent per person over the weekend had been $380.95 in 2014 and $407.02 in 2013. So this year's sales would represent a 26% and 27% plunge!
We hope that the change in methodology is responsible for this plunge in per-person spending, that this is not indicative of actual retail sales. And if that hope doesn't work out, we hope that the first sales estimates for the Thanksgiving weekend have no bearing on the rest of the shopping season. Because the alternative would be ugly.
The NRF also refuses to provide a total spending amount, though it was included in its prior surveys. Already in 2014, total spending had dropped 11% from a year earlier. And a drop this year from that already disappointing level would have been embarrassing.
Those numbers are based on what consumer said they did. In terms of tracking what's actually going on at retailers, RetailNext and ShopperTrak provide some early estimates.
RetailNext estimated that sales at brick-and-mortar stores fell 1.5% from already disappointing sales last year, to $12.1 billion on Thursday and Friday, dragged down by lower customer traffic. ShopperTrak came up with the same figure, "an estimated decrease versus 2014," without giving precise comparison figures. It also fingered "a decrease in shopper visits" on both days.
Both blamed the debacle at the mall on hot online sales. ShopperTrak also blamed early promotions in November that increasingly desperate retailers, stuffed to the rafters with inventories, had instigated.
One thing is certain: malls are getting a smaller slice of the pie as retail continues its revolution to the internet. Under these conditions that brick-and-mortal retailers find themselves in, managing your absence is even more crucial. Online sales over Thanksgiving and Black Friday soared 18% to $4.47 billion, according to Adobe Digital Index, which tracks 80% of the online transactions of the largest 100 retailers. In a sign of the times, people mostly went after doorbuster deals, which accounted for 40% of total online sales.
But was it enough to pull out overall retail sales? And will it be enough for the remaining shopping season? We won't know for a while. But we do know they better be! Because there is a historic inventory glut in the US.
Inventories across manufacturing, wholesale, and retail have been piling up since late 2014, as over-optimistic sales projections led to aggressive ordering, the results of which have now come in contact with consumer reality. This pushed up the crucial inventory-to-sales ratio (reported by the Census Bureau) to Financial Crisis levels during the first half, when business inventories soared by a record $223 billion. And it has continued rising, forming this increasingly ugly chart of an inventory glut: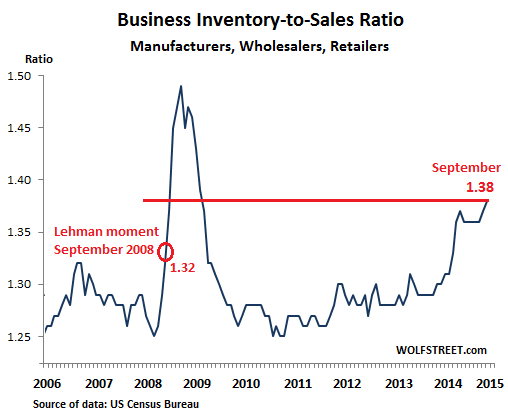 Throughout November, retailers have warned about disappointing sales and ballooning inventories going into the end of the year. At some point, they will have to unload these inventories, come heck or high water, and the only way to do this is to slash prices – which slashes sales, margins, and profits. Hence their reluctance to do so. But the inventory has got to go. The longer they wait, the worse the problems get.
Retailers had hoped that the lowest gas prices in eight years and historically low interest rates would induce folks to go on historic shopping sprees for clothes, electronics, toys, and doodads, but they haven't. They borrowed money to buy cars and big-ticket items for the home. They're struggling with the costs of education, healthcare, and housing. And they're taking advantage of online deals. But they're not propping up malls with their credit cards. And they're not burning through the ballooning pile of inventories.
And that's why the industry is now praying for a miracle. Those inventories, whose buildup inflated GDP, have to be unwound. And this is going to be costly. But miracles are increasingly rare in retail. Read… Consumers Lose Grapple with Reality, "Decline in Economic Aspirations" Sets in
Enjoy reading WOLF STREET and want to support it? You can donate. I appreciate it immensely. Click on the beer and iced-tea mug to find out how:

Would you like to be notified via email when WOLF STREET publishes a new article? Sign up here.