People can easily "adapt to the worst conditions…."
The most important economic entity in the world, the one that every economist tries to decipher, the entity that is supposed to pull the world economy out of its funk with debt-fueled, beyond-their-means, damn-the-torpedoes splurges, has done a lousy job.
The American consumer has been lackadaisical despite, as the EIA gushed, the lowest gas prices "heading into a Thanksgiving holiday weekend since 2008." Instead of spending that windfall on something else, they have the temerity to save some of it.
So the savings rate, according to the Commerce Department on Wednesday, rose to 5.6% in October, the highest – and for our shocked and appalled economists the worst – level in nearly three years.
"I think this is tied to a decline in economic aspirations," University of Michigan consumer survey director Richard Curtin told Bloomberg to explain the rising savings rate and the so-so results of the consumer sentiment index that had just been released.
November's final reading of the sentiment index edged up to 91.3 from 90 in October. While consumers at the lower end of the scale began hoping for wage increases, and thus became more optimistic, those at the top end of the spectrum, accounting for more than half of consumer spending, grew more worried about their financial prospects.
The November reading was down from 93.1 earlier in the month, and was down 7% from January's 98.1, the post-Financial Crisis peak, when economists had thought that finally, consumers would emerge from the doldrums. And it's down 15% from 1999. Consumers just don't feel the old euphoria. Instead, they've become, as Curtin said, "increasingly aware of economic cross-currents":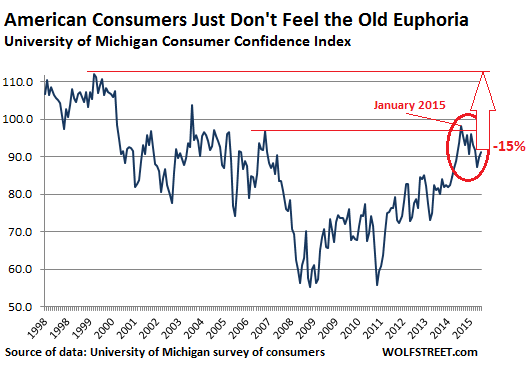 The shocking and appalling savings rate and the lousy sentiment index caused Curtin to wax philosophical about American consumers in a conference call with Bloomberg:
They don't expect to be in a situation where they once thought it was their right that their living standards would always increase, their children would be much better off than they, and their grandchildren and so forth. And they bought things on credit with the intention of working more to pay off the increased debt, and we saw a rise in labor force participation and a rise in women entering the labor force and so forth….

I'm not trying to say that the data predict this sort of secular stagnation, but it is now more consistent with the slow-growth economy. And I'll just give you this thought experiment: If we only grow at the 2 to 3 percent range over the next decade – well we've only had 2 percent growth over the past five years average – people cannot maintain the same material aspirations that they had prior to that.

People would not maintain aspirations that were always frustrated, that they could never accomplish. People lower their aspirations given the situation. And we've known this all over the world, that people can adapt to the worst conditions as easily as the best conditions.
So this shopping season is going to be a slog for retailers: 45% of the respondents said that the purchase of durable goods, such as TVs and appliances, would be contingent on discounts, one of the highest rates in the survey's 50 years, Curtin said. So retailers, in addition to other challenges, will face some serious margin compression.
But wait…. The highest savings rate in nearly three years, whether it makes sense or not, coincides with a borrowing binge. Consumers are "re-leveraging" as if they'd long forgotten the Financial Crisis and what it had done to overleveraged consumers.
Aggregate household indebtedness in Q3 jumped by $212 billion to $12.07 trillion, the New York Fed reported last week, and is now only 5% shy of its peak in 2008 of $12.68 trillion, a catastrophic level of indebtedness, it turned out, when layoffs started mucking up the scene.
But consumers are almost back to that level, after their indebtedness has risen for the eighth quarter in nine, during which time they took on an additional $912 billion in debt. By year-end, they will likely have added well over $1 trillion to their debts over the last 2.5 years: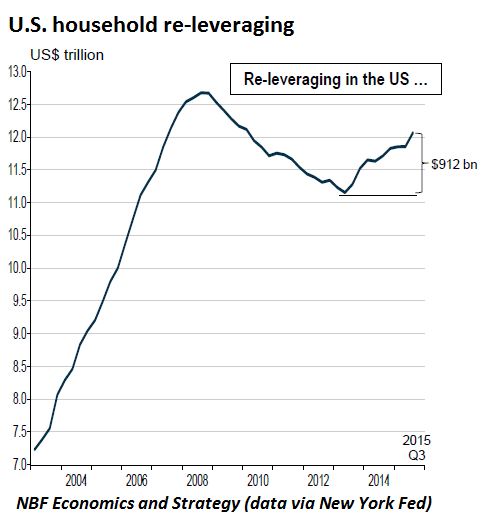 And this "consumer re-leveraging has worked wonders for the auto industry," Krishen Rangasamy, Senior Economist at National Bank's Economics and Strategy, reported:
In the last nine quarters, auto loans represented 25% of the flow of debt despite accounting for just 8% of the total stock of debt. That explains why auto sales have been so strong in the last couple of years ─ this year's sales are on track to average roughly 17.5 million units, the highest ever.
Total consumer indebtedness is soaring, and auto and student loans are accounting for an ever larger share of that growth, at the expense of credit-card and mortgage debts: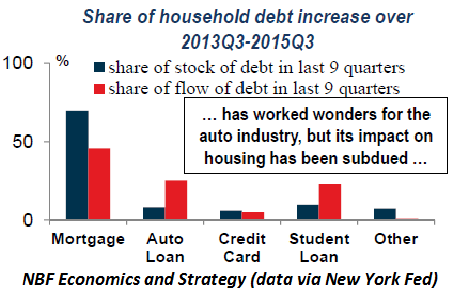 Thus, the one major manufacturing sector that has been booming, and a retail sector that has been doing well, is based on super-cheap consumer debt with a dreadfully large component of subprime. As all debt binges, this one too will run out of juice.
This is the state of the American consumer. Folks are borrowing like mad to fire up the auto industry and pay for education. Healthcare expenses are eating their lunch. Housing costs are bleeding them dry. So they're pinching pennies and demanding discounts wherever else they can.
And some of them, the upper portion of the spectrum, those that account for nearly half of all consumer spending and are now worried about their financial prospects, well, they have the appalling temerity to save a little more to be better prepared for future uncertainties. So it might be a, let's say, complicated shopping season.
Meanwhile, CEOs and Wall Street are furiously making hay while the storm is already moving in. Read…  M&A Spikes to Craziest Frenzy Ever, even as Bottom Falls out of Riskiest End
Enjoy reading WOLF STREET and want to support it? You can donate. I appreciate it immensely. Click on the beer and iced-tea mug to find out how:

Would you like to be notified via email when WOLF STREET publishes a new article? Sign up here.