China accounts for about 40% of global copper demand. Copper goes into nearly everything built or manufactured that uses electricity: office complexes, apartments, homes, cars, electronics, machinery, infrastructure projects, airports, high-speed rail, kitchen appliances, wires of all kinds, even water pipes.
Copper has been a strategic metal in China. It has been stockpiled. Without access to copper, China's economy would grind to a halt. China's economy grew officially at a phenomenal 6.9% rate in the third quarter, and you'd think with this kind white-hot growth, China would heat up demand for copper and push up its price. But no.
Something is mucking up the equation, and the price of copper plunged to a new six-year low.
The copper-futures contract for December delivery dropped 1.25 cents to $2.2175 a pound, the lowest closing price since July 2009. Copper has plunged 22% year-to-date from the already low levels at the beginning of the year. It has lost more than half its value since the days of hope in early 2011.
This monthly chart shows the relentless, multi-year cascade south since 2011. Copper is now back where it had been in February 2006: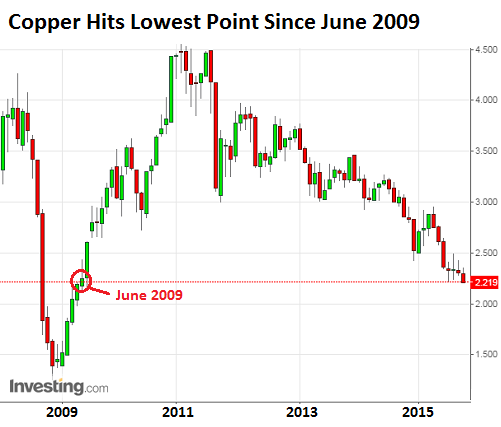 In sympathy, mining stocks have gotten clobbered. The S&P Metals and Mining Select Index, which tracks the stocks of 30 miners, has plunged 54% from a year ago and 78% from April 2012.
Given the relentless deterioration of this multi-year fiasco, you'd think copper production would decline to bring supply and demand back into balance. But no. Global production is expected to rise to a record 22.89 million metric tons this year, according to Barclays, cited by the Wall Street Journal.
And it's not over. While some of the world's largest producers, including Glencore and Freeport McMoRan, are shutting down some less efficient mines, more efficient mines are coming on line.
"There's over a million tons of additional supply coming on line next year and the year after during a time when demand is seeming to stall," Dane Davis, a metals analyst with Barclays in New York, told the Wall Street Journal. "Not only are prices going to be lower, they will be lower for a sustained" period.
Moody's had already warned in September about those prices and what they would mean for Glencore – which is struggling to whittle down its mountain of debt to stay alive – "particularly if copper prices were to decline to below $2.2/lb on a prolonged basis…."
That's the level copper is testing now.
But global demand for copper hasn't actually collapsed. It's just growing very slowly. Demand is expected to edge up to 22.4 million metric tons this year. That kind of sluggish growth is not at all in line with the official strength of China's economy, the kind of strength that would produce a white-hot 6.9% GDP growth.
Instead, demand from China is simply anemic. Stockpiles are large. Production is hitting new records. And no other country in the world can fill the demand-growth vacuum left behind by China.
Speculators see the slack demand in China, and rather than believing the government's official growth story, which would light a fire under copper, they expect China to whittle down its copper purchases as the economy continues to languish.
Now everyone is praying for more stimulus, more debt creation, more construction projects, high-speed rail projects, if necessary to nowhere, more ghost cities, more incentives for car buyers…. even as retail sales officially gained 11% year-over-year in October, while industrial production officially rose 5.6% over the same period, and fixed-asset investment – more ghost cities? – rose 10.2% in the January-October period.
These numbers don't square with the anemic demand for copper. Copper is involved in all three categories, and demand for it should have risen with them. But it didn't. And it's hard to argue with copper.
So who is going to pull the global economy out of its funk? No one knows. But it's not going to be China – regardless of how many more times the central bank is going to tweak its policies and cut interest rates. That's what China's trade fiasco is saying. Read… China Trade Swoons, Collapse of Containerized Freight Index Hits Worst Level Ever, Global Slowdown Worse than Forecast
Enjoy reading WOLF STREET and want to support it? You can donate. I appreciate it immensely. Click on the beer and iced-tea mug to find out how:

Would you like to be notified via email when WOLF STREET publishes a new article? Sign up here.