A few days ago, I shared some observations about the San Francisco housing market, as seen from a walk though residential areas. I walk everywhere and see realtor signs here and there. But that day, I saw 14 realtor signs, advertising 15 units for sale – by far the most I'd seen since the Financial Crisis.
"San Francisco is on sale," I wrote. At the worst time of the year – November, December, January. I advised caution using this observation. It needed to be confirmed by data, I wrote; but if confirmed, San Francisco's crazy Housing Bubble 2 is going to have a problem.
Now confirmation is piling up. In late October, national real estate broker Redfin had already reported that the median home price in San Francisco in September had jumped 14.9% from last year, as home sales in units had plunged 25.3%!
This is year-over-year data. Seasonality has nothing to do with it.
On Redfin's list of 65 markets around the US, there were only three other markets where home sales declined year-over-year: Indianapolis -4.1%, Omaha -0.8%, and Tulsa -5%. The national average gained 9.0%. So San Francisco's 25.3% plunge is in a category of its own. That was for September.
Now we have some data for October from Paragon Real Estate in San Francisco:
The median home price had peaked in May at $1,225,000, based on MLS data. That was 65% higher than at the insane prior bubble peak that then imploded spectacularly, and 104% higher than in January 2012. Following normal seasonal patterns, it fell 8.4% to $1,150,000 by September then rose in October to $1,200,000 (with the median house price at $1,300,000 and the median condo price $1,100,000). Based merely on seasonality, prices are expected to hit a low point in January.
But the bottom is already falling out of the "luxury market." This segment is defined as the top 20% of reported sales (currently, houses over $2 million and condos over $1.5 million). As sales volume sagged "well below levels hit in the previous 2 years," the number of listings soared in September and October to a new all-time high. A very toxic mix.
This chart shows the ascent of luxury listings as reported to MLS by November 5. Note how the listings of condos (green line) shot completely out of whack: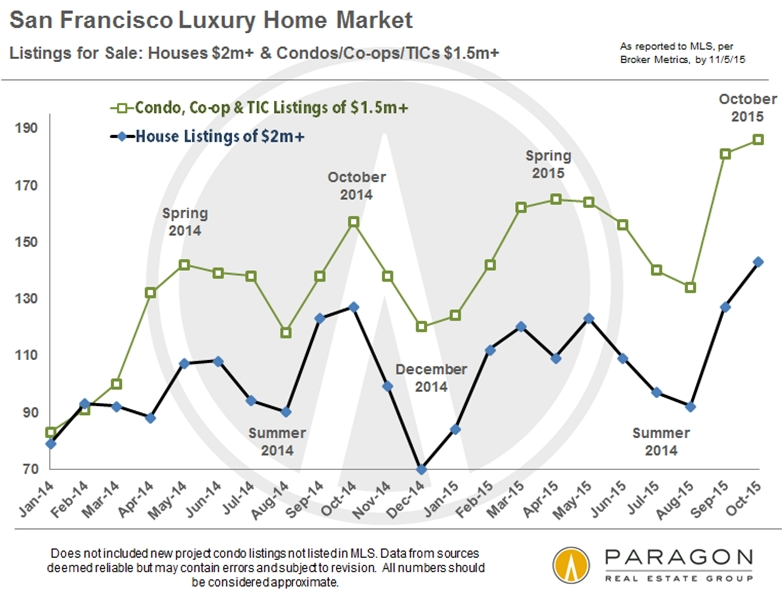 This luxury-condo glut isn't going to disappear anytime soon, thanks to the construction boom in San Francisco. Medium-rises and high-rises have been popping up in certain areas like mushrooms after a rain. Some of these units were or will be completed this year. Many more will be completed over the next few years. This took years to plan, get approved, and funded. And no one knows how to turn off the spigot. These units will simply keep flooding the market. And much of it is at the high end.
Why? Because that's where the money is. Or was.
Given the onslaught of listings and the flagging sales, Months' Supply of Inventory soared. A low MSI is characteristic of a hot market. But a rising MSI depicts a market where selling pressure is building, and buyers are suddenly scarce.
For condos of over $1.5 million, MSI jumped to 4.4 months, which Paragon classifies as a "strong buyers' market," up from 2.4 months in October 2014, and 2.5 months in October 2013. And up from a record low 1.7 months during the white-hot spring – a brutal switch.
A similar trend is affecting houses: MSI for houses above $2 million has jumped to 3.4 months, a "buyer's market," up from 1.6 months this spring, up from 2.4 months in October 2014 and 1.7 months in October 2013. Yet very few houses are built in San Francisco, and practically no new supply is hitting the market. So something big is changing beyond the luxury-condo glut.
At the lower end for condos (up to $1.5 million) there is still less than 2 months' supply of inventory, so barely within a "seller's market." And at the lower range for houses, (up to $2 million), there is less than 1.5 months' supply, so a "strong seller's market."
Paragon wonders, cautiously, if the swoon in luxury housing "is just a transitory market blip," as it said, "or the beginning of a longer term reality."
But timing is particularly bad:
Even more so than the general market, the luxury segment is dramatically affected by seasonality and typically goes into deep hibernation from Thanksgiving to mid-January. Having so many active listings on the market just prior to the winter holiday doldrums is one of the reasons why we designate the luxury-home segment as currently having moved into "buyer's market" territory.
In trying to identify why the bottom is falling out of the luxury segment, Paragon offers three possible explanations:
First, the "volatility" in the stock market, which impacts the affluent more than other groups. They might be trying to sell "before things might possibly get worse," while others, for the same reasons, postpone buying a home.
Second, listing agents might have "finally pushed the envelope on prices a little too far," sending buyers to areas outside San Francisco, where prices have been soaring too.
And third, the flood of new luxury condos coming on the market.
So it seems, San Francisco, the city of legendary booms and busts, one of the craziest housing markets in the US, crazier than it had been any time before, with money sloshing through the streets knee-deep, is on the verge of something big.
Enjoy reading WOLF STREET and want to support it? You can donate. I appreciate it immensely. Click on the beer and iced-tea mug to find out how:

Would you like to be notified via email when WOLF STREET publishes a new article? Sign up here.