Chesapeake Energy is a good example. The second largest natural gas producer in the US, after Exxon, reported its debacle yesterday.
Revenues plunged 49% from the quarter a year ago, when the oil bust had already set in. The company has been slashing costs and capital expenditures. In June, it eliminated its dividend. And yesterday, it recognized $5.4 billion in impairment charges, bringing impairments for the nine months to a staggering $15.4 billion.
Impairment charges are a sudden accounting recognition of accumulated capital destruction. These impairments pushed its losses from operations to $5.4 billion in Q3 and to $16 billion for the nine months.
Chesapeake currently gets 72% of its production from natural gas, 17% from oil, and 11% from natural gas liquids. The oil bust has been going on since the summer of 2014. The US natural gas bust has been going on since 2009! Two natural gas producers have already gone bankrupt this year: Quicksilver Resources and Samson Resources.
Its annual free cash flow has been negative since 1994, even during good times, with only two tiny exceptions (Bloomberg chart). After living off borrowed money, it's now trying to hang on by selling assets and lowering its mountain of debt. But it still owes $16 billion, much of which QE-besotted, ZIRP-blinded, yield-hungry investors had handed it over the years, based on hype and false hopes.
Its shares last traded at $7.50, down 75% from peak hype in June 2014. Its 4.875% notes due 2022 and its 5.75% notes due 2023, according to S&P Capital IQ LCD yesterday, traded for 66 cents on the dollar.
In terms of capital destruction, Chesapeake is in good company, and not even the leader. A new report by Evaluate Energy, which covers Oil & Gas companies around the globe, examined the financial statements of the 48 US oil & gas companies that have reported earnings for the third quarter so far. The amounts and the speed of deterioration are just stunning.
Turns out, what started in Q4 last year is getting worse relentlessly. And now it's getting serious: plunging revenues, squeezed operating margins, whopping impairment charges, and horrendous losses are combining into a very toxic mix.
Evaluate Energy determined that net income of those 48 companies was a gigantic loss for the three quarters combined of $57 billion.
On a quarterly basis, the losses in Q3 jumped 58% from Q2 and 70% from Q1 to $25.5 billion. This fiasco, which has been spiraling down at a breath-taking pace, looks like this: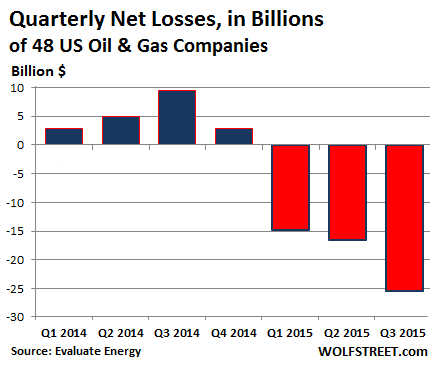 The biggest factor in these losses, as in Chesapeake's case, was the impairments. For this study, Evaluate Energy only counted impairments of property and equipment, not of financial assets such as "goodwill." Including charge-offs of goodwill, it would have been even worse (an example is Whiting Petroleum, which we'll get to in a moment).
Of the 48 companies, 38 recognized impairment charges totaling $32.8 billion in Q3 alone, a 79% jump from Q2, when impairments hit $18.4 billion. Since Q4 2014, these 48 companies recognized impairments of $84.6 billion; 39% of that in Q3.
Devon Energy was king of the hill, with $5.9 billion in impairments in Q3, after having recognized impairments every quarter this year, for a total of about $15.5 billion.
Our natural-gas hero Chesapeake is in second place, if only barely, with $5.4 billion in impairments this quarter, and $15.5 billion for the nine months.
Of note, Occidental Petroleum, with impairments of $3.3 billion in Q3, Murphy Oil, Whiting Petroleum, and Carrizo Oil & Gas all recognized over 90% of their respective impairments this year in this misbegotten third quarter. They were in no hurry to grant their investors a peek at reality.
However, Whiting's impairments of $1.7 billion do not include an additional $870 million in write-offs of goodwill in connection with its once highly ballyhooed acquisition of Kodiak Oil & Gas, which closed in December last year.
In Q4 2014, many investors thought the oil bust was a blip, that this was just a correction of sorts in oil prices and that they'd rebound in early 2015. But in 2015, oil and natural gas both have plunged to new cycle lows. And yet, over and over again, sharp sucker rallies gave rise to hopes that it would all be over pronto, that the price would settle safely above $80 a barrel, or at least above $65 a barrel, where some of the oil companies could survive.
But now that oil in storage is practically coming out of our ears, globally, the meme has become "lower for longer," and the game has boiled down to who can slash operating costs and capital expenditures fast enough without losing too much production, who has enough cash to burn through while this lasts, and who can still get new money at survivable rates. And that game is accompanied, as in Q3, by the giant sucking sound of capital destruction.
Banks, when reporting earnings, are saying a few choice things about their oil & gas loans, which boil down to this: it's bloody out there, but we made our money and rolled off the risks to others in a trade that has become blood-soaked. Read… Who on Wall Street is Now Eating the Oil & Gas Losses?
Enjoy reading WOLF STREET and want to support it? You can donate. I appreciate it immensely. Click on the beer and iced-tea mug to find out how:

Would you like to be notified via email when WOLF STREET publishes a new article? Sign up here.