"October is, for unknown reasons, the worst month in memory."
A month ago, the Institute of Applied Research, which publishes the Purchasing Managers' Index for the Inland Empire – with about 4 million people, the third-most populous region in California – reported: "We are not yet ready to say that 'the sky is falling.'"
Back then, they were lamenting that the Inland Empire PMI had dropped below 50 for the second month in a row (below 50 = contraction), hitting 44.1 in September, after having already hit 46.6 in August. But the sky wasn't falling "yet," the report pointed out, because, given how volatile the index is, "it takes three months of figures below 50 before a new trend (in this case a trend of contraction rather than growth) is established."
Alas, on Monday, the IAR released the Inland Empire PMI for October, and it was sharply below 50 for the third month in a row, this time at 45.9.
So is the IAR now "ready to say that 'the sky is falling?'" We don't know. The authors didn't specifically address the issue. We only know that the index is falling – and a lot: back in April, it was still flying high at 60.
But the index covers only manufacturing. And the rest of the Inland Empire economy?
On the bright side, a PMI over 43.1 percent generally indicates an expansion of the overall economy, thus the Inland Empire economy appears to be continuing its slow growth even as the manufacturing sector is experiencing weakness."
The details weren't exactly pretty, with Production at 40, New Orders at 41.9, and the Employment Index deteriorating from 50.0 in September to 41.9 in October. Now September's employment stagnation seems like nirvana.
Respondents are "very cautious in their projections about the state of the local economy for the coming quarter" with only 23% forecasting that the economy will be stronger, with 43% predicting no change, and 33% predicting that it will be even weaker.
The survey asks Purchasing Managers to comment on the "general business conditions" affecting their company. Turns out, "there were only a few positive remarks," while "most of the comments were cautionary," including these gems:
"Business is soft, new orders are flat compared to last year at this time."
"Commercial OEM sales are terrible."
"October is, for unknown reasons, the worst month in memory. The opening production schedule was about half of a normal October. Some orders are coming in but the month looks to be very low in dollars shipped…."
"Production has surpassed sales this last month and we will see a negative dip in overall customer shipments."
But no big deal. Manufacturing is only a small part of the California economy. According to the Census Bureau, in 2012 there were over 38,000 manufacturing businesses in the state. They're now estimated to employ 1.4 million people, or "only" about 8% of all workers in the state.
So we shouldn't worry: startups with no sales are booming, and the gig economy is too.
The Inland Empire PMI thus joins the five regional manufacturing surveys, conducted by the corresponding Federal Reserve Regional Districts: Dallas, Kansas City, New York, Richmond, and Philadelphia (the remaining 7 Districts, including San Francisco, don't conduct manufacturing surveys).
This chart by Doug Short at Advisor Perspectives shows the dismal condition of manufacturing in those five districts by averaging the five regional indices. And this average is at the worst level since the Financial Crisis: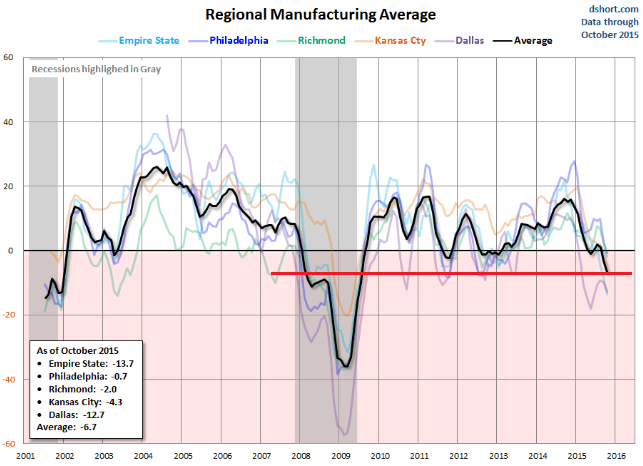 I added the red line in the chart to show exactly when manufacturing indices dropped like this the last time: it was in early 2008, when the US economy was already in the Great Recession, though that was officially acknowledged only long afterwards, as official recessions always are.
But like in California, manufacturing in the US is no big deal – that's what we're always told when things turn sour. Already, the much ballyhooed meme of a "manufacturing renaissance" has been junked into oblivion. No one talks about it anymore.
These days, manufacturing employs only 9% of the US workforce and accounts for only 12% of the US economy, which is otherwise driven by consumer spending and services. So when manufacturing sinks into the mire, the "sky isn't falling," at least not yet, because we can always make it up with some part-time gig in the new "sharing economy."
But in this consumer-based economy, most consumers are struggling. Only some are doing well. And businesses are now catching the drift. Read… Chilling Thing Hershey Just Said About American Consumers
Enjoy reading WOLF STREET and want to support it? Using ad blockers – I totally get why – but want to support the site? You can donate. I appreciate it immensely. Click on the beer and iced-tea mug to find out how:

Would you like to be notified via email when WOLF STREET publishes a new article? Sign up here.

Classic Metal Roofing Systems, our sponsor, manufactures beautiful metal shingles:
A variety of resin-based finishes
Deep grooves for a high-end natural look
Maintenance free – will not rust, crack, or rot
Resists streaking and staining
Click here or call 1-800-543-8938 for details from the Classic Metal Roofing folks.