The amount of oil in storage globally, not including the various "strategic petroleum reserves" in the US, China, Europe, Japan, and other locations, has grown to staggering proportions this year, as oversupply drowns out tepid demand.
In the US, oil storage is seasonal. A big buildup starting late fall gets Americans and their favorite gas or diesel sipping or guzzling toys or clunkers through "driving season" – late spring and summer – when somehow everyone has to drive somewhere. After driving season, petroleum stocks fall. This pattern has played out this year as well, but with a difference.
Last week, the EIA reported that crude oil stocks rose 7.6 million barrels to 468.6 million barrels, the highest for this time of the year since records have been kept. Crude oil stocks are now 98 million barrels higher than they were last year at this time, when they were already bouncing into the upper end of the 5-year range.
This chart from the EIA shows the out-of-whack relationship between the five-year range (gray area) and the weekly buildup (blue line) this time around: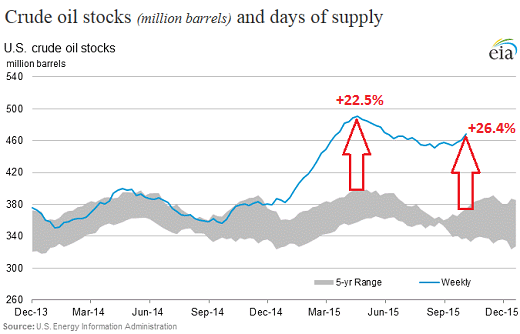 Instead of getting better somehow, this situation simply got worse over driving season. At the peak of the buildup this year, crude oil stocks were 22.5% higher than a year earlier. Now they're 26.4% higher than they were at this time last year.
If the inventory buildup this fall, winter, and spring continues in this manner from today's much higher starting point, we can look forward to a fiasco on the storage front – and on the pricing front. Because at this rate, by April, we'll be having oil coming out of our ears!
But this is a global issue for producers (or conversely, an opportunity for oil consumers). Here's Saudi Arabia, which has been pumping oil at record levels to maintain its market share against Russia and the boys from the oil patch in the US and Canada: its inventories are ballooning too.
Matt Smith of Oilprice.com reported:
Finally, a theme of high global inventories has once again thrust itself into the limelight, as JODI data over the weekend highlighted that Saudi Arabian crude stocks have reached a record high of 326.6 million barrels in August. As Saudi continues to keep production elevated, and as it struggles to find a home for all its exports amid a highly-competitive global market (awash with crude), this extra oil is finding its way into stockpiles as exports ease (chart via Oilprice.com):
Add to the calculus the additional supply Iran will deliver to the global market as the sanctions are lifted. Which will come regardless of what OPEC says, Oil Minister Bijan Namdar Zanganeh assured reporters today in Tehran.
He saw no imminent change in OPEC's production strategy though he urged other members to cut production, presumably to make room for additional Iranian oil, so that oil prices would somehow rise to a range of $70 to $80 a barrel.
Just about all producers want that. Even the world's high-cost Canadian tar-sands players might live to see another day at this price range. But rather than just go away, this problem, given the ongoing inventory buildup and production increases, is more likely to get really ugly.
For US oil, 2016 is going to be brutal, according to the CEO of oil-field services giant Schlumberger. But then, there are dreams of "a potential spike in oil prices." Read… The Dismal Thing Schlumberger Just Said about US Oil
Enjoy reading WOLF STREET and want to support it? You can donate. I appreciate it immensely. Click on the beer and iced-tea mug to find out how:

Would you like to be notified via email when WOLF STREET publishes a new article? Sign up here.