Growth of exports from China has been dropping relentlessly, for years. Now this "growth" has actually turned negative. In September, exports were down 3.7% from a year earlier, the "inevitable fallout from China's unsustainable and poorly executed credit splurge," as Thomson Reuters' Alpha Now puts it. Most of these exports are manufactured goods that are shipped by container to the rest of the world.
And imports into China – a mix of bulk and containerized freight – have been plunging: down 20.4% in September from a year earlier, after at a 13.8% drop in August.
That kind of decline in shipping volume comes as a nasty surprise for the shipping industry that has been betting on boundless increases, and has been adding capacity in quantum leaps.
Back in early 2011, when Maersk, the world's largest container carrier, ordered 10 ultra-large container ships capable of carrying 18,000 twenty-foot-equivalent container units (TEU), it expected demand for containers to grow by 5% to 8% every year. Maersk has since been whittling down its forecast to 2% to 4% annually. And as things stand, that may be a stretch. Yet…
"The scramble to order so-called ultra-large container vessels had turned into a stampede," as 36 ships rated at 18,000 to 20,000 TEU are expected to be delivered in 2015, 12 in 2016, 22 in 2017, and 22 in 2018, the JOC reported. By 2018, nine carriers will operate ships of this size. Overcapacity is expected to hit 10% by 2016, the worst since the Financial Crisis – and maybe worse.
Unperturbed, Maersk signed a $1.8-billion order in June for 11 ships with a capacity of 19,630 TEU, on top of its orders for a number of smaller ships.
As container shipping capacity leaps to the next level, shipping volume of containerized freight is languishing in a world where economic growth is getting bogged down. As a result, rates for shipping containerized freight have been hit hard. And the China Containerized Freight Index (CCFI), which tracks contract rates and spot rates from China to the rest of the world, has collapsed.
The CCFI, operated by the Shanghai Shipping Exchange and sponsored by the Chinese Ministry of Communications, is not being beautified in the manner that more publicly visible statistics, such as GDP growth, are subject to. It is allowed to get very ugly. And it got very ugly.
The index plunged below 800 in early July for the first time in its history (it was set at 1,000 in 1998). It then recovered to a smidgen above 800, but now re-collapsed to even lower levels. The latest weekly reading dropped another 2.3% from the prior week to 764.84, a new all-time low: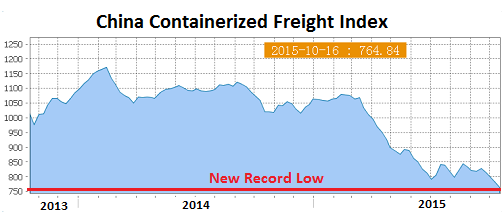 The CCFI is now nearly 30% below where it had been in February and 23% below where it had been 17 years ago when it was set at 1,000.
Of the 14 shipping routes in the index, only three saw week-over-week rate increases: to Japan (+1.4%), Korea (+4.9%), and West/East Africa (+4.2%). The 11 remaining routes saw drops, including to the US East Coast (-2.0%), the US West Coast (-2.2%), Northern Europe (-3.2%), South Africa (-3.9%), South America (-5.0%), Taiwan (-5.3%), and the Mediterranean (-10.8%).
There's no relief in sight. At JOC's TPM Asia Conference in Shenzhen on Thursday, former CEO of container carrier NOL and now McKinsey consultant Rob Widdows told participants that contract freight rates on trans-Pacific routes are heading even lower – "probably by a lot."
"The peaking effect associated with large ships hasn't happened yet," he said. "The amount of capacity coming is enormous and will play out over the next couple of years, and the pressure these carriers will be under from a profitability standpoint will be significant."
Overcapacity wouldn't be much of a problem if the global economy, awash with liquidity and nearly free money orchestrated by central banks around the world, had grown to the extent envisioned over the years by executives in the shipping industry. Turns out ZIRP and QE didn't do much for the real economy. But they did get executives drunk with optimism and handed them cheap money to chase after their drunken visions. That chase itself propped up GDP, including by investing in overcapacity.
Now the bitter taste of reality is setting in: shipping is a measure of the real economy, and that economy hasn't been doing very well, apparently.
The make-or-break holiday shipping season in the US kicked off in September. It's the peak of the US shipping cycle. But in September it got hammered. Read… US Freight Shipments Have Worst September since 2010
Enjoy reading WOLF STREET and want to support it? You can donate. I appreciate it immensely. Click on the beer and iced-tea mug to find out how:

Would you like to be notified via email when WOLF STREET publishes a new article? Sign up here.