When will the data stop raining on the parade?
Second quarter GDP growth in the US was hot, at 3.9% annualized rate. That wouldn't have been hot in any prior US recovery, but it is hot here and now because this misbegotten, Fed-engineered recovery has run at a measly annual growth rate of about 2%.
That's considered "stall speed" in normal times, below which the economy doesn't have enough lift to keep flying.
So the previously lukewarm is hot today. The most recent adjustments even pulled the GDP estimate for the first quarter into the positive, if barely. All hopes are now riding on the third quarter. But recent data has been lousy, and Wall Street economists have been busy lowering their forecasts into the range of 2% to 3%.
Today, it's the Atlanta Fed that's raining on the parade with its updated GDPNow forecast for the third quarter. Oh my!
The data point that caused the update of the "nowcast" was the advance report on US international trade in goods that the Census Bureau released September 29. It was ugly. At $67.2 billion, it was the second worst monthly goods deficit in years, behind March's deficit of $70.5 billion, which had been part of the infamously crummy first quarter.
So the "contribution" to GDP growth of the goods trade deficit fell from the already negative -0.2% to -0.9%. And this "contribution" slashed the Atlanta Fed's GDPNow forecast by half, from an already below-stall-speed growth of 1.8% last week to 0.9% today (green line):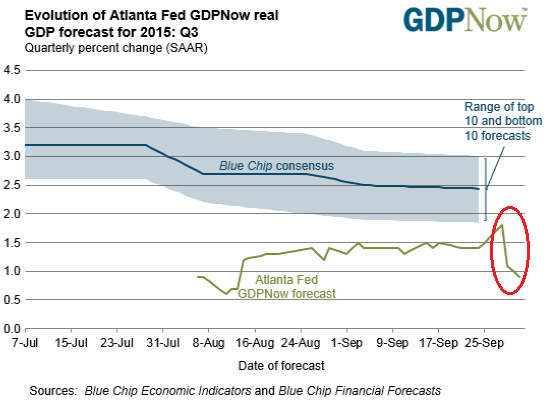 GDP Now, which the Atlanta Fed started in 2011, is a computer model. Data go in, forecasts come out. The purpose is to forecast not actual GDP, but the government's first estimate of GDP, however off that first estimate may be. Forecasting GDP accurately is impossible. But the model has the advantage that its forecast is not determined by human interpretation of incoming data, or even wishful thinking. It's the model that decides – not economists paid by Wall Street to hype stocks and bonds and sell their financial instruments while extracting fees coming and going.
Since the model doesn't attempt to smoothen out the data, it can be volatile. But as it approaches the GDP release date, it can be very accurate. For instance, it totally nailed the first quarter. So this will be interesting. More data for Q3 is coming down the pike over the next few weeks, and some of it might be strong, but this sudden and drastic change in direction of the forecast can give someone the willies.
"It feels like someone just flipped the switch to 'off' without any concrete reasoning," one of the executives commented. Read… US Manufacturing Recession Draws Eerie References to 2009
Would you like to be notified via email when WOLF STREET publishes a new article? Sign up here.