According to our soothsayers, when the Fed decided to keep interest rates where they've been since 2008, at near zero, rather than raise them, it should have triggered a big stock-market rally. But that's not what happened.
Or rather, it triggered some rallies, but soon the hot air hissed out of them and they deflated. That's what's different this time: apparently nothing can keep these stocks propped up at these dizzying levels, not even the Fed.
Friday in the US, stocks rallied at the open, and by 1 PM, the S&P 500 hit 1,953, up 1% intraday and looking strong, when you could suddenly hear the hot air hissing out of it. In two hours it plunged 31 points to 1,922, before bouncing at the last hour to close down 1 point.
That left it down 1.4% for the week and 6.2% for the year. It's down "only" 9.4% from its all-time high in May, with a lot more room to fall. Despite its nerve-wracking daily gyrations, it has gone absolutely nowhere since June 12, 2014.
The most hated asset class of all
The asset class that the Fed has been trying to render as appealing as a mildewed wet blanket – cash in bank – handily beat the S&P 500 without all the gray hairs and fees.
The Nasdaq wasn't quite so sanguine on Friday, however. It opened up 51 points, at 4,785, then relentlessly dropped 126 points, for a 2.5% swing, before bouncing off a little at the end and closing at 4,686, down 1% for the day, and 3% for the week. Now it's back where it had been on November 13, 2014, and in March 2000.
The Dow remained in the green all day despite its gyrations and closed up 0.7%. At 16,314, it's down 0.4% for the week and back where it had been on Christmas Eve 2013. Yup.
Somber thought: since the Financial Crisis, stocks only rose during periods of QE and Operation Twist. The rest of the time, they languished or fell. But QE was tapered out of existence last year, and now the Fed is talking about the process of "normalizing" rates, whatever dubious thing that will mean in the end. And the fuel that powered stocks to such vertigo-inducing highs, accompanied by a deafening orchestra of Wall Street hype, has been spent.
This weekly chart of the S&P 500 by Doug Short at Advisor Perspectives shows the ups and downs on the way up, and since July the downdraft: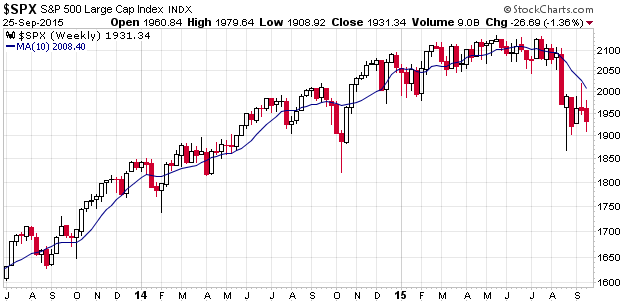 This episode is different than the prior downdrafts: it has persisted. It's hasn't been just a quick dip, with dip-buyers chasing it enthusiastically to get the dang thing to turn around and head back to new highs. This downdraft, as mild as it still is by historical standards, has persisted for over two months. Part of the initial bounce after the August plunge that put the S&P briefly into a correction is now getting unwound. The last time that happened was in 2011.
Shaping up to be a bad-hair year globally.
In Europe, where Draghi's QE is still breathing hot and heavy, stocks swooned all week until he finally started talking again to emphasize that QE could even be increased and extended, another whatever it takes, which caused stocks to rally on Friday. But unlike in the US, markets closed before they had a chance to change their minds.
The German DAX dropped 2.3% during the week to 9,689, despite the rally on Friday. It's down 22% from its peak in April, and thus in a bear market. The beating that the German automakers and component makers took after the Volkswagen fiasco didn't help at all, but there are bigger sinners out there [German Stocks Crush Dream of Central-Bank Omnipotence].
The UK FTSE managed to remain flat for the week. It's down 14% from its peak in April.
In Asia, a similarly dreary picture has emerged. The Japanese Nikkei, despite a sharp rally on Friday, is down 1% for the week and down 14.2% from its peak in June, despite the efforts by Bank of Japandemonium to monetize half of the mountain of government debt that Japan has created over the decades. The program was designed also to inflate stocks. It did that wonderfully for a while, but now the construct has begun to crumble.
The Indian SENSEX is down 13% from its peak, and the Hang Seng 26%. Shanghai continues to languish near the 3,000 level that the government has sworn up and down to defend no matter what, even if it has to move heaven and earth. It dropped 1.6% on Friday to 3,092, down 4.4% year-to-date, and down 40% from its peak in June.
This chart by Doug Short shows the percentage change of the eight indices. The blue bubble is Shanghai. The chart uses the DAXK, which does not include dividend payments (unlike the DAX) and thus is more comparable to the other indices. Only the Nikkei and French CAC40 remain, if barely, in positive territory for the year: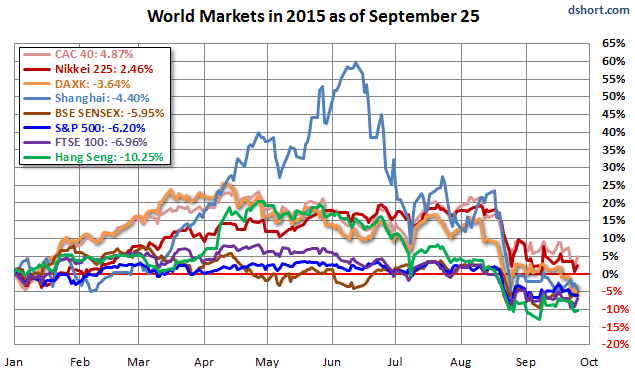 And the Wall Street dogma of lowering your risk by diversifying into global equities? It's supposed to keep your assets intact when US markets crack. Diversification is a revenue opportunity for Wall Street as investments get shifted around. But all major stock markets are now heading down together, not in lockstep, and not at the same rate, but they're going down, all of them. And diversification has become an illusion.
Biotech stocks in the US got crushed all week, the worst since the Financial Crisis, part of a bloodletting that had commenced in July. And the finger-pointing has started. Read… It Gets Ugly in Biotech
Enjoy reading WOLF STREET and want to support it? You can donate. I appreciate it immensely. Click on the beer and iced-tea mug to find out how:

Would you like to be notified via email when WOLF STREET publishes a new article? Sign up here.