Biotech stocks got crushed today, got crushed all week, got crushed since their peak in early July. "Bloodletting" comes to mind. But who the heck did the crushing? That's what everyone wants to know. And the finger-pointing has started.
Early in the week, they blamed the New York Times because it had ran an article on Sunday on a hedge fund guy named Martin Shkreli who'd founded Turing Pharmaceuticals, which bought the rights to a generic drug that has been around for six decades, called Daraprim, "the standard of care for treating a life-threatening parasitic infection." In his hedge-fund manner, knowing he had a monopoly, he jacked up the price from $13.50 to $750, raising the "annual cost of treatment for some patients to hundreds of thousands of dollars."
This caused a national stink. Presidential candidate Hillary Clinton jumped into the fray with a proposal to cap prices of specialty drugs to prevent "price gouging." Drug makers absolutely adore that kind of language.
Among the biotech giants, Biogen dropped 2.8% today, 9.5% for the week, and is down 40.6% from its high in March. Celgene plunged 4.8% today, 11.6% for the week, and is down 23.6% from its high. Gilead fell 2.3% today, 7.8% for the week, and 22% from its high in June. Smaller biotechs fared worse.
The iShares Nasdaq Biotech ETF (IBB) plunged 4.9% today, 12.9% for the week, and is down 22.5% from its peak in early July. This weekly chart shows just how bloody the week was – in percentage terms, the worst since 2008; in points, the worst ever: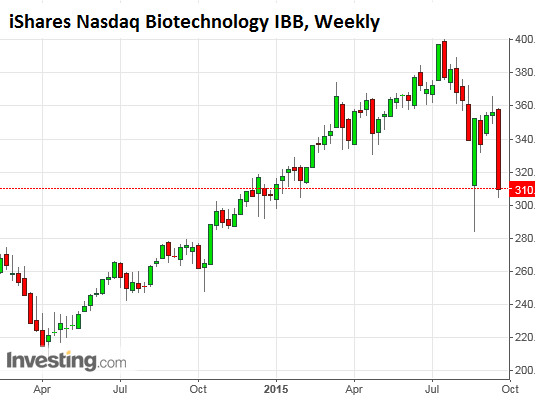 But blaming the current drug-pricing scandals for the debacle? Thing is, these scandals have been going on forever. Sky-high drug prices are an old game. They explain in part why healthcare is approaching 20% of GDP in the US.
Even generic drugs are concerned. They should be a lot cheaper, but once competition disappears, such as in the case of Daraprim, "price gouging" is not uncommon. But it's often not visible to the public because it happens to drugs used in hospitals. It disappears on confusing bills and ends up in higher insurance premiums and larger public expenses.
And among new drugs, we had hepatitis C drug Sovaldi, for which Gilead decided to charge $1,000 a pill. It was possibly the most "successful" drug launch ever. In the first quarter of 2014, Gilead sold $2.27 billion worth of the brand-new dug.
"We're just looking at what we think was a fair price for the value that we're bringing into the health care system and to the patients," explained VP Gregg Alton in December 2013, after the FDA had approved the drug, and pricing triggered a media furor.
Fair for whom, exactly?
So let competition determine prices? Alas, the way it works, often there is no competition. And when there is, mergers and acquisitions see to it that competition doesn't get out of hand.
One of the drug pricing scandals last year made it on "60 Minutes." It involved Sanofi's colon cancer drug Zaltrap, which cost $11,063 a month. It was a lot more expensive than Roche's Avastin but wasn't any better. So Leonard Saltz, a doctor on the show, framed the issue this way: "We're starting to see the term 'financial toxicity' being used in the literature. Individual patients are going into bankruptcy trying to deal with these prices."
And that sort of attention is unlikely to derail the momentum. On the contrary. When Gilead's price of $1,000 a pill hit the headlines, its shares soared. It would be money in the bank. So something else must have derailed the momentum. Which takes us back to the biotech ETF.
How far did IBB actually fall back? All the way to where it had first been in December last year – so not very far. But look how the index ballooned since 2011. It went from 80 to 400. Doesn't look like a bubble to me either: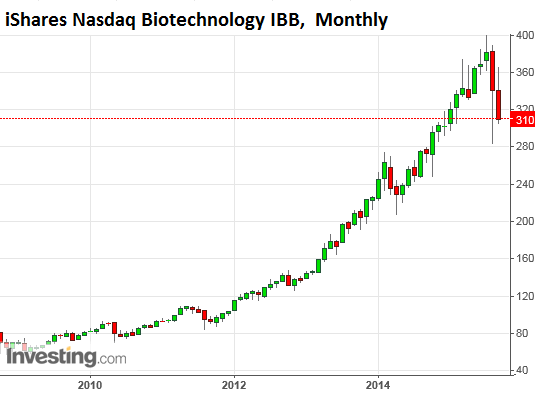 Only a small number of companies in the index are even profitable. This leaves us with the suspicion that the real reason for the sudden swoon in the sector isn't the vain threat of price controls, but the fact these stocks were some of the most glorious highflyers of the current era, powered for years by Wall Street hype, phony pro-forma projections, newfangled metrics, and day-trader momentum. They soared on volatile vapors. They didn't need to be grounded in reality. This works for a long time – until suddenly it doesn't.
It's just one more phenomenon in the great Fed-engineered asset-price inflation game. It has spread to most other sectors, including commercial real estate, and the Commercial Mortgage Backed Securities that fund it. Read… Commercial Real Estate Shoots Off Chart, Fitch Frets about CMBS, Points to Financial Crisis
Enjoy reading WOLF STREET and want to support it? You can donate. I appreciate it immensely. Click on the beer and iced-tea mug to find out how:

Would you like to be notified via email when WOLF STREET publishes a new article? Sign up here.