The infamous "sanction spiral" imposed on Russia by the US and Europe with such fanfare last year in the wake of the Ukrainian fiasco has receded from Western headlines. In Russia, it coagulated with the oil price plunge, and during the first two quarters this year, the economy shrank sharply.
But whatever the "sanction spiral" was supposed to accomplish, some countries in Europe, among them Germany, are desperately dependent on Russian gas to heat homes and offices, and to supply power plants and industrial installation. The threat that Russia would turn off the valve hung over the EU last winter. At the time, Eurocrats beat the bushes to explain that no one would be without natural gas. But not everyone believed it, including the German government [LEAKED: What Happens to Germany if Russia Turns off the Gas].
The scare seems to have left a lasting impression.
Or was it just about money?
Over the winter, Russian natural gas exports by pipeline to Europe dropped to the lowest levels in years, and were 22% below the five-year average, according to US EIA calculations of International Energy Agency data. Exports dropped even further to 6.4 billion cubic feet per day (Bcf/d) in January and 5.3 Bcf/d in February, down 36% and 40% respectively from the five-year average for these months.
But in March, natural gas exports from Russia to Europe began to increase. And by the second quarter, they jumped 58% over the first quarter. In July, the most recent month for which data is available, exports hit 11.9 Bcf/d. Exports via the Ukraine decreased, but exports via the Nord Stream pipeline into Germany soared 55% year-over-year in June and 59% in July to a new record. To heck with any half-forgotten sanctions (2015 exports, brown line):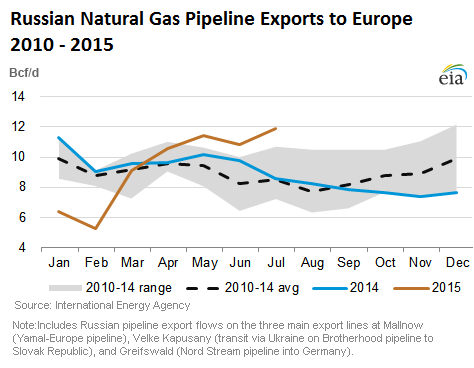 Then there's the money.
During the first three months this year, the price averaged $9.36 per Million British Thermal Units (MMBtu). Then they began to decline. By August, prices had plunged nearly 30% to $6.66 /MMBtu, the lowest since 2009.
OK, those low prices might still look paradisiacal to US shale gas drillers. On the NYMEX, natural gas currently trades for $2.62/MMBtu. In hubs where production from the Marcellus – the largest natural gas producing region in the US – is sold, such as at Tennessee's Zone 4 Marcellus hub, prices are barely above $1/MMBtu. This price collapse has haunted drillers since 2009. Now Wall Street is finally pulling the plug, and two major US natural gas drillers have already gone bankrupt this year.
Gazprom and other producers in Russia have suffered from the price plunge in their markets, but not like US shale gas drillers. In Europe, many contractual rates are linked to the price of North Sea Brent crude oil, which started plunging over a year ago. After a lag of three to nine months, the lower crude oil prices are pushing down natural gas prices.
So what's the reason behind last winter's sharp drop of natural gas exports from Russia to Europe? The sanctions? Russia's counter sanctions? The fiasco in the Ukraine? Nope. Just money.
Shrewd European buyers.
These buyers took advantage of the situation, which is what traders do by definition. According to the EIA, they tried to "optimize their oil-indexed contracts by decreasing imports in the winter while drawing heavily on gas in storage in anticipation of lower natural gas prices in the spring and summer 2015." They knew natural gas prices would have to follow crude oil prices with that three-to-nine-month lag.
After the winter drawdown of their natural gas inventories, buyers then took advantage of the lower prices in the spring and summer, went on a buying binge, and accelerated refilling their storage facilities, injecting a record 1,834 Bcf from April 1 through September 22. Storage levels have reached 2,578 Bcf, according to Gas Infrastructure Europe. Driven by the current low prices, they may set a new record by the time the injection season ends.
This strategy provides Europe with relatively cheap natural gas for now. But it doesn't lessen at all Europe's desperate energy dependence on Russia, and Russia's equally desperate dependence on the European market.
Whatever Russia and China are trying to hash out will take years to build. And Europe's efforts to find alternative sources of cheap natural gas are not always going in the right direction: for example, production at the Netherlands Groningen field was further limited by the government after drilling-related earthquakes frazzled the population. So the Russian-European energy marriage may be rocky and unpleasant at times, but opportunities abound, and neither side can afford a divorce even if they wanted to.
Natural gas in the US follows its own dynamics, those of Wall Street engineering. Read… A Spinoff Goes to Heck, after Just 10 Months
Enjoy reading WOLF STREET and want to support it? You can donate. I appreciate it immensely. Click on the beer and iced-tea mug to find out how:

Would you like to be notified via email when WOLF STREET publishes a new article? Sign up here.