Now that 495 of the S&P 500 companies have reported second quarter earnings, something has become abundantly clear: 2015 is going to be a nasty year for corporate revenues.
Blended revenue for the S&P 500 companies dropped 3.4% in Q2, according to FactSet. "Blended" because it includes estimates for the five companies that have not yet reported. This follows the first quarter, during which reported revenues also declined. The last time year-over-year revenues declined two quarters in a row was in Q2 and Q3 2009 during the Financial Crisis.
Analysts liberally blame the strong dollar. It's convenient. But numerous companies that mostly benefit from the strong dollar, such as GM (more on that in a second), still reported shrinking revenues in the quarter.
And analysts blamed energy companies whose revenues have totally collapsed. But company by company outside the energy sector reported declining, and in some cases plunging revenues, including in Big Tech and financial services.
Here is a sample of revenue losers:
Caterpillar (-13%), Dow Chemical (-13%), MetLife (-12%), Microsoft (-4%), Intel (-5%), International Paper (-21%), JPMorgan Chase (-3%), Johnson Controls (-11%), Oracle (-5%), PepsiCo (-6%), Pfizer (-7%), Procter & Gamble (-12%), Union Pacific (-10%)….
Wait… Union Pacific? Would it blame the strong dollar or the price of oil? Hardly. It doesn't operate trains in Europe. It doesn't sell oil. It buys and burns it; so cheap oil is a godsend. It's blaming the economy, particularly the reduced number of carloads of coal and other commodities. And it's blaming that obnoxious add-on, the fuel surcharge that has been declining with the plunging price of oil. Surcharges go straight to revenues. Competitive pressures forced it to back off. Easy come, easy go.
Then there's former tech darling QUALCOMM (-14%), insurer ALFAC (-9%), and of course IBM, always, at least for longer than anyone can remember, well, for the thirteenth quarter in a row, strong dollar, weak dollar, hot China, cold China, nothing matters…. Its revenues decline through thick and thin, this time -15%.
Then there's GM (-3.5%). It gets the vast majority of its revenues from its number one market, China, and its number two market, the US. Over that 12-month period through the end of June, the yuan lost less than 1% against the dollar. And GM sells practically nothing in Japan whose currency lost out against the dollar.
Sure, it's exposed to the euro and other struggling currencies. But in Europe and Latin America, its unit sales (not just dollar sales) have been declining, and that's what kicked GM in the shin. A function of the global economy, not the dollar.
But GM imports components and vehicles into the US from countries around the world, particularly from Mexico and Canada, and their currencies have gotten slammed in unison over the period, thus lowering the costs of these imports. In reality, GM has been sitting at the sweet spot of the strong dollar.
But healthcare had majestic revenue gains of 8.6%, with three of its six industries reporting double-digit revenue growth: Health Care Technology (32%), Biotechnology (17%), and Health Care Equipment & Supplies (13%). Earnings soared 15.5%.
Powered by rampant price increases, near endless patent protections, and lack of competition, this already vast sector is hogging an ever larger slice of the limited national pie. Americans are not particularly healthy and don't live very long either, but they sure pay a lot for it.
So this is what the corporate revenue picture looks like, with company details mercifully hidden from view, and with four of ten sectors reporting revenue shrinkage.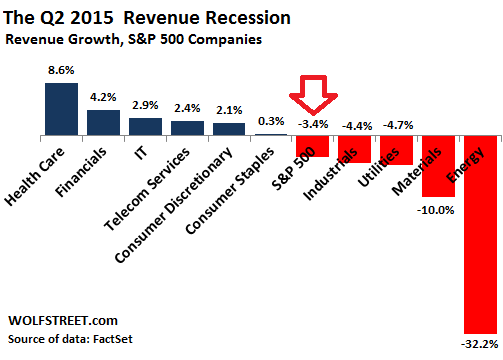 Some folks like to insist that yeah, but without energy, revenues wouldn't have been that bad, they would have edged up 1.5%. OK, but without the vast health care sector, revenues would have been puke-in-the-corner terrible. Once you start selectively removing sectors to make the picture look rosier, you end up with weird results.
For the remainder of the year, analysts expect revenue shrinkage to continue: -2.6% in Q3 and -0.6% in Q4, according to FactSet. So revenue shrinkage as reported in the first half and as estimated for the second half produces a revenue decline for the calendar year of -1.7%: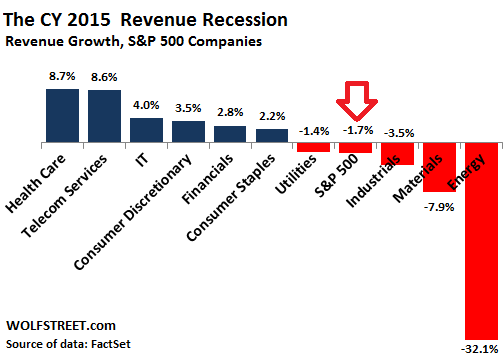 Four quarters in a row of declining year-over-year revenues! That sort of long-lasting revenue recession would take us back to the bowels of the Financial Crisis.
Next year is going to be great, however, according to these analysts. Revenues will soar 5.7%, as they always do far enough into the future because analysts need to justify the still sky-high stock prices with their forward-looking miracle metrics.
Or do these analysts and the companies they promote expect the dollar to crash next year and oil to fly off the chart in order to get to this revenue growth? That would be ironic. Because when revenues and earnings turn sour, the dollar and China get blamed. But when revenues and earnings look good, executives take full credit, based on their brilliant strategies and excellent execution.
Moody's blamed oil. Earlier in August, it had blamed the financial turmoil in China. In July, it had blamed the debt crisis in Greece. Because month after month, it has been getting worse. Read… Liquidity Stress Spikes to Worst Level since Financial Crisis
Enjoy reading WOLF STREET and want to support it? You can donate. I appreciate it immensely. Click on the beer and iced-tea mug to find out how:

Would you like to be notified via email when WOLF STREET publishes a new article? Sign up here.