It's a really bad day when the battered Shanghai stock index, down 1.3%, was the best performer of the major markets. The Nikkei plunged 3.8%. The largest European stock indices all lost between 2.4% and 3%. The German DAX, indicator of Europe's miracle economy, is down 19% from its peak in April.
The S&P 500 dropped like a rock at the open and finished even lower, down nearly 3% for the day and down 10.2% from its high in May – back in an official "correction."
Turmoil.
That's the word that is now flying around. NPR tries to soothe the nerves of its listeners with comforting words about not selling during a rout. It's in the papers. It's everywhere.
The ugly fact is that since the Financial Crisis, the S&P 500 has rallied only during periods of QE and Operation Twist. But the Fed tapered QE out of existence last year and has been palavering about raising rates for months. And so, after years of powering higher despite a languishing economy, and making everyone smile and nod in a self-satisfied manner, stocks are being stocks again.
This chart by Doug Short of Advisor Perspectives shows the daily movements of the S&P 500 since early April. The trading range remained relatively narrow through the China swoon in June and July, though there were some downdrafts. But in mid-August, stocks came unglued, on soaring volume on big down-days (lower part of the chart):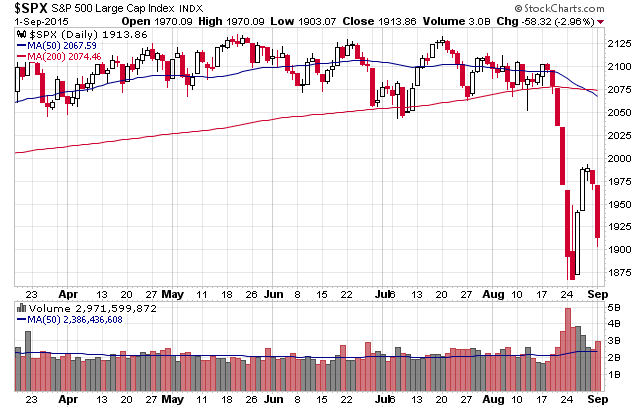 And Americans are rattled.
Confronted with this market that suddenly redeveloped a will of its own, not just in the US but particularly in China, Americans' economic confidence is getting hammered, according to Gallup's latest report.
They haven't been exactly exuberant about the post-Financial Crisis economy to begin with. Gallup's weekly survey of economic confidence reached its highest point in January of a still crummy +5 on a scale of -100 to +100. The index hit -65 during the Financial Crisis and took until the end of 2014 to get into positive territory.
But it didn't last long. In February, economic confidence began to fall. At first, it looked like a blip typical for weekly indices. But the trend south continued month after month. And for last week, which Gallup released today, the index dropped another 3 points to -17, the worst level since September last year.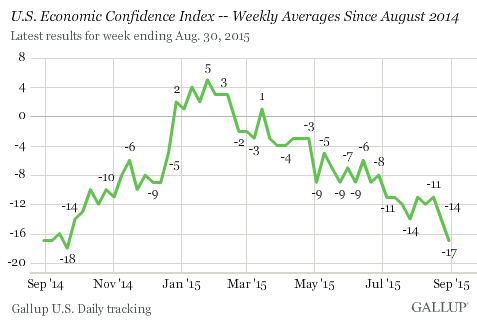 But it's even worse.
In the three-day rolling average for Monday through Wednesday last week, confidence dropped to -21. Monday was the day the Dow plunged over 1,000 points at the open. The mood recovered later in the week as markets jumped.
"Americans' confidence in the U.S. economy has been sensitive to international turbulence recently – such as in July, when Greece's agreement on a debt deal remained uncertain," Gallup said. And the latest debacle came "as international markets struggle amid volatility" – a euphemism for a historic crash – "in China's stock market."
Which begs the question: what is today's rout doing to the confidence of Americans?
Which begs an even more troubling question: the S&P 500 is just 10% off its vertiginous record high, after rallying since 2011 straight. It can fall a lot further. And if it does, what is the economic confidence of Americans going to look like then? How will that impact their decisions to purchase cars and smartphones and whatnot? We can imagine the answer.
The index is a composite of two sub-indices: one tracks how Americans perceive current economic conditions; the other tracks how Americans see future economic conditions.
The current economic conditions index has been heading down in small uneven increments. Today's reading dropped another two points to -8, down 13 points from January. But the index for future economic conditions has plummeted 31 points since January, 10 points in the past two weeks alone, to -25, the worst level since July last year. This is what this sharp deterioration looks like: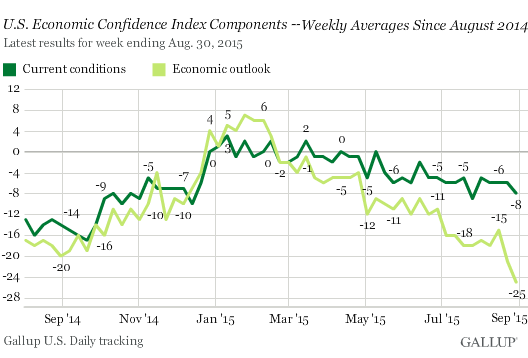 Just 23% of Americans rated the current economy as excellent or good; while 31% rated it as poor. In terms of economic outlook, 37% said the economy is "getting better," but 60% said it is "getting worse."
Stock market upheaval has "pushed Americans' economic confidence further into negative territory," Gallup said. But it pointed out that the unraveling of its weekly index in the second half of August is not yet reflected in other consumer confidence measures that cover an entire month and that have been mixed, with some, like its own monthly survey, heading down a smidgen, while the Conference Board Consumer Confidence Index actually rose.
In its prior report, Gallup figured that market turmoil hadn't yet "greatly shaken" Americans' overall economic confidence, based on the only slowly degrading current conditions index. But it had already slammed into Americans' economic outlook: "To the extent stock markets continue to suffer, particularly if this affects broader aspects of the economy, Americans' confidence could be shaken further in the coming week."
Which is exactly what happened. And given today's swoon in the markets, confidence is likely to take another hit.
It's tough when you design an economic recovery solely on the principle of inflating asset prices to bail out the biggest risk takers and make some folks rich, and then, after years of ballooning asset prices, they begin to deflate, and now there are real consequences.
And this sort of stock market manipulation hit a sour note in Japan. Read… Bank of Japan Drops Ball, Government Pension Fund Stops Buying Stocks, Nikkei Plunges, J-REITs Eviscerated
Enjoy reading WOLF STREET and want to support it? You can donate. I appreciate it immensely. Click on the beer and iced-tea mug to find out how:

Would you like to be notified via email when WOLF STREET publishes a new article? Sign up here.