Years of near universal easy money policies led to an investment boom in commodities, which led to overproduction that coincided with languid demand, which led to a crash in prices, which led to a rout in commodity currencies. Then the Fed started its cacophony about raising rates; it pulled hot money into dollar assets, pushed up the dollar further, and left commodity currencies twisting in the wind.
Among them, one stands out: the Canadian dollar.
The rout in commodities has ravaged Canada's oil patch and its mining sector. For example, home sales in Calgary, the epicenter of the oil patch, have plunged 25% year-to-date. Canada is in one of the most magnificent housing bubbles the world as ever seen, and when it pops in Toronto or Vancouver, there will be fireworks. But not yet.
The economy shrank for the first five months of the year, after already shrinking in November last year, and is likely in a technical recession (two quarters in a row of GDP shrinkage). And the problems are spreading.
Krishen Rangasamy, a Senior Economist at Economics and Strategy, National Bank Financial, pointed today at the business investment quagmire:
Business investment spending seems to have dried up in Canada. Trade data shows real imports of both industrial machinery and electronic equipment fell in Q2 at the fastest pace since the 2008/09 recession. The bad news doesn't end there unfortunately because a further contraction in investment is highly likely in the second half of 2015.

Even low interest rates may not be enough to entice firms to increase investment outlays especially when profits are declining and the growth outlook is weakening due to persistence of depressed oil prices. The investment decline won't be isolated to the energy sector. Thanks to the sinking Canadian dollar, it's now more expensive for everybody to import capital goods.
The report saw "plenty of downside for investment spending from here." And that "investment slump" would drag down economic growth this year and "for 2016 and beyond."
But some intrepid souls see a glimmer of hope for the loonie. Commodities have plunged so far that these intrepid souls think they won't plunge much more. And the loonie being a commodities currency, well, you get the idea.
One of these intrepid souls is Steve Sjuggerud. In his article, "The World's Most Hated Major Currency Hits an 11-Year Low," he offers a two-part conclusion: Part A makes total sense to me, and if I had the time, I'd do it instantly, regardless of what I think might happen to commodities and the loonie….
By Steve Sjuggerud, Daily Wealth:
Crashing oil prices, crashing commodity prices, and a super-strong U.S. dollar – these three have been the trifecta of pain for the Canadian dollar in recent years. All three of these together have pushed the Canadian dollar to an 11-year low.
In today's essay, I'll show you why the Canadian dollar could bottom out soon and start a solid rally.
Right now, "real money" traders have a massive bet against the Canadian dollar. We can see by looking at the Commitment of Traders (COT) report – which tracks the "real money" bets of futures traders. Today, the COT shows traders are uniformly betting against the Canadian dollar.
This is a great contrarian sign. It shows that everyone who wants to sell the Canadian dollar has already sold. There's nobody left to sell.
"Real money" traders have only had a significantly larger bet than today's one time in the past – in early 2007. The Canadian dollar absolutely soared right after that – from $0.85 to $1.08 in about eight months. That's a 27% move, a huge move in a currency!
Today, sentiment on the Canadian dollar is at the worst level in history (according to Jason Goepfert of SentimenTrader.com, whose data go back a few decades). That also tells me the bottom should be near.
So what's going on? And when could the rally in the Canadian dollar start?
The Canadian dollar is known as a "commodity currency." Its currency tends to rise and fall with commodity prices. The problem is, everywhere you look, commodities are crashing. The Bloomberg Commodity Index, which currently tracks futures prices for 20 commodities, is down 62% since peaking in July 2008.
Take a look at the chart below. It shows the Canadian dollar versus commodity prices over the past 15 years…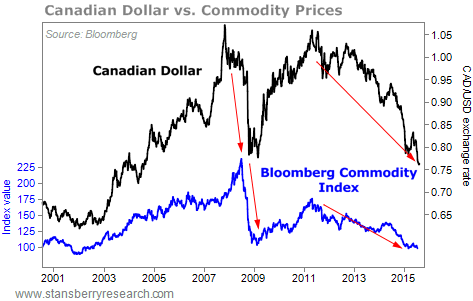 You can see that the Canadian dollar crashed the last two times commodity prices peaked and began a bear market. It fell 22% from July 2008 to March 2009. And since peaking in mid-2011, the Canadian dollar is down 27%, a huge decline for any major currency.
Canada's currency can bottom out here, simply because there's nobody left to sell. However, the legitimate bottom will happen when commodity prices finally bottom.
Since commodity prices have continued lower, the Canadian dollar has continued lower. In short, we don't have an uptrend in the Canadian dollar – yet. So I'm not buying today… but the Canadian dollar will be a fantastic opportunity when commodities rebound.
The best way to take advantage of it now is to get yourself up to beautiful Vancouver, my favorite city in the world. I was just there for more than a week, and I can confirm that – except for real estate – prices in U.S. dollar terms were cheap!
So take advantage by visiting Canada while its currency is at a record low. Then buy the Canadian dollar when the uptrend finally appears. By Steve Sjuggerud, Daily Wealth
At first, there was hope that only Canada's oil patch would be headed into a recession. Now the oil patch is already there. Despite months of assurances that the oil bust and the broader commodities rout won't spread into the rest of the Canadian economy, they're now beautifully spreading into it. Read… It Gets Ugly in Canada
Enjoy reading WOLF STREET and want to support it? You can donate. I appreciate it immensely. Click on the beer and iced-tea mug to find out how:

Would you like to be notified via email when WOLF STREET publishes a new article? Sign up here.