Home Capital Group, Canada's largest non-bank mortgage lender, focuses on "alternative" mortgages, as they're called euphemistically, that is high-profit mortgages to risky borrowers with dented credit or unreliable incomes, such as self-employed folks or new immigrants, who don't qualify for mortgage insurance and were turned down by the banks. They include subprime.
Its stock plunged almost 20% on Monday in Toronto. On Tuesday, it dropped another 4% to close at C$32.74, the lowest since September 2013, and down 41% from the halcyon days last November.
Analysts went into a wild and belated scramble to lower their ratings on the stock. It has been the fourth most shorted stock in Canada, with 20% of its free float shorted, according to Bloomberg. Those folks made a bundle over the last two days.
Friday after hours, when no one was supposed to pay attention, the company issued a statement ahead of its second quarter earnings report on July 29 that shocked analysts:
In the second quarter, originations of high-margin uninsured mortgages had plunged 16% from a year ago, to C$1.29 billion. And originations of lower-margin insured single-family mortgages had plummeted 55% to C$280 million.
A warning sign flaring up in Canada's majestic housing market where prices have soared for years, in an economy rattled by the oil price crash and other issues, and now likely in a technical recession?
No way.
"We think this is an HCG-specific growth issue," Royal Bank of Canada analyst Geoffrey Kwan wrote to clients, "not an early signal of rising losses or broader housing stress." However, he did expect industry mortgage loan growth to "slow in the next 2-3 years."
Just not yet.
The company blamed some changes it had made: It had terminated some of its 4,000 or so mortgage brokers, "which caused an immediate drop in originations," according to the statement.
It suddenly decided to use a "conservative approach to growing its residential mortgage business." What had spooked it? What does Home Capital know that we don't? It didn't say.
And it blamed "the competitive market for prime insured mortgages." With mortgage lenders falling all over each other trying to outdo each other to lend in an environment of record low mortgage interest rates and soaring home prices, where buyers outdo each other in bidding wars… what could possibly go wrong?
"We are confident that the steps we have taken in the first half of 2015 were necessary to ensure the continued long-term profitability of our business, in spite of the short-term impact on originations," explained CEO Gerald M. Soloway.
Home Capital President Martin Reid told Bloomberg, "If we've got a broker who's just not living up to the standards we set, we'll work with them and try to get it, but if they don't we're going to cut them off." So it's all just routine. "This time, it just happened to be a few more with a little bit more significant impact to the volume."
These "few more" brokers that were cut off, of the 4,000 in total, caused this sort of mega-plunge in mortgage originations? He didn't say. But added, "We don't think it's a systemic problem and an ongoing problem."
But there may be a "systemic problem" after all. Homes in key markets have gotten very expensive in one of the most, or the most overpriced housing markets in the world. And households are up to the ears in debt, which funded these prices and bidding wars. The household-debt-to-income ratio has nudged up from record to record, now at 163.3%: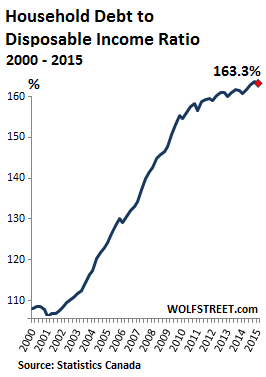 And home prices just keep soaring. The Teranet–National Bank National Composite House Price Index, released on Tuesday by Economics and Strategy of National Bank Financial, rose 1.4% in June, a sixth monthly increase in a row, and was up 5.1% year over year. It now exceeds the peak of the prior housing bubble just before the Financial Crisis by 27%. This is what a truly magnificent housing bubble looks like: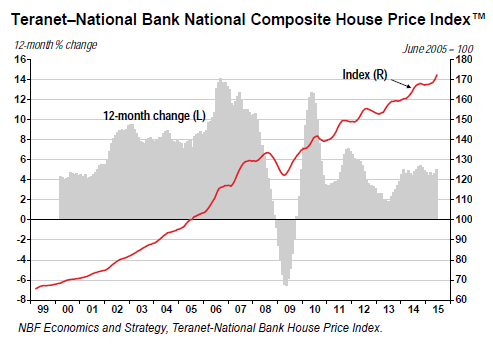 The sub-index for Toronto jumped 7.8% year-over-year to a new record and is now 45% above the peak of the prior housing bubble: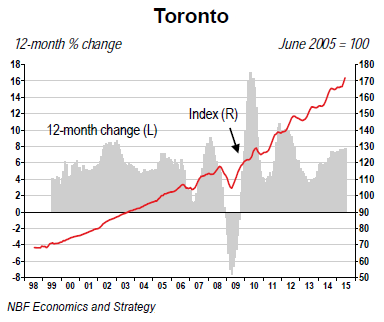 And the index for Vancouver jumped 8.5% year-over-year to a new record and is now 30% above its peak during the prior housing bubble: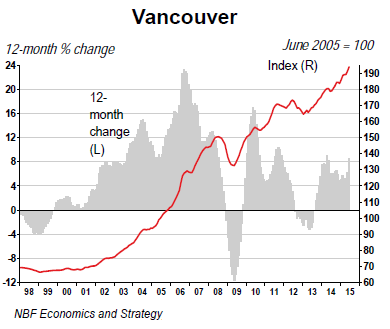 While condo prices rose only "moderately" in Toronto and Vancouver with a still delicious increase of 4.7% and 3.2% respectively, according to Marc Pinsonneault, Senior Economist at National Bank Financial, "prices of other types of dwellings were up almost 10%."
Whether it's these crazy price increases, the bidding wars that produce them, the elephantine mortgage balances that people with modest incomes buying modest homes have to carry, a growing fear of potential credit losses, the vision of expensive homes being flipped for quick profit…. Whatever it is, the folks at Home Capital are seeing something so ugly that they stepped back from the market in a drastic manner, willing to pay a steep price for it.
There are already enough problems in the Canadian economy. The oil price plunge, job losses, dropping exports, fizzling investments. Now that hope is that the housing bubble doesn't deflate at the worst possible time. Read…  Is Canada Next? Recession Is "Quite Contained"
Enjoy reading WOLF STREET and want to support it? You can donate. I appreciate it immensely. Click on the beer and iced-tea mug to find out how:

Would you like to be notified via email when WOLF STREET publishes a new article? Sign up here.