"In the current context, if you look at the growth numbers, the recession is effectively in the goods sector, it's in the oil industry, it's weak growth in manufacturing, weak growth in construction," explained Kevin Page, Canada's former parliamentary budget officer, a watchdog role charged with analyzing the state of the economy and government finances.
"It's quite contained," he told CBC radio, with an eerie echo of the Fed's description of the US housing bust in the early stages of the Financial Crisis. There's "still lots of growth in the service sector," he said.
That's what everyone is hoping. And it would just be a technical recession – two consecutive quarters of negative growth – rather than an official recession.
There wasn't a lot of room for optimism. The economy shed 6,400 jobs in June, according to Statistics Canada, with gains in full-time jobs and losses in part-time jobs. The unemployment rate remained at 6.8%, same since February. But there are numerous indications that contractors, which do much of the work in the oil patch, are still working, but a lot fewer hours, and that this deterioration, in Calgary for example, hasn't been fully captured by unemployment statistics.
"If you look at the job picture, it's gotten progressively weaker through the summer," Page said. "I think that would be a concern for the government and a concern for the overall strength of our economy."
"The economy's weak, you can't deny that," Page added. "It will be pretty hard for Minister Oliver to keep that line that we're not in a technical recession."
Which is exactly what Finance Minister Joe Oliver has been "adamant" in denying, according to CBC. He referred to the 96,000 full-time jobs created so far in 2015 and cited, of all things, the IMF, which "confirmed what I and numerous independent analysts have been saying – the Canadian economy will grow this year."
In fact, the IMF, after lowering global growth, had slashed Canada's growth from 2.2% just three months earlier to a measly 1.5% for the whole year.
"I think the government had a similar difficulty back in 2008, right after an election where they said there'd be no recession and we wouldn't run deficits," Page said. "They had a hard time changing the tone. It sounds a little similar to me, that even after four months of declining growth, they have a hard time admitting that basically we're likely going to have two quarters of decline."
BofA Merrill Lynch was the first major bank to be vocal about a technical recession. In a note in early July, Economist Emanuella Enenajor said that Canada's economy shrank 0.6% in the second quarter, and 0.6% in the first half. Despite a rate cut in January, she wrote, the "economy has surprised to the downside this year, and appears to have entered a recession."
But wait…. The declines in GDP are largely based on a "massive contraction" in the energy sector, Stéfane Marion, Chief Economist at Economics and Strategy of National Bank Financial, wrote in a note.
Canada's monthly GDP growth has been negative for five of the last six months. But just how much does Canada's energy sector, rattled by the oil price plunge, weigh in the equation? In this gloomy chart by NBF, the black bars represent overall monthly GDP "growth" – in quotes because it's mostly negative. The dotted red line represents GDP growth without the energy sector. But it doesn't look particularly appetizing either: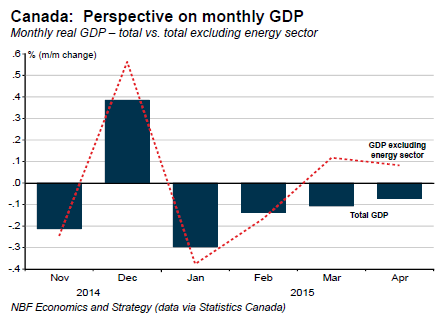 And it has been a very mixed bag:
Consumer confidence outside the oil patch is holding up, supported by rising disposable income in Q4 last year and Q1 this year. But confidence has collapsed in Alberta, the epicenter of Canada's oil bust. Housing starts "rebounded" in May and June, after having plummeted in February.
The job market is "resilient," Marion wrote, though Alberta and British Columbia have been shedding jobs this year. Retail spending is up. So it's "not a recession for consumers" overall, though it may well be a recession for consumers in the oil patch.
Business investment, which has been weak for a while, has plunged in recent months, not only in industrial machinery where the oil industry weighs heavily, but also disconcertingly in electronic and electrical equipment. Exports have dropped sharply and a "widening of the volume trade deficit was subtracting from quarterly GDP growth." Marion concluded:
The recent poor showing is neither Canada-wide nor economy-wide. The downturn is in energy and was concentrated in Alberta in Q2. Though GDP may have edged down for a second consecutive quarter, it would be hard to call this a recession.
Hence, the title of his note: "Canada's second quarter: Two divergent economies."
And hence Kevin Page's hope that what he sees as a technical recession is "quite contained," and that, beyond and above all, the housing bubble, particularly in Vancouver and Toronto, doesn't implode just when the oil patch is wheezing, exports are plunging, and business investment is swooning.
Now hopes are rising in some corners that the Bank of Canada will announce another rate cut on July 15, after its surprise rate cut from 1% to 0.75% in January. The cut would further inflate Canada's debt-funded housing boom that is already flying in the rarefied air that few other housing bubbles have ever reached, with all the mega-risks that come with it, though while it lasts, it might keep economic growth from tanking altogether. That's the hope.
Worry of "full-fledged contagion to the rest of the country?" Rear…  Canada's Oil Patch Goes Into Convulsions, Business Confidence Plunges to Financial Crisis Lows 
Enjoy reading WOLF STREET and want to support it? You can donate. I appreciate it immensely. Click on the beer and iced-tea mug to find out how:

Would you like to be notified via email when WOLF STREET publishes a new article? Sign up here.