The high-rise construction boom in Toronto has been evident for a while. It has been motivated by sky-high prices. In May, prices in Toronto rose another 5% from a year ago. For all types of homes, prices are now 42% higher than at the crazy peak of the prior bubble! And if people can't afford to buy any longer, even with super-low interest rates, well, they can step down to a fancily equipped micro-condo, or more commonly called shoebox condo, where the dining table might fold into a bed.
But suddenly we get a nerve-wracking disturbance in this beautiful picture:
National Bank Financial said in a note to its clients that, based on data from Canada Mortgage and Housing Corp., the number of completed but unsold condos in Toronto spiked in May to 2,837, an all-time record high.
So the monthly data is choppy and may not be very reliable. It's an estimate, and estimating new and unsold condos isn't that easy. But the magnitude of this spike far exceeds the monthly ups and downs in recent years, and exceeds even those dizzying spikes in the late 1980s and early 1990s when the Toronto condo market went completely haywire.
But it wasn't just one month. The count had edged up in April to hit 2,038 after having already spiked beautifully in March to the highest level since the early 1990s. This is what this phenomenon looks like (data from National Bank):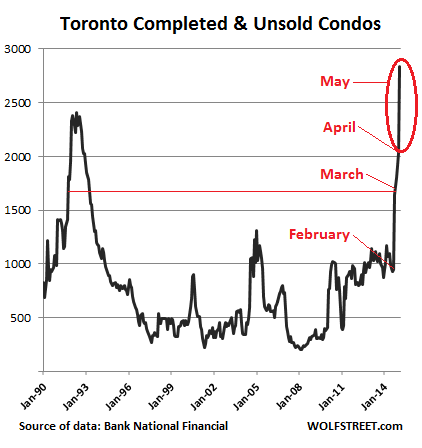 The report blamed the absorption rate, a measure of condos that have been completed during the month and were either sold or rented. It plunged to 69.5%. But don't worry. "It would be premature to think that the absorption rate will stay low, causing persisting accelerated increases in the number of vacant completed condos," the note said to mollify client anxieties.
Such a spike in unsold units and such a plunge in the absorption rate would normally get folks to fret about oversupply, future pricing pressures, and other industry nightmares. Condo construction booms have a nasty tendency to flip suddenly into busts, and then no one can turn off the spigot of new units coming on the market because high-rise condos take years to plan and build, and they just keep coming.
But don't worry. Business News Network, in reporting on this spike, pointed out that National Bank senior economist Marc Pinsonneault "says there is no cause for concern at this point about a future condo glut driving down prices."
This is what he wrote in the note:
To be sure, the situation deserves monitoring. But one month does not make a trend. According to more comprehensive data from Realnet (it includes presales and condos under construction as well as completed condos), the number of unsold new condos has been trending down since the second half of 2014.
The gurus at BNN came out swinging to soothe our frayed nerves over a possible condo glut. There were "lots of reasons" to think that the terrible absorption rate would not persist, they said. Based "on long-term fundamentals, everything looks like it's in balance and fine." In fact, it "looks like a well-behaved Toronto condo market."
How well-behaved?
Canada Mortgage and Housing Corporation (CMHC), an entity of the Canadian government, just released the housing starts data. In the Toronto Census Metropolitan Area, starts of single-family detached homes edged up 6% year-to-date through May to 3,121 units. Starts of "all others," a category that consists largely of condos in Toronto, jumped 29% year-to-date to 13,384 units. But in May alone, compared to last year, "all others" soared 80%!
That's the true signature of a condo construction boom. Now all we need for this condo market to remain "well-behaved," despite soaring starts and unsold inventories, is for a lot of buyers with a lot of money to emerge very quickly from China or wherever and "absorb" these units and all the units still coming on the market. Or else, this is going to turn into one epic condo glut.
This is the Canadian real estate environment where millennials and immigrants are "plankton" in the "food chain" for "big wales and sharks." Read… Canadian Mortgage Insurer Tells US Hedge Funds Why Canada's Housing Bubble Is Immortal. Hilarity Ensues
Enjoy reading WOLF STREET and want to support it? You can donate. I appreciate it immensely. Click on the beer and iced-tea mug to find out how:

Would you like to be notified via email when WOLF STREET publishes a new article? Sign up here.