Canada's housing bubble, which has been so much more magnificent than anything the US was ever able to conjure up, notched another gain in March, according to the Teranet-National Bank House Price Index, which rose 0.3% for the month. Prices were up in eight of the metropolitan markets and down in three, the broadest diffusion in seven months. Year over year, the index rose 4.7% to a new all-time record.
Since 2000, home prices have jumped 140% in the survey's 11 metropolitan markets. A number of years charted double-digit gains before the Financial Crisis and right afterwards. Before the Financial Crisis, Canada's home prices had largely followed the US run-up. But when US housing went into a terrific tailspin, Canada's home prices just dipped about 8% before re-soaring, fired up by easy money, a resource boom that has now crashed, and in certain metropolitan markets an influx of flush and motivated foreign buyers.
Home prices are now 26% higher than they were at the already crazy peak in 2008. The chart of the Teranet–National Bank National Composite House Price Index is what a real housing bubble looks like. Note the now puny dip during the Financial Crisis: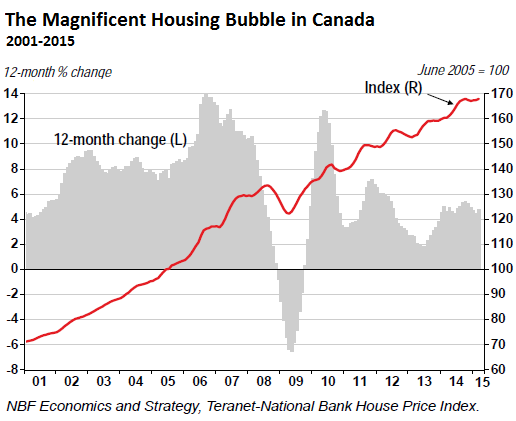 But it wasn't spread evenly. In some metro areas, home prices are still skyrocketing. In others, they've never moved much beyond the prior bubble. And in other areas again, once booming, home prices have already started to deflate.
Victoria saw home prices soar 125% between 2002 and 2008. They dropped during the financial crisis, recovered, and by June 2010 peaked again, but have since been meandering with a downward bias, and are now 5% below their 2010 peak.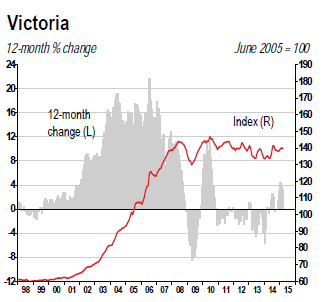 But Toronto, oh my! Home prices rose 0.3% in March to a new record that is now a breathtaking 42% higher than the record set during the peak before the Financial Crisis. Vancouver, where home prices also rose 0.3% in March, actually experienced a decline in home prices in 2012-2013. But it slowed down the boom only momentarily. Home prices are now 24% over the 2008 peak. Since 2001, the index soared 171%! Home prices in these two metro areas are true phenomena: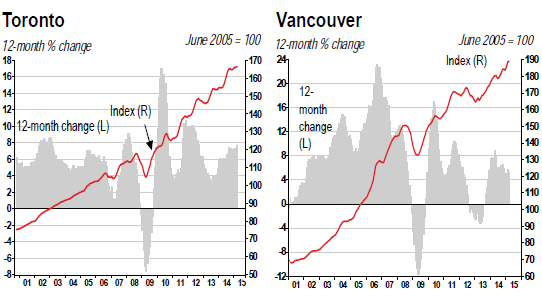 But Canada's major oil and gas centers, Calgary and Edmonton, tell a different story. They were driven by the oil boom before the Financial Crisis. In both metros, home prices doubled in the five years between 2003 and 2007. Then the brief oil bust during the Financial Crisis took its toll, for a while, before home prices began to rise again.
In Calgary, they peaked in October last year, exceeding the prior peak by 10%. But the current oil bust has begun to unwind those price gains once again, with the index now down 2.1% from the October peak.
But Edmonton home prices, which went through a similar trajectory, never reached the prior bubble peak. Over the past few months, price gains have been petering out and currently are 3.2% below where they were in September 2007: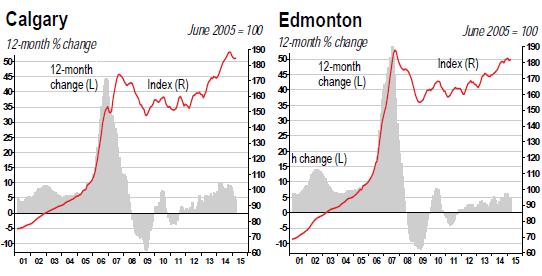 And home prices in other metro areas have already begun their decline some time ago. Winnipeg peaked in September last year and is now down 2.8%. Hamilton peaked in December and has since edged down 0.3%. Ottawa-Gatineau peaked in August last year and has since dropped 5.5%. Montreal home prices are down 4.3% from their July 2014 peak. Quebec City home prices are down 2% from their July 2013 peak. And Halifax prices are down 3.8% from their June 2013 peak.
Even though the index set a new record in March, "that is no indication of general strength in the Canadian real estate market," wrote Marc Pinsonneault, Senior Economist at the National Bank, in the report. He points out that in March new records were set only in Toronto and Vancouver:
The strong monthly price increases reported in March for Montreal, Quebec City and Halifax do not change the fact that prices have corrected downward recently in these areas, as well as in Ottawa-Gatineau, Calgary and Winnipeg.

With recently weakened market conditions in Calgary and Edmonton, this leaves Toronto, Vancouver, and Hamilton with tight market conditions….
Turns out, Toronto and Vancouver weigh 55% in the index. With Hamilton, the three areas are close to 60%. If prices continue to rise in those three metro areas, the index may well set new records, "over the next few months," as Pinsonneault suggests, no matter what turmoil might be tearing into some of the other cities.
And that turmoil has already begun by other measures where layoffs and the collapse of the price of oil exact their pound of flesh. Read…. Calgary Housing & Office Markets Crushed, Alberta Sinks, Vacancies Spread Across Canada, but Vancouver…
Enjoy reading WOLF STREET and want to support it? You can donate. I appreciate it immensely. Click on the beer and iced-tea mug to find out how:

Would you like to be notified via email when WOLF STREET publishes a new article? Sign up here.