American drivers have been breathing a collective sigh of relief. The chaos in the oil markets has translated into lower fuel costs at the pump.
Regular gasoline dropped $0.04 to $2.78 per gallon on average across the US last week, and premium dropped $0.04 to $3.16 per gallon, according to data from the US Energy Information Administration. The last time we saw these kinds of prices was in October 2010.
This chart from Doug Short's weekly report on gasoline prices shows the last two price peaks in 2011 and 2008 – and the current and very welcome swoon at the pump: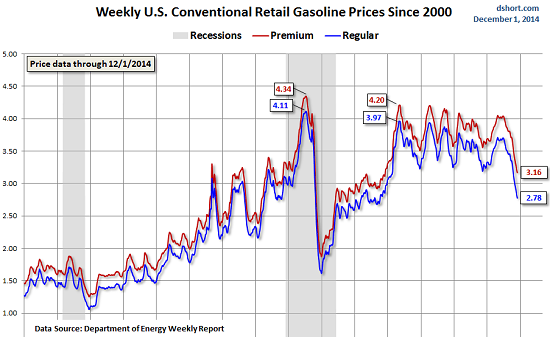 The cheapest gasoline can be had in Missouri ($2.45 per gallon), with Mississippi, South Carolina, Oklahoma, and Texas running close behind, according to GasBuddy.com. As just about always, Hawaii is by far the most expensive state to buy gas in, at $3.86 per gallon. Compared to which the fifth most expensive state, California, at $3.05, looks outright affordable.
And my beloved and crazy city of San Francisco, where you're better off walking than driving, gas budged down half a measly cent to $3.23 per gallon, the third most expensive city in the country, behind Anchorage in the oil-state of Alaska and Honolulu in Hawaii.
Saving 40 to 50 cents per gallon compared to last year at this time certainly makes you feel better. When you pump 15 gallons into your tank, you save between $6.00 and 7.50, and that's fabulous. But in an economy where per-capita consumption of gasoline has been declining for years, it no longer has the same per-capita impact on spending for other things.
So despite the drop in gasoline prices, which should have boosted the urge to spend all this saved moolah on other things, retail spending in stores and online over the four-day Thanksgiving weekend, according to the National Retail Federation, dropped 11%. Which makes you wonder about the promises by every economist in the book that lower gasoline prices will translate into higher spending at the mall and Amazon.
That mantra of growth has become the centerpiece of the recent G-20 meeting in Australia. And so here are my favorite down under comedians with their brief but hilarious video takedown of the G-20…  Comedians Clarke & Dawe Spoof G-20 Mantra of 'Growth'
Enjoy reading WOLF STREET and want to support it? You can donate. I appreciate it immensely. Click on the beer and iced-tea mug to find out how:

Would you like to be notified via email when WOLF STREET publishes a new article? Sign up here.