Saudi Arabia is rattling the oil sector with a price war that many think is aimed at U.S. oil producers. But there's an easier price war to win: with Canadian tar-sands operators.
By Matt Badiali, editor, S&A Resource Report, via Growth Stock Wire:
Saudi Arabia is rattling the oil sector, and that's bad news for some of the most popular oil stocks on the market.
Last week, the leader of the Organization of the Petroleum Exporting Countries (OPEC) – the oil cartel that has effectively set the oil price for decades – raised the export price of crude oil to Asia… but cut the export price of crude oil to the U.S. The market went crazy. Oil prices slumped to multiyear lows. News outlets everywhere shouted that Saudi Arabia was taking a shot at the U.S. shale boom.
But they're wrong. While it's true that U.S. shale companies will be affected by low oil prices, Saudi Arabia is actually threatening Canadian oil producers.
As regular Growth Stock Wire readers know, new drilling techniques have allowed the U.S. to tap into vast oil and gas reserves locked away in shale. This sent U.S. oil production soaring 63% from the low in 2008 to today. That's a massive increase in a short period of time.
The "tight oil" coming from U.S. shale is light, sweet crude oil. What our oil refiners really want – what they were set up to run – is the heavier, sour crude oil… the kind that comes from Canada and Saudi Arabia.
That means the U.S. still imports crude oil from Canada and Saudi Arabia. But over the past few years, the U.S. has been shifting from importing oil from Saudi Arabia to importing oil from Canada.
From 1994 to 2000, Canada and Saudi Arabia were roughly equal in terms of oil exports to the U.S. But as you can see from the chart below, since 2000, the U.S. has looked more to Canada than the Saudis for oil imports.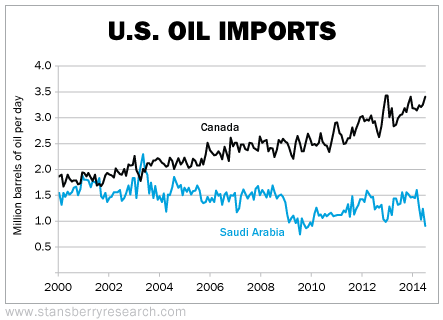 Over the past few years, this reversal has really shown. In 2013, the U.S. imported an average of about 1.3 million barrels of oil per day from Saudi Arabia. In August, that fell to just 894,000 barrels per day. That's a 31% decline in imports.
Meanwhile, the U.S. imported 3.1 million barrels of oil per day from Canada in 2013. In August, that number went up to 3.4 million barrels per day. That's a nearly 10% increase in imports.
So a lot of the imports the U.S. cut from Saudi Arabia are now coming from Canada. For Saudi Arabia, this has been a huge hit to its sales. It's hard to find new buyers for crude oil right now. So Saudi Arabia is taking a shot at Canada because it knows it can likely win a price war.
Much of Canada's crude oil comes from tar sands. The tar sands are full of thick asphalt-like bitumen. To extract oil, tar-sands producers have to dig up bitumen and run it through expensive processing facilities to produce quality crude oil. That's much more expensive than conventional oil production in Saudi Arabia – which essentially consists of sticking a straw in the ground and watching oil gush out.
Because of these high costs, tar-sands companies have thin profit margins.
When oil rises, these thin margins can soar… and share prices soar with them. But when oil prices fall, this leverage works the other way, and share prices can plummet.
The best tar-sands companies need to get $50 per barrel for their oil to break even. The rest need between $50 and $90 per barrel. Today, a barrel of bitumen sells for just $56. So many tar-sands companies are losing money. And the best ones are watching their profits get squeezed. The squeeze is already affecting these companies' share prices. Many are down low double-digits since June.
And with Saudi Arabia pushing down the price of oil, profits – and share prices – are going to fall even more.
We saw something similar happen in 2008…
During the global crisis in 2008, the price of oil plunged. It ended up falling nearly two-thirds from the start of 2008 to its bottom in 2009 at $34 per barrel. The decline nearly killed the oil sands sector.
For example, let's look at tar-sand giant Suncor. Suncor is one of the top 20 largest energy companies by market cap. It owns refineries in Canada and a small amount of oil production around the world. But its main business is in the tar sands.
In 2008, Suncor's average sale price of a barrel of bitumen was $90. In 2009, the average price dropped to $54.
Suncor's results of operations (results of operations is a metric used by Bloomberg to measure the profitability of operations) fell with the bitumen price from C$3 billion in 2008 to less than C$700 million in 2009… a drop of more than 75%.
And shares of Suncor fell 80% from their high in 2008 to their low the same year. (Despite its poor operational performance, Suncor shares recovered with the rest of the market in the second half of 2009.)
Other tar-sands companies fared even worse.
Shares of mid-sized tar-sands operator Opti-Canada fell from $25 in 2008 to just $0.12 in 2009. That's a 99% decline.
In 2008, Opti-Canada's market value was $4.5 billion. But in 2011, the company was acquired by giant Chinese oil company CNOOC for just $38 million.
Oil prices would need to stay low for a while before we see that kind of selloff again – especially in tar-sand giants like Suncor and Canadian Oil Sands Trust. But with Saudi Arabia essentially starting a price war with Canada, I recommend saying out of Canadian tar-sands companies right now. By Matt Badiali, Growth Stock Wire.
The balance of power is shifting, if only briefly. Read… Oil Price Collapse Ricochets Around the World, Hits US Drillers, the Ruble … and Russia's Probability of Default
Enjoy reading WOLF STREET and want to support it? You can donate. I appreciate it immensely. Click on the beer and iced-tea mug to find out how:

Would you like to be notified via email when WOLF STREET publishes a new article? Sign up here.