By Michael Gorback, M.D., board-certified in Anesthesiology and Pain Medicine. He taught for 8 years at Duke University and is the author of 32 scientific articles and textbook chapters, and one medical book. Dr. Gorback currently practices pain management at the Center for Pain Relief in Houston, TX, and claims that nobody has ever suffered due to lack of knowledge of his opinion.
This article is a WOLF STREET exclusive.
The most heated discussions in healthcare revolve around "pay for performance" (P4P), a nebulous term that generally entails a system of financial incentives to doctors, hospitals, and other providers of health care services to improve care in some fashion using "measurable" outcomes. Studies have been run with mixed results. Systems have been debated ad nauseam. But one parameter – indeed THE basic parameter upon which P4P is based – "pay," is more than a little hard to quantitate.
Someone recently criticized me online after reviewing my Medicare billing data. This information is now published online by Medicare, with the latest data being from 2012.
The two main criticisms were (1) that my charges were about 50% higher than average among my peers, and (2) that I did three times as many procedures as my peers. Here is a screen capture of the data: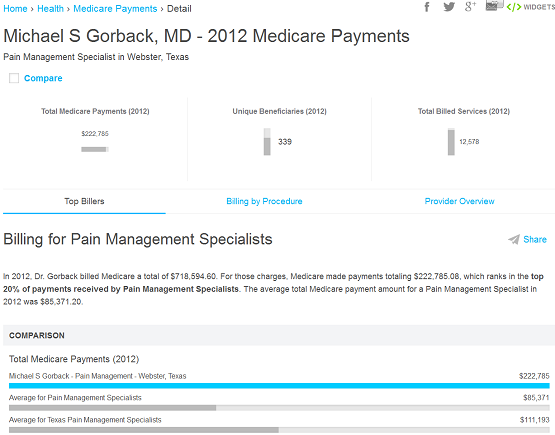 Looks pretty unflattering. Screen capture #2 shows the two highest costs of my practice for Medicare. This is about half of what Medicare claims it paid me.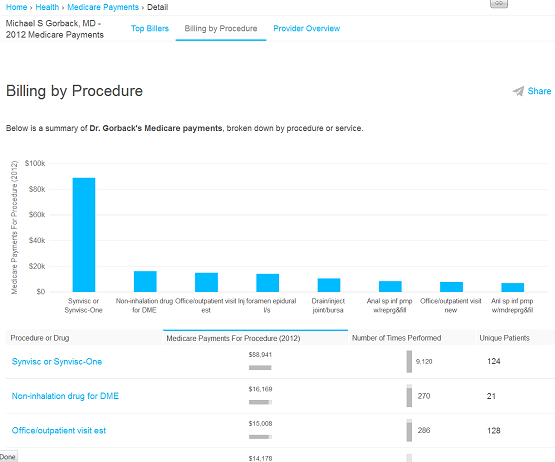 The #1 line item was "Synvisc or Synvisc-One." This is a drug that is injected into the knee to treat arthritis. Medicare seems to think that doctors obtain and store medication at zero cost so there is negligible markup. Medicare pays me roughly enough to cover the cost of the drug. Don't you wish your favorite restaurant was prohibited from marking up the alcohol and could only charge their cost plus a fee for serving it?
So $89,000 of the reported $223,000 payment was just recovering my expenses. This is not what I get paid for performing the injection.
Let's look at line #2, "Non-inhalation drug for DME." This had me stumped for a while. DME means "durable medical equipment." But what was this "non-inhalational drug" business? It turns out that's what Medicare paid for the medication that we use to refill implanted pumps for management of severe pain. Once again, Medicare doesn't think we should be able to mark this up.
So now we have $89,000 + $16,000 = $105,000 that was merely reimbursement of costs, or almost half of the reported payments they made to me in 2012. Some pain specialists manage pumps, some don't. I would wager that few do as many Synvisc injections as I do because I get a lot of referrals for this from orthopedic surgeons who don't want to do them.
How did I manage to perform triple the number of procedures? Once again, the answer lies in the Synvisc. According to Medicare, I did over 9100 injections on 124 patients. Whoa! That is some serious activity – over 1500 hours of knee injections in one year assuming I could turn them over every 10 minutes on a conveyor belt! That's over 180 8-hour days if I don't break for lunch and manage to control my bladder.
This is an artifact produced by the way Medicare pays for Synvisc, which is per unit. A single syringe of Synvisc One – enough to inject one knee – contains 48 units. We divide 9100 by 48 and discover that I only administered 190 syringes of Synvisc One, distributed over 124 patients. Some of these represent bilateral procedures done at the same visit, while others represent repeat single injections (Medicare pays for repeat Synvisc One injections every 6 months).
There's quite a difference between 9100 procedures and 190 procedures. The way Medicare presents this improperly inflates the number of procedures reported.
Here are some comparable data from a colleague who practices near me. I happen to know him well and I respect him both personally and professionally. His Medicare collections in 2012 were roughly the same as mine.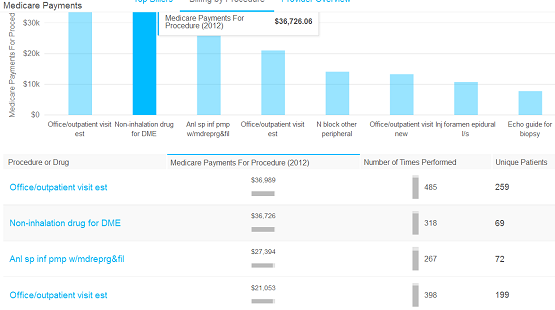 Note the absence of any Synvisc. His pump medications ran about double mine, probably reflecting more patients with pumps than I have in my practice.
Unless the subsequent lines represented a lot of cost reimbursements, this doctor netted a lot more from Medicare than I did. Somehow despite collecting more than I did, he was ranked in the "top 30%" and I was ranked in the "top 20%."
The government, amongst others, would like to have us change to some form of "pay for performance" system. Unfortunately, they can't even get the most basic metric – pay – correct. From the people who brought you healthcare.gov.
The easiest way to implement pay for performance is a free market. Free markets serve as large information exchanges, constantly updating price and value. In a free market system, good doctors with satisfied patients would command greater prices. To think that some central government entity can more efficiently determine prices reflects a pathetic misunderstanding of the way the world actually works. By Michael Gorback, M.D. at the Center for Pain Relief. This article is a WOLF STREET exclusive.
Also by Dr. Gorback: Bookies call it the "vig," insurance companies call it a "PPO Repricing Fee." It allows them to go around state insurance laws. Read… How Hospitals and Health Insurers Collude at Your Expense
Enjoy reading WOLF STREET and want to support it? You can donate. I appreciate it immensely. Click on the beer and iced-tea mug to find out how:

Would you like to be notified via email when WOLF STREET publishes a new article? Sign up here.