These workers are a lifeline for Mexico's economy.
The total amount Mexico received in "remittances" — transfers of money by workers of Mexican descent mostly in the US but also other countries to individuals in Mexico — surged by 10.5% in 2018 to $33.4 billion, the highest figure registered since records began, back in 1995, and beating the prior records set in 2016 and 2017, according to the Bank of Mexico.
Note the six-year downtrend that kicked off in 2007 with the Financial Crisis, the US housing bust, and the US housing construction downturn: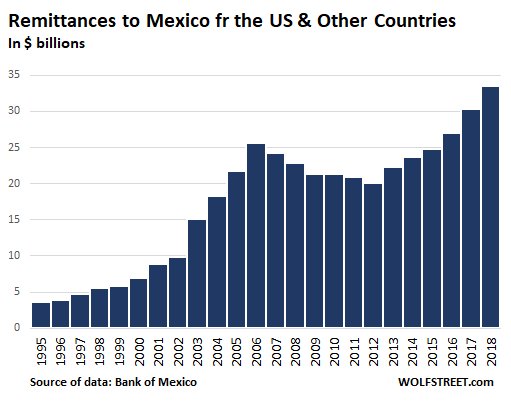 The cash remittances are a lifeline for Mexico's economy, accounting for 2.7% of Mexico's GDP, up from 1.9% in 2009. Most of them get spent very quickly in the Mexican economy. In some Mexican states, they can represent as much as 10% of total revenues. In 2018, they provided more funds than the $29.3 billion in export revenues that state-owned oil company, Pemex, obtained from its exports of crude oil and other hydrocarbon products, and they provided more funds than foreign direct investment in Mexico ($30.7 billion).
The last year saw a surge in both the number of transactions made as well as the average amount sent in each transaction, according to the Bank of Mexico. Here are some standouts for 2018:
104 million transactions were executed, almost six million more than in 2017.
Around 95% came from workers in the US — American citizens of Mexican extraction or Mexican citizens in the US legally or illegally.
The average size of remittance in 2018 was $322, compared to $309 in 2017.
98% of the remittances were sent by electronic fund transfer.
2% were dispatched by money order ($173 million) or arrived in the form of cash and cash-like instruments ($612 million).
Another record was set: the $3-billion monthly threshold was crossed for the first time ever, and twice, in May and June.
A number of factors have been put forward to explain the recent surge in cash transfers from Mexicans living abroad, including the improving US labor market, particularly in the construction sector, and a weakish peso.
The longest period of growth in the flow of Mexican remittances on record was between the mid-1990s through 2006, at which point the Financial Crisis in the US, the housing bust, and the housing construction bust, and the massive job losses that came with it, slowed down the money flows.
Every single year between 1995, the year the Bank of Mexico began tracking the movement of funds between Mexican workers in the U.S. and their families back in Mexico, and 2006, a fresh annual record was registered. Between 2000 and 2001 the total amount sent grew by around 35%, from $6.57 billion to $8.89 billion. In 2003 the rate of growth surpassed 50%.
The only thing capable of slowing this inexorable tide of remittances was the Financial Crisis. After the record year 2006, the amount of money sent from the U.S. to Mexico decreased every single year until 2012, by which time the southward flow of money was over $5 billion lower than it had been six years earlier. The recovery began in 2013. Since then, the amount sent each year has increased by 65%, from $20 billion to $33.4 billion.
At the global level, around €615 billion of remittances flowed between countries in 2017, according to the World Bank. That number is expected to rise to $640 billion between 2018-2019 million. Mexico received 5.1% of the world's total remittances and was the fourth largest recipient, behind India ($65.3 billion in 2017), China ($62.8 billion) and the Philippines ($32.8 billion).
"Other key recipient economies include France, Nigeria, Pakistan, Egypt, Germany and Vietnam," says Carlos Serrano, chief economist of Mexico's biggest bank BBVA Bancomer. "These 10 nations concentrate more than half of the world's remittances."
BBVA Bancomer predicts that Mexican's remittances will continue to grow in 2019, albeit at a slightly slower pace — 6% instead of 10% — to about $35 billion, almost exactly 10 times the amount they brought in in 1995, the year records began. By Don Quijones.
In Europe, the banking lobby and the ECB will have a cow. Read…  Italy Guns For Glass-Steagall-Type Law to Break Up Banks, Cut Bailout Costs for Taxpayers
Enjoy reading WOLF STREET and want to support it? Using ad blockers – I totally get why – but want to support the site? You can donate. I appreciate it immensely. Click on the beer and iced-tea mug to find out how:

Would you like to be notified via email when WOLF STREET publishes a new article? Sign up here.

Classic Metal Roofing Systems, our sponsor, manufactures beautiful metal shingles:
A variety of resin-based finishes
Deep grooves for a high-end natural look
Maintenance free – will not rust, crack, or rot
Resists streaking and staining
Click here or call 1-800-543-8938 for details from the Classic Metal Roofing folks.