Shifting bad consumer & business debts from banks to the public, but the way this bank bailout got packaged is pretty nifty.
Turkish President Recep Tayyip Erdoğan has launched a raft of measures ostensibly designed to reanimate the economy, including offering direct financial support for people with credit-card debt. The plan will enable Turkey's maxed-out consumers to go to the biggest state-run lender, Ziraat Bank, and apply for debt rescheduling at low rates of interest. "Any retail client from any bank can apply," Erdogan said.
Credit-card debt is a major problem. Since 2010 consumer credit has increased almost five-fold on the back of low interest rates (at least in certain foreign currencies), government incentives, and loose loan standards. By August 2018, when these pillars supporting Erdogan's debt-fueled economic miracle began to buckle, outstanding non-housing consumer debt, peaked at 532 billion Turkish lira ($97 billion at today's exchange rate, chart via Trading Economics):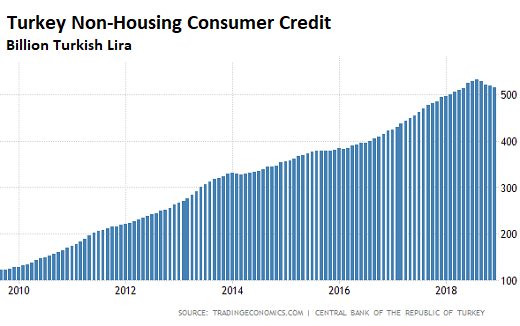 About half of this amount is credit card debt. About one-third of the credit-card debt was considered to be non performing. A good portion of this debt is denominated in foreign currency, such as the euro or dollar, to get access to the low interest rates available in those currencies. And this foreign-currency debt is now, after the lira's exchange rate has fallen, very hard to service. In other words, the government's scheme is likely to have plenty of takers.
"The debts of citizens who are having repayment problems will be collected under a single umbrella, via Ziraat Bank," Erdogan said. "They will pay off their debt with a loan from Ziraat and will pay it back according to the level of their monthly earnings."
As of the end of November Turkish banks had already restructured 118 billion lira ($21.2 billion) of loans, according to Hüseyin Aydın, head of the Banks Association of Turkey (TBB). This is on top of the 52 billion Turkish lira (then worth $14.3 billion) in loans and credit-card debts that were restructured back in September 2016, which Aydin at the time hailed as a great triumph: "It was a good move, as the volume was quite big… "
Aydin is also CEO of Ziraat Bank, the same state-owned lender that is about to lend a helping hand to millions of cash-strapped consumers. Ziraat Bank is managed under the auspices of Turkey's sovereign wealth fund, which is chaired by President Recep Tayyip Erdoğan himself whose Justice and Development Party faces key local elections in two months' time.
"For the banking sector, the balance sheet of the economy is more important than our own balance sheets," Aydın said. "If Turkey grows, if it wins, if it is strong, we grow too, we win and we are strong."
Ziraat Bank has also agreed to restructure $2.6 billion of debt owed by some of Turkey's top flight football (soccer) clubs, the lion's share of which belongs to Istanbul's "Big Three," Galatasaray, Fenerbahce and Besiktas. Another state-run lender, Halkbank has pledged to lend 22 billion lira ($4 billion) to 350,000 struggling small businesses during 2019.
What the move is doing is this: When troubled consumers and small-businesses consolidate their debts at a state lender, they receive the money from the state lender to pay off the banks. This shifts consumer and small-business debts, particularly non-performing debts, from banks to state entities, which become the "bad bank." These consumers and businesses will still owe this money, but they will owe it to a state entity, not the banks, and the banks are off the hook.
In other words, the public and taxpayers will take the non-performing consumer and small-business debts off the banks' back and put them on their own back.
It is hoped that this will serve to reboot the economy and convince voters that things are not quite as bad as they may seem, with the unemployment rate clocking up its sixth consecutive monthly rise to 11.6%, a 19-month high. The Bank of Turkey hiked benchmark rates to 24% in November to tamp down on inflation, which had hit 25% in the prior month but has since settled somewhat, easing to 20% in December.
In 2018, the Turkish lira lost almost a third of its value against the U.S. dollar. The decline has continued into this year for which the lira is already the world's worst performing currency. For the hordes of borrowers that had taken advantage of the low interest rate environment in the U.S., the Eurozone, Japan, or the UK to take out loans in foreign currency, those loans now weigh heavily on borrowers' lira revenues, significantly raising the likelihood of a default.
This form of bank bailout is likely welcome news for five major European banks — BBVA, Unicredit, BNP-Paribas, HSBC and ING — that have large operations in Turkey. They have been struggling with rising default rates in their Turkish entities. Italy's Unicredit, which has enough problems on its hands in its domestic market, had to splash out roughly €1.5 billion last year to support its part-owned Turkish subsidiary Yapi Kredi, of which it owns a 40% stake. Spain's BBVA, which owns just under half of Turkey's largest listed lender, Garanti Bank, has warned five days ago that conditions are likely to further deteriorate in 2019 on the back of stalling credit creation and rising defaults. So any bank bailout by the Turkish public would surely be welcome. By Don Quijones.
Well, that didn't take long. Whatever happened to Eurozone's new bail-in rule? Read…  Italy's New Government Eats Its Words, Joins Bank Bailout Club
Enjoy reading WOLF STREET and want to support it? You can donate. I appreciate it immensely. Click on the beer and iced-tea mug to find out how:

Would you like to be notified via email when WOLF STREET publishes a new article? Sign up here.