Whiff of short-term capitulation. But fundamentals are not promising.
This is like so 2015: The price of the benchmark crude-oil grade West Texas Intermediate (WTI) plunged 7.3% on Tuesday, the biggest percentage drop since March 2016. Since the Financial Crisis, WTI has plunged over 7% on only five days, including today. It has plummeted nearly 28% since October 3. The red line in the chart is Tuesday's move: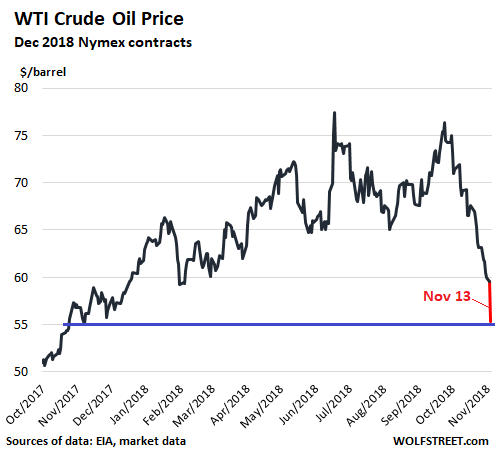 Tuesday was the 12th session in a row of declining prices. Total volume traded was nearly double the 100-day average, in a barrage of speculative fever interlaced with desperation and a whiff of capitulation. Fundamentally, several things are coming together, including:
Surging oil production in the US
US crude oil production reached 11.3 million barrels per day (b/d) in August, according to the EIA, thus exceeding Russia's disclosed production for the first time. By this measure, the US was the largest oil producer in the world in August. This data point was announced on November 1, and while it didn't really surprise anyone, the downhill cascade that was already in full swing accelerated from there.
"The forecasts for 2019 for non-OPEC supply growth indicate higher volumes outpacing the expansion in world oil demand, leading to widening excess supply in the market," OPEC wrote in its monthly report.
"Alarming," is what OPEC Secretary General Mohammad Barkindo called the surge of non-OPEC supply. He thought that OPEC and its allies should cut production by 1 million b/d.
Iranian exports not as much of an issue
The White House said last week that China, India, Italy, Greece, Japan, South Korea, Taiwan, and Turkey would be able to continue for six months buying Iranian oil and dodge US sanctions and potential penalties for trading with Iran. This, in addition to other ways Iran has to get its oil to market, will allow for much of the Iranian oil exports to continue.
Global demand not so hot
OPEC, which still matters, now sees demand for its own oil at around 31.5 million b/d in 2019, down from its vision of around 32 million b/d just two months ago. OPEC's outlook shows that global oil inventories will rise in 2019 even if OPEC cut its own output by 1 million b/d.
Because the global economy won't be so hot
OPEC figures into its scenario slowing global economic growth. It just cut its forecast for global demand growth by a smidgen based on its vision of economic slowdowns in the emerging markets.
But Trump likes cheap oil.
Trying to put a floor under the plunging price of crude oil, Saudi Arabia over the weekend, announced that it would cut its own production by 500,000 b/d.
This drew withering criticism from President Trump, who has taken a stance on cheap oil, despite the economic turmoil and hardship cheap oil causes in the US oil patch, along with a drop-off in industrial production, investment, and the like. Cheap oil is no good for the biggest oil-producing states in the US, such as Texas, North Dakota, and Alaska.
But most of this has been known for a while. Oil production doesn't just suddenly surge overnight, and demand growth doesn't normally just slow down on your day off. These things move slowly, spread out over months and years. The fundamentals of the global oil market don't change in six weeks, and haven't changed much since October 3. But what did change was market sentiment.
For months, the idea of $100 oil was hung out there, and it was deemed credible and speculators took their sides. Now the bets have swung the other way. Energy junk bonds, which had been immense winners since the oil bust, are now turning the other way. And energy stocks are being beaten up again.
But with sentiment turning sour to this extent, it reeks of capitulation, at least in the short term. And a bounce in oil prices – even if it's ephemeral – is likely on the agenda.
Longer term, oil production in the US shale patch will continue to surge until investors get tired of funding this cash-burning business. Investors did this briefly, and only to some extent during the last oil bust. A gaggle of smaller oil & gas companies defaulted and filed for bankruptcy. And production ticked down a little. But the money in the yield-starved world of that time – much of it from PE firms and hedge funds – started flowing again in the spring of 2016. And today's self-defeating surge in production is a consequence.
But now the Fed is tightening, interest rates are rising, and yield investors have other options with less risk, and the next oil bust, if it comes to that, is going to play out in a different environment.
Enjoy reading WOLF STREET and want to support it? You can donate. I appreciate it immensely. Click on the beer and iced-tea mug to find out how:

Would you like to be notified via email when WOLF STREET publishes a new article? Sign up here.