Amazon, Google, Netflix, Nvidia get crushed. Et tu Apple?  
The Dow Jones Industrial Average confusingly dropped from a 352-point gain 32 minutes after the open to a 245-point loss, amounting to an intraday swing of nearly 600 points, ending the day down 1%. At 24,443, it has now dipped 1.1% into the red for the year. This was not supposed to happen. Today was supposed to have soothed the aches and pains from last week. But no. Not today.
The S&P 500, after a rally that too had lasted 32 minutes and took the index to 2,707, gave it all up and swung to a loss, ending the day down 0.7%. At 2,641, the index dipped 1.2% into the red for the year. Well, tomorrow is another day.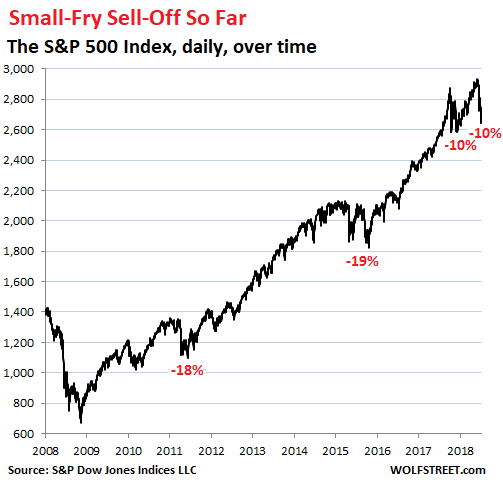 But as the above chart shows, the sell-off, after this huge run-up, is still not much to write home about, down just 10% from its ludicrous peak.
The Russell 2000, which tracks stocks with smaller capitalization, had been up 2% early today but then too gave it all up and ended the day down 0.4%. It has dropped 15% since August 31 and is back where it had been in September 2017.
But the Nasdaq was the mover-and-shaker, so to speak. After getting whacked down in October through last week, it jumped 1.9% in the first 35 minutes of the day for a well-deserved breather, but then began to wheeze badly and dropped 117 points, or 1.6%. That amounted to a 3.3% intraday swing. It's down 13.3% from its peak. Still a far cry from the 78% plunge after the dotcom bubble, but it's starting to add up.
Blame the sell-off on the FANGMAN stocks – Facebook, Amazon, Netflix, Google's parent Alphabet, Microsoft, Apple, and NVIDIA.
Amazon [AMZN] dropped 6.3% to $1,538.88 a share. Once upon a time on September 5, it had a market capitalization of a hair under $1 trillion. By Monday at the close, $250 billion of it have evaporated. Thursday evening, Amazon had reported record profits but missed on revenues and lowered guidance, setting off fears of slowing revenue growth. On Friday, its shares got crushed, and today, its shares got crushed further and with exemplary force, losing another $103.93 a share, or 6.3%.
Alphabet [GOOG] dropped 4.8%. It had also reported earnings Thursday evening, got beaten down on Friday, and got beaten down another $51.39 a share today. At $1,020.08, shares are now down nearly 20% from the peak in August.
NVIDIA [NVDA] dropped 6.4% today, Netflix [NFLX] 5.0%, and Microsoft [MSFT] 2.9%. Facebook [FB] fell 2.3% today and is down 35% from the peak. Even Apple [AAPL] dropped 1.9%. The FANGMAN stocks, all of them, ended the day in the red.
Combined, in terms of dollars, the FANGMAN stocks dropped 3.8% today to $3.94 trillion and are down 15% from their peak on August 31: $692 billion dissolved into ambient air: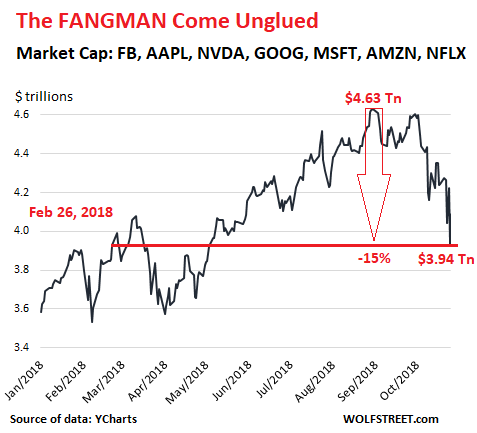 But it's still no big deal in the grander scheme of things: That 15% dive since August 31 took the combined market capitalization back to where it had been on February 26. Easy-come, easy-go, sure, but it is still up year-to-date and is up 13% from a year ago. After a ludicrous stock price boom, even a 15% drop doesn't make a dent big enough for anyone at the Fed to worry about. And besides, tomorrow is another day to give that inevitable relief rally another shot in the arm.
Will the Fed buckle? Listen to… THE WOLF STREET REPORT
Enjoy reading WOLF STREET and want to support it? You can donate. I appreciate it immensely. Click on the beer and iced-tea mug to find out how:

Would you like to be notified via email when WOLF STREET publishes a new article? Sign up here.