No economy is as dependent on a trade surplus as Germany.
The Center for European Economic Research (ZEW) named names and pointed fingers: Its Indicator of Economic Sentiment for Germany in October dropped by 14.1 points, to a level of negative -24.7, matching July 2018, both the lowest levels since August 2012, when the Eurozone was still trying to not dig itself deeper into its euro debt crisis. The indicator has been in the red since April: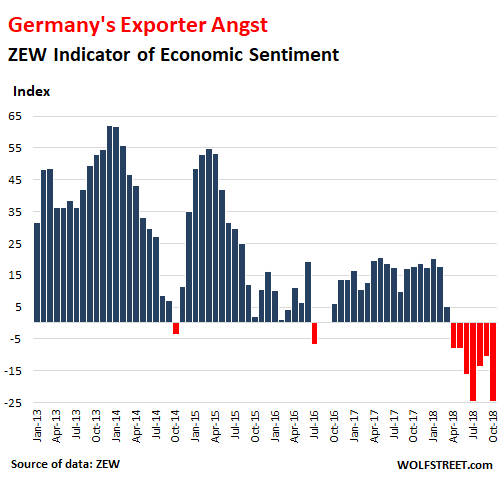 The indicator, which measures expectations for the German economy, is far below (47.5 points below!) the long-run average level of +22.8.
ZEW called the 14.1-point month-to-month plunge "remarkably strong," adding, "Only once in the recent past did the indicator fall more strongly, namely after the Brexit vote in Great Britain in July 2016."
ZEW sees three reasons for the plunge in "economic and export expectations," in order of priority:
"Above all" the "intensifying" US-China trade war. "The resulting negative expectations on German exports are now beginning to show in the actual development of exports."
"The danger of a 'hard Brexit,' which is becoming ever more likely."
"Last but not least," political uncertainty in Germany: "The situation of the governing coalition in Berlin is perceived to have become more unstable."
For the monthly report, the ZEW surveys about 350 analysts from finance, research, and economic departments at banks, insurance companies, and large industrial enterprises, "as well as traders, fund managers, and investment consultants" (methodology).
The chart above is the forward-looking sentiment indicator, thus reflecting economic and export expectations for the future.
The ZEW also offers an indicator of the financial market experts' sentiment for current economic conditions in Germany, a reflection of what is going on right now. This indicator fell nearly 6 points in October to 70.1, the lowest level since December 2016:
In sympathy, the German stock index DAX has fallen 13.4% from its peak on January 23, 2018.
For the entire Eurozone, the ZEW found that the financial market experts' sentiment "also experienced a very significant drop, with the corresponding indicator falling by 12.2 points to a current reading of minus 19.4 points."
To put this into context, this level is down 32.8 points from March, when this indicator was still a positive 13.4.
The indicator for the current economic situation in the Eurozone edged up 0.3 points to a level of 32.0 points, which is down from 56.2 in March.
In Germany, exports rule. The economy depends on a massive trade surplus with the rest of the world. No government in Germany is allowed to do anything that might slow this trade surplus. This ranges from government-sponsored promotion of exports – watch any Chancellor's trips abroad, accompanied by several planeloads of executives, to sell trains, tanks, medical devices, and a million other things – to sky-high taxes on household income and consumption in order to discourage domestic consumption and thus imports. It's all part of the system.
In August, Munich-based Ifo Institute estimated that Germany's trade surplus in goods in 2018 would reach a record €219 billion (about $253 billion), and that the account surplus of goods, services, and income from assets would reach €264 billion ($305 billion), the highest account surplus in the world.
No economy is as dependent on its trade surplus as Germany: Ifo expects Germany's trade surplus to account for 7.8% of GDP in 2018 (by contrast, the ballooning trade deficits in the US subtract from US GDP). In Germany, anything that threatens this surplus – including the US government's impatience with endlessly ballooning US trade deficits – gives these financial experts the willies, as we're seeing now.
Enjoy reading WOLF STREET and want to support it? You can donate. I appreciate it immensely. Click on the beer and iced-tea mug to find out how:

Would you like to be notified via email when WOLF STREET publishes a new article? Sign up here.