"Right after the company tells the market the stock is cheap, executives overwhelmingly decide to sell."
A study by the SEC of 385 recent share-buyback announcements — this is when companies announce how much money they will spend in the future on buying back their own shares, but before they actually begin buying them — found:
Share-buyback announcements led to "abnormal returns" in the share price over the next 30 days.
Executives used this share price surge to cash out.
"In fact, twice as many companies have insiders selling in the eight days after a buyback announcement as sell on an ordinary day. So right after the company tells the market that the stock is cheap, executives overwhelmingly decide to sell," explained SEC Commissioner Robert Jackson Jr. – appointed by President Trump and sworn in earlier this year – in a speech today. He went on:
And, in the process, executives take a lot of cash off the table. On average, in the days before a buyback announcement, executives trade in relatively small amounts—less than $100,000 worth. But during the eight days following a buyback announcement, executives on average sell more than $500,000 worth of stock each day—a fivefold increase. Thus, executives personally capture the benefit of the short-term stock-price pop created by the buyback announcement: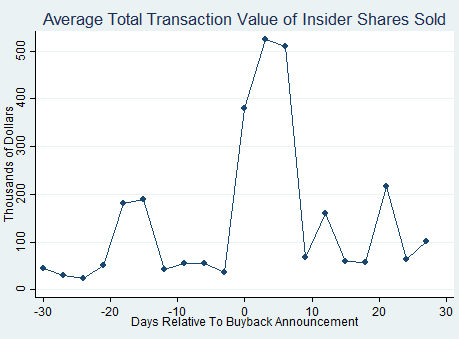 "This trading is not necessarily illegal," he added. "But it is troubling, because it is yet another piece of evidence that executives are spending more time on short-term stock trading than long-term value creation."
The surge in buybacks is largely due to the new corporate tax law. In the first quarter, companies actually repurchased an all-time-record $178 billion of their own shares. In terms of announcements of future share buybacks, May set an all-time record of $174 billion – in just one month! So this business is heating up.
SEC Commissioner Jackson pointed at the dark underbelly of these buybacks:
On too many occasions, companies doing buybacks have failed to make the long-term investments in innovation or their workforce that our economy so badly needs.

And, because we at the SEC have not reviewed our rules governing stock buybacks in over a decade, I worry whether these rules can protect investors, workers, and communities from the torrent of corporate trading dominating today's markets.
He added:
Executives often claim that a buyback is the right long-term strategy for the company, and they're not always wrong. But if that's the case, they should want to hold the stock over the long run, not cash it out once a buyback is announced. If corporate managers believe that buybacks are best for the company, its workers, and its community, they should put their money where their mouth is.
He called on his colleagues at the SEC "to update our rules to limit executives from using stock buybacks to cash out from America's companies."
In 1982, when corporate share buybacks became legal – until then, they were considered a form of stock manipulation – the SEC adopted some rules, including a safe harbor provision from securities-fraud liability if the pricing and timing of share buybacks meet certain conditions.
"After experience proved that buybacks could be used to take advantage of less-informed investors, the SEC updated its rules in 2003, though researchers noted that several gaps remained," Jackson added. "In the meantime, the use of stock-based pay at American public companies has exploded."
[T]he theory behind paying executives in stock is to give them incentives to create long-term, sustainable value. Because executives who receive shares rather than cash demand higher levels of pay, the use of stock-based compensation has led to eye-opening pay packages for top executives.
He reminded us that "in the years leading up to the financial crisis, top executives at Bear Stearns and Lehman Brothers personally cashed out $2.4 billion in stock before the firms collapsed."
Tying executive pay to the growth of the company, he said, "only works when executives are required to hold the stock over the long term."
Part of the problem is that the SEC has not yet turned the provisions in the Dodd-Frank Act that were "designed to give investors more information about whether and how managers cash out" into actual rules. Thus investors are still kept "in the dark about executives' incentives."
"But it's not just that the regulations haven't been finalized. It's that the problem itself keeps getting worse," he said. The new tax law "has unleashed an unprecedented wave of buybacks, and I worry that lax SEC rules and corporate oversight are giving executives yet another chance to cash out at investor expense."
[B]uybacks give executives an opportunity to take significant cash off the table, breaking the pay-performance link. SEC rules do nothing to discourage executives from using buybacks in this way. It's time for that to change.
He proposed, among other suggestions, that "SEC rules should encourage executives to keep their skin in the game for the long term. That's why our rules should be updated, at a minimum, to deny the safe harbor to companies that choose to allow executives to cash out during a buyback."
And he added:
The increasingly rapid cycling of capital at American public companies has had real costs for American workers and families. We need our corporations to create the kind of long-term, sustainable value that leads to the stable jobs American families count on to build their futures. Corporate boards and executives should be working on those investments, not cashing in on short-term financial engineering.

Investors deserve to know when corporate insiders who are claiming to be creating value with a buyback are, in fact, cashing in.
But this surge in share buybacks, and the corporate dominance in the stock market via those share buybacks, may have a limited life. Read…  Huge New Prop under the Stock Market is a One-Time Affair
Enjoy reading WOLF STREET and want to support it? You can donate. I appreciate it immensely. Click on the beer and iced-tea mug to find out how:

Would you like to be notified via email when WOLF STREET publishes a new article? Sign up here.