Crash insurance with an expiration date. But its working while it lasts.
In May, with great and perfectly orchestrated fanfare, US corporations announced plans to buy back $173.6 billion of their own shares sometime in the future. It was the largest monthly buyback announcement ever. And some of the announcements were expertly timed to overcome operational debacles.
The record amount of share repurchase announcements was due "in large part" to the changes in the corporate tax law, according to TrimTabs, which gathered the data.
This report was released when the digital ink was still drying on my musings about the FANGMAN stocks – Facebook, Amazon, Netflix, Google's parent Alphabet, Microsoft, Apple, and Nvidia – that are so immensely overvalued that Goldman Sachs considered it necessary to come out with a note explaining that, based on fundamentals, they're actually not in a bubble, which I had some fun pooh-pooing.
Some of the FANGMAN stocks are massive share buyback queens, such as Apple and Microsoft. Others are bottomless cash-sinkholes, such as junk-rated Netflix, which has to constantly raise new money, either by selling more shares or selling debt, so that it has more fuel to burn through, and it doesn't have a dime to buy back its own shares.
That $173.6 billion in share repurchase plans includes the record-breaking mega-announcement from Apple that it would buy back $100 billion of its own shares. Here are the top five that account for $134.3 billion, or 77% of the total:
Apple: $100 billion
Micron: $10 billion
Qualcomm: $8.8 billion
Adobe: $8.0 billion
T-Mobile: $7.5 billion
To put that May total of $173.6 billion – these are just announcements of planned repurchases sometime in the future that may never fully transpire – into perspective: In Q1, total actual share buybacks reported by the S&P 500 companies amounted to $178 billion, an all-time record. That averages out to "only" $59.3 billion a month on average, compared to the announcements in May of $173.6 billion.
This chart shows the actual share buybacks as reported by companies in their quarterly earnings reports. Q1 broke all records, and as the May announcement indicates, that record will likely be broken soon: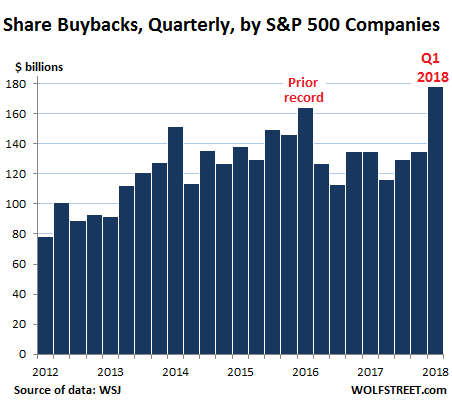 Just the expertly timed and orchestrated buyback announcements and the media hoopla and online hype and algorithmic knee-jerk reactions that come with them have a large impact.
For example, on May 1, Apple announced, along with its earnings report and what some folks thought were disappointing iPhone sales, that it would repurchase $100 billion of its own shares sometime in the future. The day before, shares had closed at $169.10. The day after the announcement, shares jumped 4.4% and ended the week up 13%, their largest one-week percentage gain since October 2011. Today, shares closed at $193.31, up 14.3% from before the announcement had been made.
Apple hasn't executed any of those announced share buybacks yet. It's still buying back shares under the prior programs. In its May 1 earnings report, it said that it would complete the old buyback program in the current quarter. And only then will it start executing the new batch of buybacks. But its perfectly timed announcement, the round record-setting number ($100 billion), and the deafening global media hype around it were enough to boost its market cap by about $118 billion!
The hype of the share buybacks, and the actual share buybacks not only boost the individual stocks of the companies making the announcements but the overall market as it spreads buying enthusiasm all around.
The hype alone is enough to make this equation work. The actual share repurchases can then be used either as icing on the cake, or when overvalued shares are plunging because sales aren't going anywhere, margins are shrinking, market-share is shriveling, or other untoward things are occurring. Share buybacks don't fix a company's operational issues, nor do they make grossly overvalued shares more reasonable, but they do prop up the shares.
The note TrimTabs provided as to why these share buybacks are suddenly blowing off the charts is key: The corporate tax law has changed concerning the "repatriation" of "overseas cash" that represents many years of untaxed profits invested mostly in US Treasuries and corporate bonds. This "repatriation" is a one-time affair. Once this limited "overseas cash" has been "repatriated" and spent on share buybacks, dividends, and executive bonuses, it's gone. And then what?
These immensely overvalued shares will then have to find real buyers.
But for now, companies are selling their Treasuries and corporate bonds, which have taken a beating recently, and are using the proceeds, while they last, to buy back their own shares at historically overvalued prices. This gives the market, that has been struggling since January 26, some crash insurance, but with an expiration date.
This time, it's different, say the Goldman Sachs strategists. So we'll take a look. Read… FANGMAN Stocks Are Not a Bubble, Pleads Goldman Sachs
Enjoy reading WOLF STREET and want to support it? You can donate. I appreciate it immensely. Click on the beer and iced-tea mug to find out how:

Would you like to be notified via email when WOLF STREET publishes a new article? Sign up here.