"Veterans in this industry are saying this is the best freight market they have ever seen." 
Orders for Class 8 trucks – the heavy trucks that haul trailers across the US – surged 114% in May, compared to a year ago. With 35,200 orders, it was the highest May on record, according to transportation data provider FTR. Order volume over the past six month averaged nearly 40,000 units a month, "volumes never seen before in the industry."
There are winners and losers in this transportation boom that has followed the "Transportation Recession" between March 2016 and April 2017, when shipment volumes by truck, rail, air, and barge had dropped to the lowest levels in years. During that time, trucking companies slashed orders for Class 8 trucks. Truck manufacturers – and the companies that supply them, such as engine makers – responded with layoffs.
But this is history. In April, freight volume by all modes of transportation surged 10% compared to a year earlier, according to the Cass Freight Index, which pushed the index to its highest level for any April since 2007. And among the winners are truck manufactures that are getting inundated with new orders.
"Class 8 orders exceeded expectations again as fleets order in huge numbers attempting to keep up with burgeoning freight demand," FTR explained.
This chart of Class 8 truck orders also shows that orders are seasonal, and a decline from March to April and May is typical: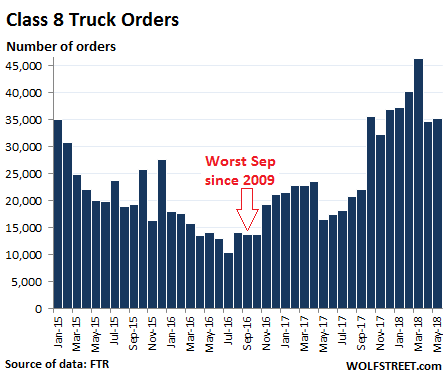 The chart below shows the percentage change of Class 8 orders compared to the same month a year earlier. Note the transportation recession when orders plunged year-over-year, as the industry was reeling, and then the surge in orders with year-over-year spike of 158% in October 2017: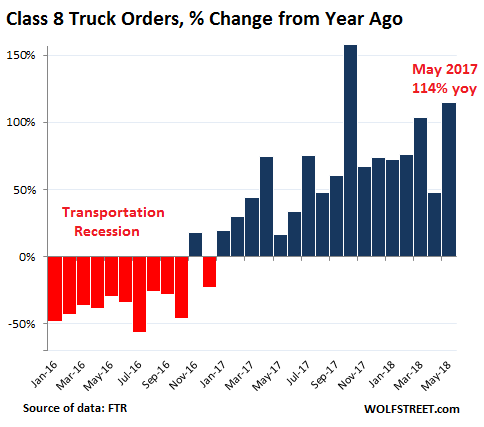 FTR's report added:
"This is the tightest capacity crunch ever. Long-time veterans in this industry are saying this is the best freight market they have ever seen. Fleets cannot add capacity fast enough and as long as the economy and manufacturing are going great, this capacity crisis will continue."

"There is a shortage of truck parts and components, so OEMs have been slow to deliver. This just exacerbates an already bad situation. Fleets are now grabbing every available build slot, hoping to get some more trucks by the end of the year. Some orders now are even spilling into the first quarter of next year. It is a red-hot market."
Manufacturers are now sitting on an order backlog of over 200,000 Class 8 trucks, or 8.4 months of production.
"This is an astonishing rate of order placement," Kenny Vieth, President of ACT Research, told the Wall Street Journal. "What's facilitating it is that truckers are absolutely crushing it on freight rates and profitability right now."
The data confirms this. The Cass Truckload Linehaul Index, which tracks per-mile full-truckload pricing but does not include fuel and fuel surcharges, jumped 8.2% in April, the largest year-over-year increase in the data going back to 2005: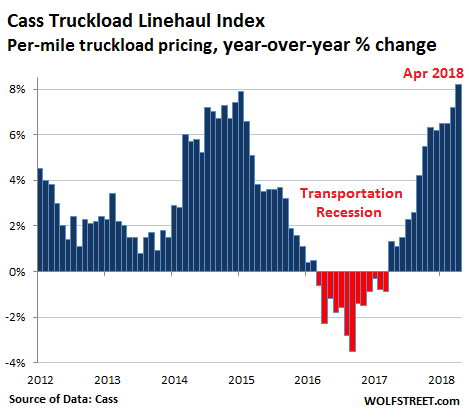 Trucking companies have responded by adding capacity. The surge in capital spending may have also gotten a boost from the tax law changes that went into effect on January 1. Trucking companies, truck manufacturers, component makers, and so on – those are the winners from this boom.
And here are the losers, namely the erstwhile winners in the Transportation Recession: shippers. During the Transportation Recession, they benefited from dropping freight rates and excess capacity. But now, any entity having to ship anything, or rely on it being shipped, or having to pay for shipping it, or waiting for it to be shipped — ranging from manufactures across the US economy to retailers and consumers — are having to deal with transportation constraints, delays, and rising transportation costs.
This is reflected in the FTR Shippers Condition Index, which covers shippers that use trucking and rail (update as of May 24). It has been solidly negative since the end of the Transportation Recession. Over the past eight months, conditions have deteriorated sharply. The March index value of -10.5, according to FTR, reflects "the continued tough environment facing shippers":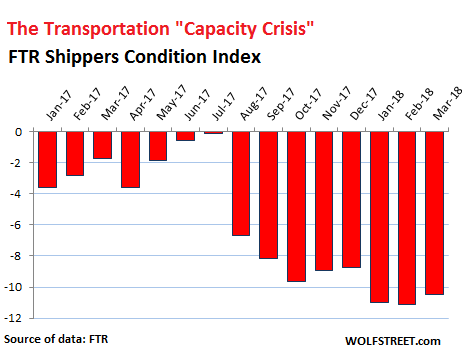 FTR added:
Conditions remain highly unfavorable with tight capacity and rising rates in both truckload and intermodal sectors. Shippers may see some relief after the second quarter and conditions may improve further during Q4. One bright spot for shippers is that the hard enforcement of the ELD regulation [the Electronic Logging Device now required for trucks], based on spot-market data, does not appear to have had a major impact.
The report also projected that "the combination of tight truck capacity and challenging rail service is unlikely to abate in the near term," and that "shippers need to plan on coping with these difficult conditions for a sustained period."
Also read… Freight Costs, Volume, Demand All Surge across Trucking & Rail, Inflation Fears Heat Up.
Enjoy reading WOLF STREET and want to support it? You can donate. I appreciate it immensely. Click on the beer and iced-tea mug to find out how:

Would you like to be notified via email when WOLF STREET publishes a new article? Sign up here.