Bain Capital sold Blue Coat Inc. to them.
"We are pleased with our fourth quarter results," and so on and so forth, said Symantec CEO Greg Clark Thursday evening as part of the fourth-quarter earnings report. He, along with much of his top management team, hailed from Blue Coat Inc., which Symantec had acquired in August 2016 for $4.6 billion.
The maker of Norton anti-virus software reported revenues that were up 10%, gross profits rose, and the net loss dropped to $35 million compared to $143 million in Q4 last year. But then it did this:
It gave a disappointing forecast for its current fiscal year, including nearly flat revenues and "adjusted earnings" below the hopes of Wall Street analysts.
It disclosed that the Board of Directors' audit committee has launched a mysterious investigation "in connection with concerns raised by a former employee," that it has advised the SEC, and that it would delay its annual report.
It disclosed that, as result of the investigation, it may have to restate past financial statements and may change guidance in the future.
And it flat-out scrapped the customary and expected question-and-answer part of its conference call with analysts, not only on the topic of the investigation but totally scrapped the Q&A on any topic, which no S&P 500 company may have ever done before.
It shocked the bejesus out of the always hopeful Wall Street analysts.
And they jumped all over each other lowering their price targets for the shares, now, rather than beforehand so that investors could have gotten out in time.
Shares, after already plunging in afterhours trading on Thursday, plunged 34% this morning, taking about $6 billion in market cap with them in one fell swoop.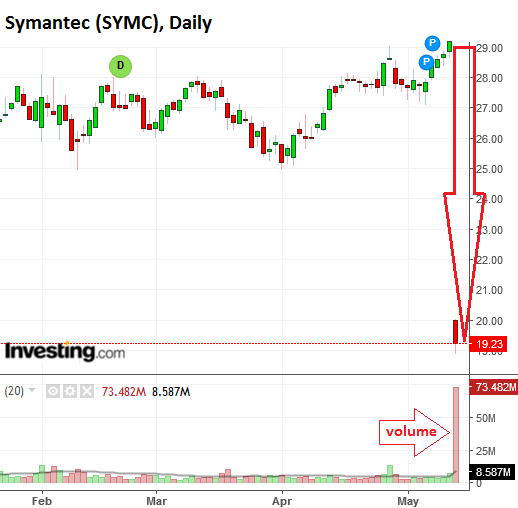 Also note the two blue circles in the above chart (top right). These are indicators of technical analysis. When you hover over the circles, a little window pops up and says "bullish reversal, reliability high," just days before the collapse of the shares. Here's the one from May 7: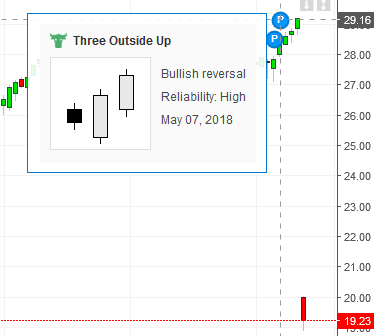 And this is all the company disclosed about its mysterious internal investigation:
The Audit Committee of the Board of Directors has commenced an internal investigation in connection with concerns raised by a former employee. The Audit Committee has retained independent counsel and other advisors to assist it in its investigation.

The Company has voluntarily contacted the Securities and Exchange Commission to advise it that an internal investigation is underway, and the Audit Committee intends to provide additional information to the SEC as the investigation proceeds.

The investigation is in its early stages and the Company cannot predict the duration or outcome of the investigation.

The Company's financial results and guidance may be subject to change based on the outcome of the Audit Committee investigation. It is unlikely that the investigation will be completed in time for the Company to file its annual report on Form 10-K for the fiscal year ended March 30, 2018 in a timely manner.
Symantec gave no other details about this investigation and what the problem is that it is trying to investigate.
Reuters reported that, according to "a source familiar with the matter," this internal investigation is "separate to another investigation launched in November by Lifshitz & Miller LLP into the board for possible violations of federal securities laws in relation to its executive compensation awards."
Speculations are now swirling how much this mysterious investigation – and whatever it may find – might impact the financial health of the company, and if it means that the company's newfangled Blue Coat management team would be sacked.
Blue Coat was majority-owned by Bain Capital. At the time of the sale, Blue Coat had $600 million in revenues. Symantec paid dearly for it: The price tag of $4.65 billion amounted to nearly 8x annual revenues. But in these crazy times, none of this matters. And Bain Capital came out nicely.
Symantec said in the acquisition announcement: "With the acquisition of Blue Coat, Symantec will enhance its leadership position to define the future of cybersecurity and set the pace for innovation industrywide."
Now I'm left wondering just what exactly Symantec got, in terms of this acquisition and the management team that came along with it, or if the "concerns raised by a former employee" are related to something entirely different. But it sure is nice to know that analysts kept touting the acquisition, the management team, and the shares until the last moment.
This is a sight to behold. But I'm not sure what to make of it. Read…  What do Retail Investors as a Whole Know that We as Individual Retail Investors Don't Know?
Enjoy reading WOLF STREET and want to support it? You can donate. I appreciate it immensely. Click on the beer and iced-tea mug to find out how:

Would you like to be notified via email when WOLF STREET publishes a new article? Sign up here.