Compared to Chicago, which is traipsing that way.
Wolf here: This is what happens to the economy of a city when some debts are lifted off its back. It can breathe again. But affected municipal bondholders, pension beneficiaries, and other stakeholders may not be so fond of this kind of treatment. Chicago has been contemplating a similar fate.
By Bill Bergman, Chicago, Director of Research, Truth in Accounting:
The City of Detroit filed for Chapter 9 bankruptcy protection in July 2013. How has Detroit's economy done since then?
Chapter 9 is part of the federal bankruptcy law, providing relief to financially distressed municipal governments from creditor demands. Pros and cons of going down this route are hotly debated, and some parties warn of the threat to the local economy due in part to reduced trust among creditors.
This post is not meant to be an exhaustive analysis of the Detroit experience. But looking at employment data, it seems difficult to make the case that bankruptcy hurt economic growth.
The chart below shows total employment from 2005 to 2017 in the Detroit-Dearborn-Warren metropolitan statistical area, compared to employment in the Chicago-Naperville-Elgin metro area. The chart indexes employment in both areas to July 2013 = 1.0, which gets both areas (one larger than the other) in the same neck of the woods in the chart and also allows you to compare the Chicago and Detroit metro areas since the latter declared bankruptcy. Employment growth in Detroit has outpaced growth in financially challenged Chicago, where in recent years growth appears to be slowing down.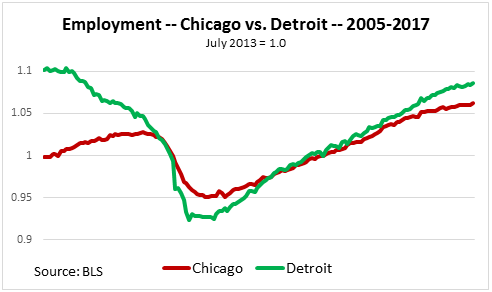 A year before Detroit declared bankruptcy, Stockton, Calif., declared the then-largest municipal bankruptcy in history. Comparing employment in Stockton to employment in Chicago since that bankruptcy tells a similar story.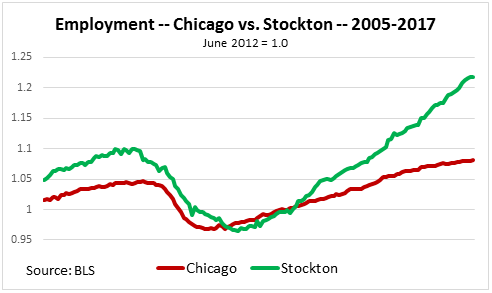 This is only employment data, but comparing Detroit to Chicago on a broader measure of "GDP" from 2005 to 2016 (the latest year for which GDP data is available) also suggests it is hard to make the case that declaring bankruptcy hurt the Detroit area.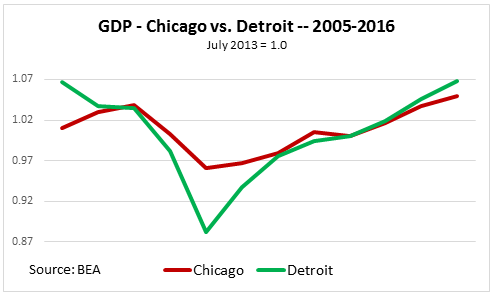 By Bill Bergman, Chicago, Director of Research, Truth in Accounting
And borrowing money is not going to get cheaper. Bonds, junk bonds, spreads, commercial real estate, leveraged loans, over-leveraged companies… all get named as risks to the banks. This is why "gradual" tightening will continue for a long time. Read… Now Even a Fed Dove Homes in on the "Everything Bubble"
Enjoy reading WOLF STREET and want to support it? You can donate. I appreciate it immensely. Click on the beer and iced-tea mug to find out how:

Would you like to be notified via email when WOLF STREET publishes a new article? Sign up here.