Price war by Amazon-Whole Foods and Aldi scuttle Albertsons' IPO hopes as customer traffic and same-store sales drop despite promos and price cuts.
Brick-and-mortar reality hit Cerberus Capital on the way to the exit: Supermarket chains Albertson's (acquired in a leveraged buyout in 2005), Safeway (acquired in a leveraged buyout in 2015), plus some regional supermarket chains acquired along the way, are now loaded up with nearly $12 billion in long-term debt with no place to go.
Cerberus and the other PE firms in the deal once hoped to unload the construct — now called Albertsons Companies — in an IPO. These hopes move further into the distance as the stores are sinking into the ultra-tough US grocery store environment.
Albertsons Companies, with 2,323 stores in 35 states and the District of Columbia, along with over two dozen distribution centers, and some manufacturing facilities, revealed those difficulties in its quarterly filing with the SEC for its third quarter ended December 2, 2017.
Revenues were flat year-over-year: $13.6 billion in Q3 and $45.9 billion for the first three quarters of the fiscal year.
Cost of sales rose 1.8%.
Gross profit margin fell to 26.7% from 28.1% a year ago.
Gross profit fell 5% to $3.6 billion, which the company blamed in part on promotions and discounts "made to respond to the competitive environment."
Selling and administrative expenses rose 1.5%, which the company blamed primarily on wage pressures.
The endless losses
Flat revenues plus rising costs generated operating losses of $95 million in Q3 and $218 million for the year so far. Interest expenses and "other expenses" increased the losses to $305 million for Q3 and to $933 million for the first three quarters.
It also booked a one-time tax benefit of $523.5 million in Q3, "primarily driven by the reversal of a $359.0 million valuation allowance previously recorded against certain subsidiaries deferred tax assets as a result of a reorganization of our Subchapter C corporation subsidiaries."
The tax benefit turned the quarter "profitable" (+$218 million) but left the year so far in the red (-$342 million).
The company already booked losses in fiscal 2014 (-$1.23 million), in 2015 (-$502 million), and in 2016 (-$374 million). Fiscal 2017 is shaping up to be another year in the red.
Albertsons is trying to raise sorely needed money by selling some of its stores and leasing them back. In September, it signed a sale-leaseback deal for 71 stores for $705 million. This brought the portion of the stores it still owns or ground leases to about 43% of its total stores.
Customer traffic down despite promos and price cut
Customer traffic fell again, this time by 2.7% in Q3 compared to a year ago, despite "significant investments in promotions and price." These costly coupons and discounts, however, "did not achieve the desired impact of increasing customer traffic."
Same-store sales fell again, this time by 1.8%, due to the drop in customer traffic, but offset somewhat by an increase of 0.9% in average ticket size, the fifth quarter in a row of declines. And this is compared to Q3 last year when same-store sales had already fallen 2.1% from the prior year. The trends look terrible: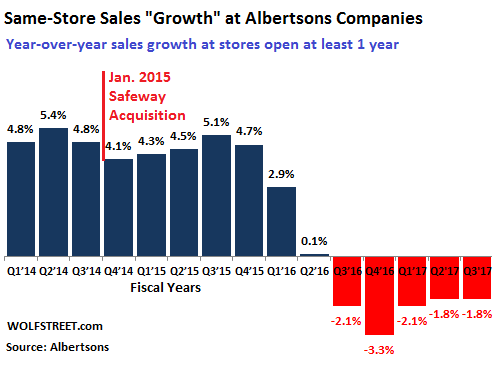 Its debt takes a hit
Upon the news, Albertsons' bonds dropped: Its 5.75% notes due 2025 fell three points to 87.5 cents on the dollar, and its 6.625% notes due 2024 dropped 2.75 points to 93.25 cents on the dollar. Its leveraged loans were also quoted lower, "sources said," according to LCD S&P Global Market Intelligence.
Albertsons is struggling with a tough environment where the combination of Amazon-Whole Foods is shaking up an already shook-up market. Walmart, Kroger, Target, Costco and others are all crowding into arena.
German deep discounter Aldi announced last summer that it would further expand in the US with a $3.4 billion investment with the goal of having 2,500 stores by the end of 2022. In early 2017, it announced a $1.6 billion plan to renovate 1,300 existing stores. This followed a 2013 expansion plan of $3 billion to bring its footprint to 2,000 stores in the US by 2018.
Lidl's plans get crushed by the same reality
But the other German deep-discounter Lidl – which has over 10,000 stores in 27 countries in Europe – demonstrates just how treacherous the business in the US is. In 2017, it had announced with great fanfare that it would also enter the US market. The plan was to open at least 100 stores within a year. By now 49 have been opened. But yesterday, the Handelsblatt reported rumors that Lidl has halted its US expansion plans.
When the German business daily reached out to Lidl, a company spokesperson refused to confirm or deny the rumors, saying that the expansion has been "overall successful" but "there is need to adjust one or the other point." And added: "Constantly examining and working on a property portfolio is absolutely normal in the sector and not Lidl-specific."
Lidl now no longer has projections for future store openings in the US, according to the Handelsblatt, which said local reports by real estate insiders and politicians in New Jersey, Pennsylvania, Ohio, and Virginia indicated that Lidl has stopped working on stores or has even abandoned locations into which it has already sunk some money.
Even Walmart. Read…  Walmart Suddenly Shutters Numerous Sam's Clubs without Notice, 11,000 Jobs Impacted, Chaos Breaks out on Twitter
Enjoy reading WOLF STREET and want to support it? You can donate. I appreciate it immensely. Click on the beer and iced-tea mug to find out how:

Would you like to be notified via email when WOLF STREET publishes a new article? Sign up here.