This is where hype (and money) goes to die.
Snap Inc., the parent company of Snapchat, reported late Tuesday that its revenues in the third quarter rose 62% from a year ago, to $208 million, while its net loss more than tripled to $443 million. How? It wasn't easy, but here's how they did it:
Cost of revenues, $211 million, exceeds revenues, a troublesome indicator. Most of it is what Snap pays Alphabet for hosting its content in the Google Cloud.
Research and development expenses, $239 million, also exceed revenues.
Sales and marketing expenses, $102 million, to push those Snapchat Spectacles? More on those in a moment.
General and administrative expenses: $118 million
Total expenses of $670 million, against revenues of $208 million. That's what I call a business model.
When investors saw the results, shares (SNAP) plunged 17% in late trading to $12.53. They're now 26% below the IPO price of $17. What is amazing is that shares had recovered partially from prior plunges as new hype surfaced about this being a buying opportunity.
The day after the IPO in March, shares hit $29.30, which gave Snap a market capitalization of $30 billion. Snap's market cap now of $18 billion continues to be a head-scratcher.
For the nine months, the company's net loss came to $3.1 billion, including the rich stock-based compensation of $2.5 billion doled out to founders and the people who're working tirelessly to produce these losses.
Then there is this: The business is still growing, but beset by competition from Facebook, Apple, and others, growth is already slowing, according to Snap's homemade metrics, in Q3:
Daily active users (DAU) grew 17% year-over-year to 178 million.
Average revenue per user grew 39% year-over-year to $1.17.
Hosting costs per DAU rose 6% to $0.68 in Q3 2017. This is what Snap pays Alphabet to host its content in the Google Cloud. In its S-1 filing before the IPO, Snap disclosed this five-year $2-billion contract with Google. Good for GOOG!
And Snap disclosed another doozie today: "Excess inventory and related charges" of $39.9 million "related to Spectacles inventory, primarily related to excess inventory reserves and inventory purchase commitment cancellation charges."
On October 23, there was a warning in The Information about those plastic sunglasses with a built-in camera that only 0.08% of Snapchat users ever bought:
Snap badly overestimated demand for its Spectacles and now has hundreds of thousands of unsold units sitting in warehouses, either fully assembled or in parts, according to two people close to the company. The disclosure undercuts Snap CEO Evan Spiegel's recent contention that Spectacles sales of more than 150,000 had topped the company's expectations.
So let me add a special note about these Spectacles and the Snap-IPO hype. In February, weeks before the IPO, one of the many promoters that were engaged in spreading the hype, sent me and other media outlets an email, which said:
"Hi Wolf, we wanted to see how Snapchat's IPO stacks up against Twitter and Facebook's, so we compiled extensive research and created an infographic illustrating Snapchat's place in the tech IPO landscape based on key metrics, revenue and expenses, and user base."
The "media kit" included "The Snapchat IPO Cheat Sheet [Infographic]" and this:
"We've also published graphics of a $5B sales forecast of the Snap Spectacles and the possibility of a Snapchat smartphone. Would you be interested in sharing or covering these?"
I get this kind of stuff all the time, from cryptocurrency promoters to loan-for-home-flippers promoters. This was the title of the infographic:

And this chart in the infographic shows four different growth scenarios for Spectacles revenues, including $7.5 billion in 2020. Put it in the LOL category: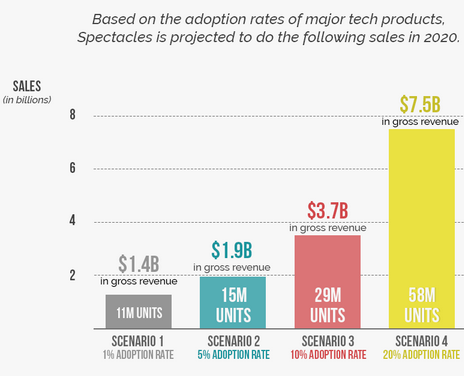 "What are you guys smoking?" I wrote back. "I'd like to have some of that too  :-)"
A good thing that Snap still sits on $2.3 billion in cash and securities extracted from investors via its phenomenally rich IPO, during which it raised nearly $4 billion, of which $1 billion went wisely to its founders and early investors. At least they got some of their money out.
How long before that $2.3 billion is burned up? Snap burned $220 million in cash in the quarter. At this rate, it's going to take about 10 quarters to burn this cash. So unlike Blue Apron, which is running short on cash, Snap was hyped to such an extent before the IPO, including the $5-billion Spectacles nonsense and the silly infographic sent to media outlets, that it was able to extract nearly $4 billion from investors, who've been ruing the day.
Update: Today, Wednesday, Snap shares tank 16%, after it disclosed this morning that Tencent had acquired a 12% stake in past months that neither Snap nor Tencent disclosed. Tencent is ruing the day. Read…. Snap Gave Middle Finger to its Voteless Shareholders Today, after Disclosing Ugly Quarter Yesterday
Enjoy reading WOLF STREET and want to support it? You can donate. I appreciate it immensely. Click on the beer and iced-tea mug to find out how:

Would you like to be notified via email when WOLF STREET publishes a new article? Sign up here.